Jump to Winery List
Bordertown Wine Region SA
The Bordertown Wine Region in the Limestone Coast Zone includes wineries near the townships Bordertown and Mundulla, north of Naracoorte. It also includes wineries in the vicinity of Bordertown, Mundulla, Wirrega, Gum Flat, Warrensville, Pidgeon Flat and Murra Pureek. The Limestone Coast wine industry association comprises winegrape growers and wineries situated in regions such as Coonawarra, Padthaway, Mt Benson, Wrattonbully, Mount Gambier and Robe. Bordertown and Lucindale districts have been added. Located about 270 km east of Adelaide and 80 m above sea level on the border between Victoria and South Australia, Bordertown is the gateway to South Australia for traffic from Melbourne. It is surrounded by a rich agricultural district, noted for its production of cereals, meat, seeds, wool, vegetables and wine grapes. The Limestone Coast has a Mediterranean style climate with cool, wet winters and long, mild, dry summers. Generally rainfall tends to decrease northwards and away from the coast, from an annual maximum of 850 mm near Mount Burr to 450 mm near Keith and Bordertown. Temperatures are generally cool to mild, and around Mount Gambier range from a minimum average of about 5.5 degrees C in July to a maximum average of about 24.7 degrees C in February. Spring frosts can cause problems, but are controlled by overhead sprinklers or fans. Summer sea breezes in the evening cool the vines after hot days. Many vineyards are irrigated from extensive groundwater resources.

The Limestone Coast Wine Region includes nine districts : Padthaway ; Robe ; Wrattonbully ; Kingston SE ; Mount Gambier ; Mount Benson ; Lucindale ; Bordertown Coonawarra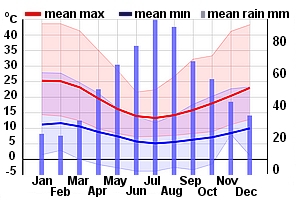 Winery Tour Map
Wineries
Bordertown Vineyard, SA Cuppacup Rd, Bordertown SA 5268
No Data...
Howcroft Estate, SA Cnr Buckingham and Scowns Road, Mundulla SA 5270
Established: 1998 - now Owned by McGuigans Wines, this vineyard is the largest producer in the nascent Bordertown region in the Limestone Coast Zone. It draws upon 121 hectares of shiraz, 50 hectares of merlot, 46 hectares of cabernet sauvignon and 18 hectares of petit verdot. Product Range: Shiraz, Petit Verdot, Merlot, Cabernet Sauvignon....
Treasury Wine Estates - Penfolds , SA Bordertown SA 5268
Treasury Wine Estates (TWE) is one of the world's largest wine companies, listed on the Australian Securities Exchange. Everything we do is dedicated to realising our vision of becoming the world's most celebrated wine company.
Wirrega Vineyards, SA 963 Rowney Rd, Mundulla SA 5270
Back in 1993 Geoff Hardy, having noticed the outstanding quality of the grapes produced in the area, brought together a group of wine loving friends to purchase the 430 acre property near Mundulla in South Australia. The circle of friends included Scott Collett, Rocco Melino, Roger Oakeshott, Grant Tilbrook, John Younger and Guido Zuccoli. Over the next three years, and with the primary aim of growing premium quality fruit, the vineyard was planted out mainly with International varieties suited to the site. Since then an eclectic mix of emerging varieties have been added. For the past 22 years Wirrega Vineyards has provided top quality fruit for some of Australia's most iconic wine brands. With the launch of the Wirrega Vineyards wine label the time has now come for Wirrega to show what it can do!