Jump to Winery List
Kingston SE Wine Region SA
The Kingston SE Wine Region includes wineries between Mount Benson and Kingston SE and inland from Cape Jaffa on the Limestone Coast Wine Zone. Towns in the region include Cape Jaffa, Sandy Grove, Kingston SE and Murraup. Located on the shores of Lacepede Bay, the coastal communities of Cape Jaffa and Kingston SE enjoy a relaxed and carefree lifestyle based on the enjoyment of the many attrctions and activities in the area. Visits are attracted by the fabulous beaches, fishing, canoeing, kayaking, boating and swimming. There are a variety of pubs and clubs for entertainment. There are also many natural reserves for bushwalking and camping. One of the great ways to learn about the local wines is to visit during the Cape Jaffa Seafood and Wine Festival that showcases all the local seafood, local food and produce and wonderful wines in a charming atmosphere with live entertainment. For seafood lovers there are Crayfish, oysters, prawns, lobster pate and BBQ Shark. For fresh food lovers you can choose from olives, almonds, jams, succulent lamb, prime BBQ beef, honey, crepes, tea and coffee and of course local wines.

The Limestone Coast Wine Region includes nine districts : Padthaway ; Robe ; Wrattonbully ; Kingston SE ; Mount Gambier ; Mount Benson ; Lucindale ; Bordertown Coonawarra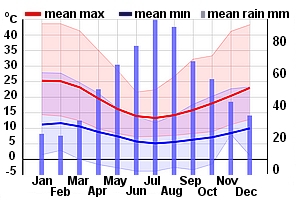 Winery Tour Map
Wineries
Cape Jaffa Wines, SA Limestone Coast Rd, Mount Benson via Robe 5275
In June 1993, the Hooper family purchased a grazing property in the Mount Benson Region, which is part of the Limestone Coast, and proceeded to plant the Cape Jaffa vineyard. The family was drawn here by the climate of the region, which is heavily influenced by the close proximity of the Great Southern Ocean. The site was selected not only for its cool climate, but also for the famous terra rossa ...
M Chapoutier, SA PO Box 437 Robe SA 5276
Since 1997, Michel Chapoutier has developed new vineyard in Australia as Mount Benson in South Australia, and Joint ventures with famous winemakers as Ron Laughton of Jasper Hill. The goal is to produce premium Shiraz from premium terroir, and to combine the skills of top Australian vignerons with the experience of the Rhone Valley. Michel Chapoutier has long seen the cooler growing regions of Aus...
Norfolk Rise, SA Lot 102 Limestone Coast Rd, Mount Benson SA 5265
Norfolk Rise is the new name for the Kreglinger Winery and brand name for its premium range. The state-of-the-art facility at Mount Benson is capable of producing up to 2,500 tonnes of fruit. Winemaker -Steve Grimley grew up in the Barossa Valley and completed his first vintage in 1996. Since then he has worked in France, South Africa and today is the General Manager and Winemaker for Norfolk Rise...
Ralph Fowler, SA Lot 101 Limestone Coast Road, Mount Benson SA 5265
Ralph Fowler Wines is committed to producing limited quantities of hand crafted premium wines. A true family company, Ralph, his wife Deborah, daughter Sarah and son James are all involved in the 100-acre property at Mount Benson. Ralph and Deborah have been in the Australian wine industry for more than 30 vintages. The vineyard is planted with selected clones of Shiraz, Viognier and Merlot and th...
Stoney Rise, SA Main South Eastern Rd, Mt Benson SA 5275; PO Box 442, Robe, SA 5276
The story behind the establishment of Stoney Rise by Matt Lowe and Joe Holyman is very interesting. In condensed form the pair met as 14-year-old school boys in Tasmania before they headed off in different directions, Joe Holyman to establish a record of the most number of catches by a wicket keeper on debut in first-class cricket, Matt Lowe to see the world. They came together once again at Rosew...
Wangolina Station, SA PMB 24, Kingston SE, SA 5275
Wangolina Station is situated along South Australia`s Limestone Coast, renowned for its limestone, climate and terra rossa soils combining to produce world-famous wines of exceptional quality. Wangolina Station is part of the Mount Benson wine region between the coastal townships of Kingston and Robe. Our picturesque cellar door sits nestled among native gums and spacious lawns and is ideal for fu...