Jump to Winery List
Wrattonbully Wine District SA
The Wrattonbully Wine Region includes wineries along Riddoch Highway between Naracoorte and Wrattonbully and near the towns of Hynam, Apsley, Koppamurra, Struan and Joanna in the Limestone Coast Zone. The Wrattonbully wine region, has a reputation for producing outstanding Cabernet Sauvignon and Shiraz wines. The region includes several ranges including Caves Range, Hynam Range, Stewarts Range, and the Naracoorte Range which is also known as the Kanawinka escarpment. Most of the vineyards are planted on gentle gradient hilly slopes the western side of the ranges, at elevations of about 75 to 100 m above sea level . This elevation, soils and undulation means the vineyard sites are quite distinct to those in the other Limestone Coast Regions. Being inland from the coast the climate is more continental with mean temperature in January of 20.2 degrees C. The rainfall during the growing season, from October to April, is relatively low at about 200 - 235 mm (8-9 inches). Bore water from the extensive underground reserves is used to provide supplementary irrigation. The soils feature terra rossa soils over a limestone base. The first vines were planted in 1968, but most plantings occurred in the 1990s. Visitors can enjoy extraordinary limestone cave systems throughout the area. The best are the caves at the Naracoorte Caves National Park, which includes about 25 large and spectacular caves featuring cathedral domes, stalactites and stalagmites. There is an excellent range of accommodation from hotels and motels to farmstays, Bed and Breakfasts and a variety of houses, flats and other to self contained accommodation. Most of the local wineries and pubs serve local wines.

The Limestone Coast Wine Region includes eight districts : Padthaway ; Robe ; Wrattonbully ; Kingston SE ; Mount Gambier ; Mount Benson ; Lucindale ; Bordertown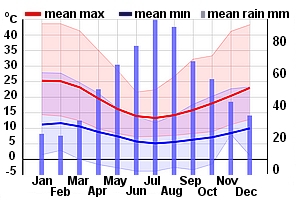 Winery Tour Map
Wineries
Eight at the Gate, SA Wrattonbully Rd, Wrattonbully SA 5271
Lanacoona was purchased with the dream of providing their own 8 children with a piece of the country life they grew up with, whilst growing the finest grapes the awesome soils of Wrattonbully could provide. With ready access to water and soils similar to Coonawarra (but a climate slightly less frosty) the vineyard was ripe for success. Lanacoona provides grapes for many iconic wine labels within Australia as well as producing its own wine from fruit hand chosen by us, from the best parts of the vineyard. We hope you enjoy sharing and drinking our wine as much as our families enjoyed growing and making it for you.
Flanagans Ridge, SA Elderslie Rd, Koppamurra via Naracoote SA 5271
Beringer Blass (a large Australian wine producer) has a vineyard near the Koppamurra Vineyard, which is used for the Flanagan`s Ridge and several other wines within Mildara Blass` portfolio produced at the Jamiesons Run Coonawarra Winery. The group`s Australian winemaking heritage dates back to the late 19th century when the original Mildara winery was established at the Jamieson`s Run sheep stati...
Glenhurst Vineyards, SA Wrattonbully Road, Wrattonbully SA 5271
No data...
Pavy Wines, SA near Struan in the Wrattonbully, PO Box 650, Naracoorte SA 5271
Local character William Richmond Pavy, later referred to as `Old Bill`, was born into a life of privilege to a surgeon and socialite of the 30s. He enjoyed a fulfilling childhood, being educated at Adelaide St. Peter`s College, Roseworthy Agricultural College and later joined the Royal Navy. After the war, Bill decided his heart was in the country and Bill made his mark in South Australia`s south ...
Pepper Tree Wines, SA Vineyards SE Naracoorte; winery Halls Rd, Pokolbin NSW 2320
The winery is located in Polkolbin in the Hunter Valle NSW. Peppertree Wines has vineyards in Coonawarra and Wrattononbully. Wrattonbully adjoins the Coonawarra area in the southern part of the Limestone Coast wine zone. The prominent viticultural feature of the area is the series of ancient beach ridges and dunes, which run roughly north-south through the area. These ridges are made up of soft cr...
Redden Bridge Wines, SA 48 Sandstone Avenue Naracoorte SA 5271
Redden Bridge Wines is a family owned company located between Naracoorte and Coonawarra in South Australia. The Koch family live and breathe the vines at their Wrattonbully home which are managed using Organic and Biodynamic techniques, to ensure the health of their family as well as that of the soil and vines. Redden Bridge Wines are made to strongly reflect their Terroir to ensure quality vintages year after year. Greg Koch has 42 years of experience in the viticulture industry and has operated a vineyard developments company since 1995, which is responsible for planting and vineyard management of over 1100 acres in the Limestone Coast. He now applies this knowledge to his own vines and wine label. The fruit is sourced from our own vines and is carefully pruned and managed to ensure a consistent premium product.
Tapanappa wines, SA Whalebone Vineyard Naracoorte SA 5267
The partnership named its new venture Tapanappa after a 550 million year old geological formation that underlies the Fleurieu Peninsula where the Croser family have a sheep farm and vineyard. The word Tapanappa is probably derived from the local aboriginal language, and likely translates to stick to the path. This is exactly what this partnership intends to do, by continuing Brians career- long mission of selecting distinguished sites, matching the climate, soil and geology of the site to the right varieties, and fastidiously managing the vineyard to maximise quality.The partnership has the added advantage of being able to draw on the partners extensive old world fine wine experience, enhancing Tapanappas ability to produce unique Australian terroir driven wines.
Winetrust Estates, SA Caves Rd, Naracoorte SA 5271
Winetrust Estates Pty Ltd is an `award winning` Australian wine specialist marketing, management and winemaking organisation. It has been involved with wine and liquor businesses throughout Australia and as far a field as North Western China in international markets. The company is renowned for its services within several areas of business both nationally and internationally. These can be summaris...