Jump to Winery List
Waikerie Wine District
The Waikerie Wine District in the Riverland Wine Region includes wineries near Waikerie, Blanchtown and Morgan. The service centre and tourist destination of Waikerie offers great facilities with many fine restaurants, fabulous accommodation and charming hospitality. It provides a great bass for exploring the Riverland are along the mighty Murray River. The town is surrounded by broadacre farms, extensive vineyards and rih citrus groves. Visitors love the climate, the diverse wildlife, and birds, the wide range of places to see and enjoy the natural history and ecology of the area with its many scenic attractions.

The Riverlands Wine Region includes seven districts : Monash ; Barmera ; Berri ; Loxton ; Kingston ; Renmark ; Waikerie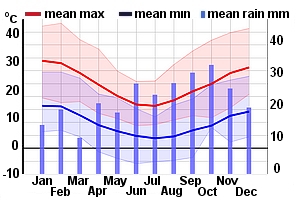 Winery Tour Map
Wineries
Burk Salter Wines, SA Lot 5 Paisley Road, Blanchetown SA 5357
Draws grapes and wine from various parts of southern Australia and New South Wales for its dry table wines, most of which are sold overseas through Australian Prestige Wines. Product Range: A wide variety of wines under the St Peters, Edenhope, Yenda Vineyards and Wilton Estate labels. Opening hours: Mon-Fri 9-5...
Byrne Vineyard, SA 68a Fullarton Road, Norwood. South Australia 5067
Byrne wines express our family's dedication to the land and the highest quality estate grown wines. Rob Byrne together with daughter Petria are the family drive behind the business started by Rob's parents in the 1960s. We excel at producing the classic Australian wines (Shiraz/Cabernet/Chardonnay/Riesling) recognised around the world as well as new alternative varieties and styles that suit our vineyards and environment perfectly. With numerous Trophy and Gold medal winners in the range, along with environmental awards for excellence in water management and sustaining the natural environment, a commitment to research and innovation, Byrne stands for quality for today and sustainability for the future. Sourced from our Clare Valley and Riverland vineyards of South Australia, we have 400 hectares of estate vineyards, making Byrne Vineyards one of South Australia's largest family owned estate grown wine producers.
Caudo vineyard and Cellar Door, SA Section 237, In Hundred of Cadell, Cadell, Riverland, South Australia,
Right on the doorstep of the mighty Murray River, Caudo Vineyard's cellar door is a iconic stop on your Riverland adventure. Whether you come by boat or car, you will be captivated by the picturesque scenery which is Caudo's. The proud family owned business is a thriving hub of activity in summer and a perfect place to sit by the camp fire on a cold winters day. The vast manicured lawn area slopes down to the banks of the river with an array of seating available including riverside picnic tables and private booths nestled into the riverbank. Come and taste the boutique varieties of wine available with a range of refreshing whites and flavoursome, Mediterranean reds. Caudo Vineyard offers wine, sangria, local craft beer, craft cider and barista made cappuccinos.
Spook Hill Wines, SA 12 River Terrace, Cadell, SA 5321
Spook Hill Wines are produced at Cadell which is situated 2 hours drive north-east of Adelaide in South Australia. The Cadell Valley is a former oxbow of the Murray River now bypassed by the current river channel. Silt deposited in this ancient river valley contributes to the unique terroir of the area. The Spook Hill Vineyard has provided the fruit for Silent Partner Shiraz since the 1999 vintage. In that time our wines have achieved six amateur medals including 'Wine of The Show' and now three commercial wineshow medals for Silent Partner Shiraz. Vigneron and winemaker, Jock Gordon produces Silent Partner Shiraz from grapes grown on his vineyard situated at the foot of "Spook Hill" in the Cadell Valley.