Jump to Winery List
Barmera Wine District
The Barmera Wine District, is located west of Berri and includes wineries near Barmera, Moorook, Cobdogla and Loveday, in the Riverland Wine Region. Barmera is an attractive rural service town and tourist destination on the shores of Lake Bonney, about 220 km north east of Adelaide. Barmera is surrounded by citrus orchards and large vineyard plantings. Some of the many local attractions include # Napper's Old Accommodation # Cobdogla Irrigation and Steam Museum # The Donald Campbell Obelisk # The historic The Overland Corner Hotel. Lake Bonney, which is one of South Australia's most popular freshwater aquatic playgrounds is worth a visit especially in summer. Lake Bonney, is a large, shallow and generally calm, freshwater lake. It offers excellent swimming and boating and is very popular with anglers, canoeists, kayakers, water-skiers, windsurfers and Jet Ski enthusiasts. There are boats of every type along the shore - canoes, sailboards, kayaks, sailboats and all types of motorboats. Some of the many wineries in the district include: Bonneyview Wines, Cobeck Vineyards, Delrosa Winery, Golden Mile Wines (Henry Martin), Lubiana, Menhennett, Milwine Estates, Nookamka Estate Wines, Orlando Wyndham, Penno's Wines, Three Wise Men.

The Riverlands Wine Region includes seven districts : Monash ; Barmera ; Berri ; Loxton ; Kingston ; Renmark ; Waikerie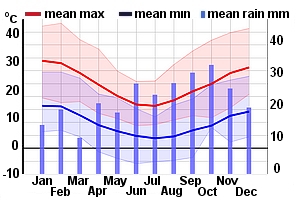 Winery Tour Map
Wineries
Bassham Wines, SA 27 Bassham Road, Barmera, SA 5345
Family owned business leading the way in Organic viticulture and Mediterranean emerging varieties. Bruce has completed 53 vintages on the Family vineyard, and still live on the original property and will be celebrating 100 years centenary of the family ownership of their heritage vineyard (late 1919). We believe that business must make a positive contribution to addressing to challenges the world faces. We embrace the Riverland and the lifestyles it offers and are very proud an honoured to be called Riverland vignerons, passing on our knowledge to our children and grandchildren. Our dream is to one day travel this wonderful country we call Australia.
Menhennett, SA 82 Nookamka Terrace, Barmera SA 5345
Calabria Family Wines Cellar Door is the star winery of the Riverina region, as rated by Gourmet Traveller WINE magazine in 2012, 2013, 2014, 2015, 2016 & 2018 – so it is a must visit destination while you are in town. Family tradition is strongly present when you visit Calabria Family Wine's Tuscan-style cellar door, offering warm Italian hospitality that has been passed down through the generations. Huge double front doors open into an elegant cellar door and tasting area, fitted out with beautiful oak panelling. Our friendly, knowledgeable Cellar Door staff offer a warm welcome to all visitors ensuring an educational, memorable and thoroughly enjoyable experience. Visitors can enjoy the spectacular winery surroundings and special events. Enjoy our famous alternative wine styles, Montepulciano, Aglianico, Nero d'Avola, Pinot Bianco and the hero flagship, Three Bridges Durif.
Nookamka Estate, SA P.O Box 180 Barmera, SA 5345
Cranswick Premium Wines is an extraordinary Australian success story. In just on ten years it has grown from quite humble beginnings into a well established Australian public company with sales now extending into 29 countries. It is a vibrant and youthful company that thrives on the spirit of competition. Modern contemporary building set amongst lawn and trees. Barbecue and outdoor entertaining ar...
Orlando Wyndham, SA Barwell Ave., Barmera SA 5345
This winery is the result of the acquisition of one of the Riverina`s export success stories, Cranswick Estate, by the dynamic Western Australian based Evans and Tate Wine Group. The contemporary cellar door is a great place to sample some truly superb wines. Buses are welcome by appointment....
Whistling Kite Wines, SA 73 Freundt Road, New Residence South Australia 5333
Whistling Kite Vineyard is nestled on the banks of the majestic River Murray, approximately 250km from Adelaide, in South Australia's Riverland.