Jump to Winery List
Renmark Wine District
The Renmark Wine District lies east of Berri in the Riverland Wine Region and includes wineries near the townships of Renmark, Cooltong, Chaffey, and Paringa. Renmark lies in the heart of the irrigation area and is located about 260 km north-east of Adelaide. The warm dry climate and year-round sun make Renmark and nearby Paringa wonderful destinations for a holiday, no matter what the season. With supplementary irrigation the climate is also ideal for growing grapes that make fabulous wines. The are features many fresh food stalls, delightful cellar doors, billabongs teaming with fish and bird life and secluded creeks and backwaters to explore by canoe and kayak - this is a great place to visit. The are is grest for boating and fishing and also for catching and yabbies, a small freshwater crayfish. Local attractions and activities include: #Renmark Houseboating # Olivewood Estate # The McCormick Centre Interpretive Centre # Learn to Water Ski.

The Riverlands Wine Region includes seven districts : Monash ; Barmera ; Berri ; Loxton ; Kingston ; Renmark ; Waikerie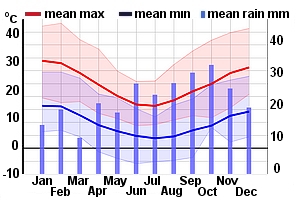 Winery Tour Map
Wineries
Angove`s Wines, SA Bookmark Ave, Renmark West SA 5341
A recently established boutique winery, Melange offers a unique tasting experience. Inside the winery amongst the barrels you can enjoy the fruits of the winemaker. Open: Mon-Sun, 9am-5pm Closed Good Friday, Xmas and New Years Day Buses welcome...
Charnwood Vineyard, SA 25th Street, Renmark South; PO Box 1818 Renmark SA 5341
"We produce these premium wines from family owned vineyards in our region. Only the best parcels of fruit are selected to ensure our consistently exceptional quality."
Mallee Estate, SA 20055 Renmark Ave, Renmark SA, 5341
The Mallee fowl or Lowan as known by its Aboriginal name, is the rare and distinctive bird that inhabits the Mallee country of South Australia. When the English colonized Australia in the late 1700's they brought over and released foxes so they can enjoy a fox hunt or two. Unfortunatly the foxes found the Mallee Fowl easy game as they nest in huge mounds on the ground. The Markeas family vineyards are surrounded by this Mallee country.
Nelwood Wines, SA 20 miles east of Renmark, PO Box 237 Paringa SA 5340
Specialising in Riesling, Sauvignon Blanc and Pinot Grigio in the white wines and in the red wines 3 Bridges Durif and Calabria Aglianico, Cabernet Sauvignon and Pinot Noir. Also boasting a functions centre catering for up to 120 persons.
Renmano Wines, SA Renmark Ave, Renmark SA 5341
From small beginnings Berton Vineyards has expanded it`s operations with the purchase of the Yenda winery based in the heart of the Riverina (Big Rivers New South Wales). The state of the art facility has the capacity to process 20,000 tonnes and produce premium wines that display personality, length of flavour and fabulous texture. Nestled amongst the olive trees and wide green lawns lies the Ber...
St Agnes Distillery, SA Bookmark Avenue, Renmark West, Riverland, South Australia, 5341
Since 1925 The St Agnes Distillery and Barrel Halls have been carefully and characterfully handcrafting brandy that is a testament to the rewards of time, age, ambition and craft. Over ninety years, five generations, five master distillers and Three 'Best In World' trophies means that there is just one St Agnes. Our purpose is clear, to do one thing brilliantly, to show the world another face of Australian produce excellence. To create an Australian spirit of iconic world standard. To craft a uniquely Australian expression of brandy.
Wangara Estate, SA 28th Street, Renmark SA 5341
McManus Wines is located in Yenda, near Griffith, in the Riverina wine region of New South Wales Big Rivers....