Jump to Winery List
Loxton Wine District
The Loxton Wine District is located south of Berri and includes wineries in the vicinity of the townships of Loxton and Loxton North. The riverfront town of Loxton is a friendly charming, and vibrant town about 255 km northeast of Adelaide. The town is the service centre and hub for the surrounding highly productive agricultural and horticultural lands irrigated with water from the Murray River. The Loxton district has a wonderful variety of first class accommodation, a range of diverse and unique attractions, a nationally renowned golf course, a thriving business and retail centre, fabulous wineries offering wine tasting, numerous festivals and events, a variety of nature-based activities such as swimming, boating, canoeing, kayaking, fishing, camping and bushwalking. Some of the many local attractions include: # Loxton Historical Village that has over 35 fully established buildings and sites showcasing local farming equipment, machinery and household items used by the early settlers. # Banrock Station Wine & Wetland Centre which is a fisrt class tourist attraction. You can enjoy the self guided walking trails, the spectacular wetlands and birdlife, and enjoy dining in the restaurant and enjoying a glass of Banrock Station wine.# The Loxton Golf Course is ranked very highly and it is open to visitors, as are the many other sporting facilities in the district.

The Riverlands Wine Region includes seven districts : Monash ; Barmera ; Berri ; Loxton ; Kingston ; Renmark ; Waikerie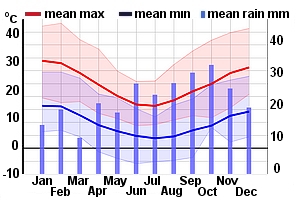 Wineries
Amakira Wines, SA Loxton SA 5333
Amakira Wines Pty Ltd. is a privately owned company that is dedicated to delivering quality made-to-order Australian wine to both the international bulk and domestic wine markets. Amakira was founded by Chris Polymiadis in 2009 after extensive experience as a Winemaker and Production Manager in a number of prominent wineries based in South Australia's Riverland region. Chris' vision was to establish a business focused on providing a range of personalised services to the wine industry including sourcing wine and grapes from the width and breadth of Australia's wine regions, producing made-to-order blends for client branded wine products and providing expert winemaking consultancy services focussed on helping clients achieve their wine business objectives. Salena Estate Wines Winery 837 Bookpurnong Rd, Bookpurnong SA 5333
McGuigan Simeon, SA Bookpurnong Road, Loxton; P.O Box 2 Loxton, SA 5333
It has been a Baratto family tradition in Italy for many generations to make wine for themselves and the locals in their village. In 1949, Florindo Baratto immigrated to Australia and purchased bare land in Hanwood. He and his wife Amabile planted their first vines in 1960 and these vines are still producing grapes today. In 1970, it was Florindo`s love of wine that encouraged him to carry on this...
Organic Vignerons, SA c/o PO Box Loxton Nth, Loxton SA 5333
Beelgara is located in the village of Beelbangera, just outside the town of Griffith in the heart of New South Wales` Riverina district. It is approximately 550 kilometres southwest of Sydney. While Beelgara has a rich resource in quality fruit from the Riverina, we source cool climate parcels of wine from across Australia, including Clare, Adelaide Hills, Coonawarra and Yarra Valley to build a tr...
Salena Estate, SA Bookpurnong Road, Bookpurnong Hill, Loxton SA 5333
The De Bortoli family story is one of determination and triumph that started 90 years ago in war-torn Europe and is now told, generations later, across Australia. Starting with Vittorio and Giuseppina De Bortoli, our history encompasses the universal story of immigrants making good in an adopted land through hard work, innovation and the support of family and friends. From humble beginnings making small amounts of dry table wine, mostly for fellow European immigrants, De Bortoli Wines expanded and consolidated under the direction of Vittorio and Giuseppina's energetic son Deen and his wife Emeri. Their four children – Darren, Leanne, Kevin and Victor – joined the family business and developed De Bortoli's reputation for premium wine, firstly through iconic dessert wine Noble One and then via the success of the cool climate wines produced at the family's Yarra Valley Estate. Today, as a fourth generation contemplates entering the family business, De Bortoli Wine's official motto, Semper ad Majora ("always striving for better") and the unofficial one (good food, good wine and good friends) remain as true and central as ever.
Sherwood Estates, SA 91 Alamein Ave, Loxton North SA 5333
Sherwood Estates P/L grapes are being pursued by winemakers from around Australia for their vibrant, varietal honesty, with fruit going to wines exclusively for the US market and into brands of global renown. Chardonnay and Shiraz are the backbone of Sherwood Estates P/L along with Cabernet Sauvignon and Pinot Noir. Emerging Mediterranean varieties which are well suited to the hot and dry climate of the Riverland are gaining a reputation, most particularly for Sherwood Estates P/L, Bianco d'Alessano. As a mid-late ripening variety, Bianco d'Alessano makes a wine very similar to Riesling. This variety shot to fame in Australia when it was awarded Wine of the Show at the 2010 Australian Alternative Varieties Wine Show.