Jump to Winery List
Berri Wine District
The Berri Wine District is located west of Renmark in the Riverland Wine Region and includes wineries near Berri, Lyrup, Karoom, Gurra Gurra and Winkie. Berri features a combination of thriving industries based on fruit processing, grapes and wine and a lovely riverfront setting with many local attrctions and activities based on the river. Berri lies on the banks of the Murray River in the heart of the Riverland Region. Berri was originally part of the historic Cobdogla Station and was a port for paddle steamers. Berri is located about 240 km from Adelaide and is surrounded by huge expanses of irrigated orchards and there are canning and juice facilities in the town. There are lots of things to do in the towns in the Berri district including excellent fishing and boating, camping and bushwalking. You can visit # Lock 4 # Martin Bend # The Lookout Tower # Berri Limited (that produces the famous Berri fruit juices ) # Berri Estates (which is the largest winery in Australia) # Bella Lavender Estate a large local Lavender Farm # Berri Visitor Information Centre # Water Tower Lookout # Scenic flights with Berri Air # Bird Watching Safaris # The Riverland Farmers Market # Riverside Walks.

The Riverlands Wine Region includes seven districts : Monash ; Barmera ; Berri ; Loxton ; Kingston ; Renmark ; Waikerie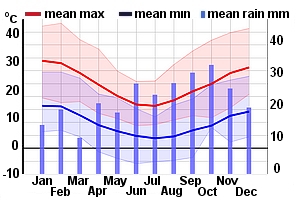 Winery Tour Map
Wineries
919 Wines, SA 39 Hodges Road, Glossop, Riverland, South Australia, 5344
919 Wines is a family owned winery producing certified organic wines from our two vineyards in the Riverland of South Australia. The cellar door outlet is located within our working winery, and has been built using straw-bale construction techniques in keeping with our sustainable winemaking philosophy. We make wine from exciting and emerging varieties for the adventurous wine drinker, including Petit Manseng, Vermentino, Sangiovese, Touriga Nacional, Tempranillo and Durif. For lovers of more traditional styles we have Chardonnay, Shiraz and rich, luscious heritage fortified wines. Visitors can see our winemaking activities, speak with our winemakers and taste our award-winning wines. We host a number of tours, dinners and events throughout the year, as listed on our website.
Dominic Wines, SA 8 Kay Avenue Berri, South Australia 5343
At Dominic Wines we are proud of producing fantastic wine that you can enjoy and most importantly savour in the moment! We want you to take 'time out' from the daily rush and engage in the art of conversation over a drink with friends or family and we want our wine to be part of your experience.
Omersown Wines, SA PO Box 15 Monash SA 5342
Dee Vine Estate has a well established family tradition in viticulture, spanning across two continents and four generations. The importance and pride that we have embedded into our vineyards are the foundations in which these wines are crafted from. We strive to continuously produce fine wines. This is our passion. Producing great wine comes as natural to us as drinking it.
Ral Ral Creek Wines, SA 980 Sturt Hwy, Monash SA 5342
The Eleftheriadis family own substantial vineyards - some ageing more than 50 years. The specially selected varieties produce a low yield which allows us to produce premium quality wines and our own product range. These vines produce a low yield resulting in the production of premium quality wines for their bottled product range.
Sigismondi Estate Wines, SA Main Road, Lyrup SA 5343
Sigismondi Estate Wines are located in the picturesque river settlement village of Lyrup, in the "Riverland Region" of South Eastern Australia. In the vineyards Dino & Veronica have Embraced the latest production technology, while in the winery the gentle pressing of the grapes & controlled temperature fermentations, have produced fine examples of Riverland wine, complemented by the sunshine in every bottle, that's just one of their "Southern Secrets". Premium Red's like Shiraz & Cabernet are carefully selected; crushed and fermented in controlled temperatures, to become part of our premium bottle or bulk ranges. Our Premium White's like the Sauvignon Blanc & Pinot Gris varietals, are picked using our own harvester's and team, at optimum maturity during the cool of the night and delivered to the winery shortly after being harvested to ensure the flavors remain fresh during processing.
Tom`s Drop, SA Hardwick Road, Berri SA 5343
Nugan Estate is a 60 year old family company that recently entered the premium wine market with its Nugan Estate and Cookoothama labels. All wines are sourced from tthe Nugan family vineyards in Coonawarra, King Valley, McLaren Vale and Riverina. Open: Tastings at Michelin Restaurant Mon-Fri, 11.30am-3.00pm Sat-Sun, 10.30am-2.30pm Closed Good Friday, Xmas, Boxing and New Year`s Day...
Winkie Ridge, SA Bishops Lane, Winkie SA 5343
Located in Griffith, Piromit wines have immediate appeal, are best enjoyed with friends, and are a delightful fit with the quintessential Australian lifestyle. Our multi medal winning wines offer a point of difference, yet they still retain the intrinsic varietal and regional nuances for which the Riverina is renowned. Along with the more traditional varieties and blends such as Cabernet Merlot, S...