Jump to Winery List
Tenterfield Wine District
Tenterfield, located close to the northern border of NSW with Queensland, is known as the `Birthplace of Our Nation'. Sir Henry Parkes outlined his renowned Federation speech for his vision of for a united Australian, on 24th October 1889 at the local School of Arts. This was followed by the federation of all Australian states into the Commonwealth of Australia in 1901. Many of Tenterfield`s heritage buildings are preserved, such as the Police Station, Railway Station and Gaol. Other famous buildings are: Deloraine, Stannum House, The famous Tenterfield Saddlery, Stretford House, St Stephens Church (where Banjo Patterson got married here in 1903). The outstanding colonial architecture is combined with an array of magnificent natural features (including Boonoo Boonoo Falls National Parks and Bald Rock) panoramic, pristine landscapes, a climate with four definite seasons with warm summers, frosty winters and delightful autumn and spring seasons. Tenterfield is a wonderful place for a relaxing holiday exploring the region. You can swim in the local dams. lakes and rivers, go fishing, horse riding or walking along the bushwalking trails and enjoy the local ecotourism opportunities and see Australian wildlife in their natural habitat.
Tenterfield is an ideal base for exploring local vineyards and wineries.

The region is divided into six districts for mapping and listing purposes: The local wine districts are: Amiens ; Glen Aplin ; North Ballandean ; South Ballandean ; Stanthorpe ; Tenterfield ; The Summit ; West Ballandean;.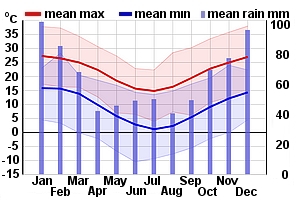 Winery Tour Map
Wineries
Deetswood Wines, NSW 209 Washpool Creek Road, Tenterfield NSW
A boutique cold-climate vineyard and winery high in the great dividing range at Tenterfield, Northern NSW. At Deetswood we make and bottle our wine on site using grapes grown in our vineyard. Deetswood Wines is located only 6km from the Tenterfield Post Office. The unique combinations of climate, soil and viticultural practices, combine to give Deetswood Wines a delicate, elegant style. The vines ...
Dumaresq Valley, NSW Bruxner Highway, Tenterfield
Dumaresq Valley Vineyard lies nestled in a valley by the Dumaresq River. At the foot of distant hills, vines bask lazily in an abundance of sunlight producing a range of elegant wines complimenting most foods. Relax in the newly built cellar door and meet the proud owners of Dumaresq Valley Vineyard. `The Zappa family` welcomes you to sample a range of wines while enjoying the peaceful country atm...
Kurrajong Downs, NSW Bruxner Highway,Tenterfield ( 9m from Tenterfield)
Nine kilometres east of Tenterfield (just a 6-minute drive), on the Bruxner Highway to Casino, is Kurrajong Downs vineyard and restaurant, a perfect place to visit. Named after the kurrajong trees on the property, and its origins as part of the original Barney Downs Station, it is a vineyard with cellar door wine sales and a restaurant that can cater for over 100 people. Open from 10am to 4pm Thur...
Reedy Creek Estate Wines, NSW 6617 Dumaresq Way, Tenterfield NSW 2372
Reedy Creek Estate is owned by the De Stefani family, who first settled there over forty-five years ago. Originally a tobacco and cattle grazing property, the first vines of Shiraz, which make the award winning Old Vine Shiraz, were planted in 1965. The vineyard plantings extended in 1995 when the Tobacco industry was deregulated and now 17 acres of grapes are grown and processed on site at the winery. Reedy Creek was the first commercial vineyard and winery established in the New England region of New South Wales. The vineyard and cellar have continued to expand, now offering more than nine varieties of wines/blends, whilst still maintaining a priority on quality production. The wines have reiceved many awards over the years at both a State and National level and the cellar door has also been a recipient of many regional Tourism Awards as well as being a state finalist 3 times. Located 65km west of Tenterfield on the Bruxner HWY in Northern NSW, Reedy Creek is home to magnificent views over looking the valley. There are also beautiful gardens on the property that visitors can wander through and enjoy. The cafe is open daily for great coffee, and lunches and other functions can be catered for by appointment.
Richfield Estate, NSW Bonshaw Road, Tenterfield
Our wines combine old world French winemaking traditions with new Australian technology. They are produced exclusively from grapes grown in our vineyard and our first vintage was produced in 2000....
Zappa Wines, NSW Bruxner Highway, Tenterfield NSW 2372
Zappa Wines from Dumaresq Valley Vineyard is proudly owned and operated by the Zappa family. Located in Northern New England west of Tenterfield and today stands as one of New England's highly reputable wine labels. The Zappa family has been involved in establishing a successful mixed farming enterprise. The artwork on our wine label, which features interlocking blocks, represents the strength, bond and attributions of each of these generations. The Zappa passion has helped to create a range of truly great wines from vintage to vintage. The vineyard consisting of 20 hectares was established in 1997 with plantings of Chardonnay, Semillon, Sauvignon Blanc, Shiraz, Merlot, Cabernet Sauvignon, Barbera, Tempranillo and Tannat.