Jump to Winery List
Glen Alpin Wine District
The charming village of Ballandean lies the heart of the famous Granite Belt Wine Region, just south of Stanthorpe, in Queensland south west of Brisbane. The village is faous for its beautiful and picturesque setting, fantastic country hospitality and the access it provides some of the best vineyards an wine makers in Queensland. Ballandean is the perfect destination for a week-end spent touring the local wineries, food outlets and local arts ad crafts. It is an ideal destination for tourists from New South Wales and Queensland and for day-trips from Brisbane and the Gold Coast. One of the best way to see and taste the local wines is by joining one of the many wine tours that operate from the centres. Ballandean has a wonderful variety of all types of accommodation from resorts and luxury retreats to farmstays, hotels, motels and backpackers. There is lots to see and do in Ballandean by visiting the award winning wineries with their cafes and restaurants as well as stunning array of local produce outlets and gourmet foods. There are many events throughout the year and many of the wineries offer entertainment on the weekends. The world-famous `Opera in the Vineyard` occurs every May and `Jazz in the Vineyard` every August. Every Spring, there is the very popular `Game Keepers Dinner` and draws fans from far and wide. The stunning Sundown National park and Girraween National Park are located just short drive from Ballandean. There are at least 20 wineries within 5 km of Ballandean. This region has four distinct seasons each with its own special food item for visitors to enjoy. In Summer there are stone fruit and fresh local berries available. Autumn is the season when the grapes are harvested and is the time for the wonderful display of autumn leaves - reds, yellow and orange. Winter features cool misty mornings, crystal and crisp clear days, beautiful sunsets and delightful cosy nights warming yourself beside a log fire enjoying your new favourite wine or port. The biggest challenge for local wine producers has been to convince Australians that not all of Queensland is hot and tropical and unsuitable for grapes or wine. The Granite Belt is about 850m above sea level and can have severe frosts in winter, with 35-45 frosts each year extending into early October. The vie buds start to burst at the end of September and unfortunately frost damage is quite common. Late summer rains can be hazard for the harvest. The night average minimum temperature during winter is only 0.3°C. Summer, however, provides a mild day time temperature with cool night time temperatures, making it a perfect getaway for people in the heat zones. The summer is not hot and tropical and autumn is warm days and cold nights.

The region is divided into six districts for mapping and listing purposes: The local wine districts are: Amiens ; Glen Aplin ; North Ballandean ; South Ballandean ; Stanthorpe ; Tenterfield ; The Summit ; West Ballandean;.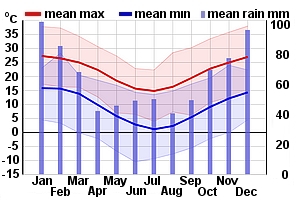 Winery Tour Map
Wineries
Bramble Patch, QLD 381 Townsend Road, Glen Aplin
The Bramble Patch boutique winery specialises in fortified berry wines, gourmet preserves and fresh berries during summer. They are situated 15 kilometres south from Stanthorpe. For that total berry experience visit our farm and purchase fresh raspberries, boysenberries and strawberries in season and indulge in our extensive range of farm manufactured jams, sauces and vinegars along with our range...
Felsberg Winery, QLD 116 Townsend Road, Glen Aplin QLD 4381
Felsberg was established in 1983 by the Haag family and is situated at an altitude of 875 metres in the heart of the Granite Belt. The cool climate is ideal for the growing of classical wine grape varities which are Chardonnay, Rhine Riesling, Gewurtztraminer, Shiraz, Merlot and Cabernet Sauvignon. Felsberg also offers two types of Mead. Felsberg Winery is perched high on the slopes of Glen Aplin ...
Harrington Glen, QLD 88 Townsend Road, Glen Aplin QLD 4381
Welcome to Harrington Glen, producers of award winning Queensland wine from the Granite Belt, just 10 minutes drive south of Stanthorpe, Qld's premier wine region. The Harrington Glen experience neither begins nor ends with the opening of a bottle of wine; it offers you a complete wine journey beginning at our cellar door and prevailing with a commitment to quality wine tourism through our luxury ...
Inigo Wines, QLD Lot 2, New England Highway, Severnlea Qld 4352
A small family vineyard and winery dedicated to St Ignatius of Loyola, Inigo is his birth name and he was Founder of the Jesuits. Bernard Carter is the resident winemaker. Inigo Granite Country Estate has a Mediterranean kitchen and winery. The Estate is located near Glen Aplin and is open to visitors on weekends and public holidays. Admission is free. Inigo Granite Country Estate is evidence of t...
Jester Hill Wines, QLD 292 Mount Stirling Road, Glen Aplin
Situated in the beautiful valley of Glen Aplin, this five hectare vineyard aims to produce small quantities of high quality wine of varieties suited to this area. It was established in 1993 and has grown to a five hectare vineyard. The vineyard was established in 1993 by John and Genevieve Ashwell on a 20 hectare property in south-eastern Queensland, Australia. John holds a degree in medicine and ...
Kominos Wines, QLD 27145 New England Highway, Stanhorpe
Picturesque vineyards surround a modern winery and entice visitors to enjoy and savour the quality of Queensland grown and made wines. The first grapevines at Kominos Wines were planted in 1974. At 850 metres above sea level, this Granite Belt vineyard, known as `Ambeli Stavrou` (vineyard of Stephan) is still one of the highest commercial plantings of wine grapes in Australia. It is this altitude ...
Mountview Wines, QLD Mt Stirling Road, Glen Aplin QLD 4381
Set among pine trees, the red cedar barn winery enjoys spectacular views and stands on the site of the original Mountview vineyards established in 1921. Visitors entering the wine tasting room are cosseted amidst a range of wine making equipment and oak barrels, providing an authentic winery experience. While Mountview offers a full range of red and white wines, it`s our sparkling wines that draw ...
Stone Ridge, QLD 35 Limberlost Road, Glen Aplin QLD 4381
Stone Ridge Vineyards make quality varietal wine and release limited quantities of Shiraz and other premium varieties. Located 13 kilometres south of Stanthorpe, the Winery is located just off the New England Highway at Glen Aplin. Specialising in quality varietal table wines, especially shiraz and chardonnay, the winery is open from 10.00 a.m.- 5.00 p.m. and can be contacted on (07) 4683 4211. Th...