Jump to Winery List
West Ballandean Wine District
Ballandean lies in the heart of the Granite Belt Region in southern Queensland, just south of Stanthorpe and just north of the border with New South Wales. Ballandean is famous for its beautiful natural setting, fantastic country hospitality, its fabulous accommodation and its closeness some of the best vineyards and wineries in Queensland. Ballandean exemplifies the features of the Granite Belt wineries district which is a favourite for Brisbane residents on day trips and winery tours, and foir tourist to the region. Ballandean is the perfect place to stay and explore the bounty of the Granite Belt Winery Region. Just a short distance south of Stanthorpe, Ballandean has a wonderful variety of accommodation type available ranging from farmstays, bed and breadfasts, hotels, motels, holiday houses and luxury retreats. Luxuriate in the tranquillity and peacefullness of country living and relax in the beautiful natural settings amidst the breathtaking beauty of the Granite Belt Region. The name of the region is derived from the terrain of the local landscape which features large granite boulders which dot the rugged hilly countryside.The Granite Belt encompasses an area that extends from north to Allora and Clifton, Inglewood and Texas in the west, to Cunningham`s Gap (just 120 km south west of Brisbane) in the east and south to the boundary village of Wallangarra. The centre of the district is the village of Stanthorpe and the region borders New South Wales, and adjoins the wineries surrounding Tenterfield. The numerous boutique wine makers today make a very broad variety of wine methods focused on Cabernet Sauvignon, Sauvignon Blanc, Shiraz, Merlot, Chardonnay and Semillon. Though much of Queensland is regarded as being too hot for growing grapes, the Granite Belt is one of the highest altitude vineyard districts in Australia ranging from 700-1200 m. This climate features freezing frosty winters and moderately hot, but not warm summers. The major climatic problems in this district are for this district are late frosts, highly variable soils and moderate chance of rain throughout the harvesting period. Local Wine tourism is of critically important for the wineries in the Granite Belt. There are now in excess of 50 boutique wine makers in the 5 districts in the area as well as a wonderful variety restaurants, cafes and fine produce outlets.

The region is divided into six districts for mapping and listing purposes: The local wine districts are: Amiens ; Glen Aplin ; North Ballandean ; South Ballandean ; Stanthorpe ; Tenterfield ; The Summit ; West Ballandean;.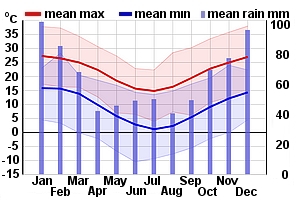 Winery Tour Map
Wineries
Ballandean Estate, QLD 354 Sundown Road, Ballandean QLD 4382
Situated approximately 250 kilometres South-west of Brisbane on Queensland`s Granite Belt, Ballandean Estate Wines is Queensland`s oldest family owned and operated winery and the Puglisi family has been making wine on the Estate since 1931. As a winemaking family dynasty we are justifiably proud of our reputation, our brand, and our pioneering role in the establishment of the Queensland Wine Indus...
Bungawarra, QLD Bents Road, Ballandean QLD 4382
Bungawarra Wines was established in 1975 on a vineyard that had existed since 1892. Wine had been made here in quantity for many decades but under new owners the focus was increased. New plantings of Shiraz, Cabernet Sauvignon, Malbec, Chardonnay, Semillon and Traminer were begun while 0.5 hectares of ancient Muscat vines were retained to make a delicious Liqueur Muscat. Total plantings at present...
Golden Grove Estate, QLD 337 Sundown Road, Ballandean, Qld, 4382
Golden Grove Estate Vineyard and Winery, is situated in the highlands of the Ballandean Valley,in the heart of Queensland's premier wine district, the Granite Belt. The high altitude of 820 metres and cool summer climate make the area ideal for the growing of classic wine grape varieties and production of fine wines. The first vines were planted in 1975 and were followed in recent years by other classic varieties. The vineyards are planted in a northerly aspect in a combination type soil of decomposed granite with trap rock loam and are drip irrigated from the Accommodation Creek. These attributes contribute to the slow ripening and full development of soft delicate flavours. Mario and Nita Costanzo, growing grapes for the fresh fruit market, first settled the property in 1946. As the wine industry emerged classic wine grape varieties were planted for the making of commercial wine.
Just Red Wines, QLD 2370 Eukey Road, Ballandean, Queensland, Australia
We are a boutique winery in the Granite Belt region of Queensland, Australia. As our name suggests we are specialists in red wine. All our wines are made on the premises from grapes grown on our property. Our grape varieties planted are Shiraz, Merlot, Cabernet Sauvignon, Tannat and a small planting of Viognier to go into our Shiraz/Viognier. Although most people associate Queensland with warm subtropical beaches, we are in a unique climatic region just west of the Great Dividing Range near the New South Wales border. Our altitude of almost 900m provides cool nights in the summer and very cool winters. The warm Queensland sunshine is particularly suited to growing red wine and hence we have chosen to specialise. Our soils are decomposing granite similar to the best soils of the Hermitage appellation of the Cotes du Rhone in France. Hermitage is the home of Syrah or Shiraz as we call it here in Australia. Our summer temperatures are also similar to this region and therefore Syrah is our flagship wine. Through experimentation we have also found that some of our soils produce excellent Bordeaux varieties Merlot and Cabernet Sauvignon.
Symphony Hill Wines, QLD 2017 Eukey Road, Ballandean QLD 4382
Symphony Hill Wines is a group of family and friends bonded together on the quest to make world class wines and to never stop learning. We are a company that wholeheartedly believes in the mind blowing potential of wines grown and made on the Granite Belt. The Granite Belt is the promised land of viticulture with altitudes ranging from 600m to 1000m – all within the one region. As a result climatic conditions vary tremendously allowing all sorts of varieties to excel depending on which altitude they are planted. As an example, our own vineyard is the highest of the region allowing our flagship wine, Reserve Shiraz, to produce a style of wine that is unique in Australia and totally different to Shiraz grown at lower altitudes. Our Cabernet Sauvignon is harvested in early May which is one month later than Cabernet harvested in Clare Valley, showing how cool our climate is in comparison to other wine regions. Lower altitude vineyards on the Granite Belt are where we source varieties more suited to slightly warmer conditions, like Petit Verdot and Tempranillo. It is a wonderful situation to be able to make excellent wine from so many different varieties.
Tobin Wines, QLD 34 Ricca Road (cnr Sundown Road), Ballandean
At Tobin Wines, we talk about growing our wine, rather than making the wine. Our winemaking philosophy is undeniably 'old world' — all respect is paid to the vineyard, the vine, and the pursuit of perfection in grape quality, with little — if any — reverence paid to the winemaker or winemaking process. Each grape variety is given the spotlight to truely reveal its own unique flavour. "No wine maker is gifted enough to make those wonderful flavours & aromas — all of the work happens out there, in the vineyard" — Adrian Tobin.The production of our wine is limited to between 100 – 160 cases of each varietal every year. Our Limited Edition wines express their origins in the rugged and majestic landscape of the Granite Belt making them truly unique.
Winewood, QLD 312 Sundown Road, Ballandean QLD 4382
Winewood is situated 3km west of Ballandean in the heart of Wine Country. A boutique, family-run vineyard and winery, specialising in Rhone style wines made from Marsanne and Shiraz grapes grown in our own vineyard using sustainable viticultural practices. A wood fire welcomes our winter visitors. Taste oak matured table wines and sip meads and muscat. Open weekends and Public Holidays 9am - 5pm...