Jump to Winery List
Southern Ballandean Wine District
The Granite Belt region gets its name from the nature of the terrain which features large granite boulders dotting rugged hilly landscape, which sometimes causing problems during planting. This is Queensland`s best known wine region and being relatively close Brisbane it is a favourite for wine tours and bus trips to visit the wineries. The Granite Belt includes an area that stretches from Inglewood and Texas in the west, north to Allora and Clifton, to Cunningham`s Gap (just 120 km south west of Brisbane) in the east and south to the border town of Wallangarra. The region is centred around the town of Stanthorpe close to the border with New South Wales. The wine industry in the area was pioneered by Italians and their descendants beginning around the 1920s. They initially produced wine for their own enjoyment and for sale to the Italian cane-growing communities to the north. It was not until the mid 1960s that growers became interested in growing the classic wine varieties. In 1965 the first shiraz wine grapes were planted in the Granite Belt, initially only one hectare. This was an appropriate choice as this variety as well as semillon are suited to the area. The Ricca family were the pioneers in the area. They weree closely followed by the Robinsons Family Vineyards which were established in 1969 by Toowoomba solicitor John Robinson and wife Heather. In the following year, what became Ballandean Estate was established. These two wineries remain the largest in the district, and Kominos, Rumbalara and Bungawarra are well renowned wine names in the area. The many boutique wineries today produce a broad range of wine styles including Cabernet Sauvignon, Sauvignon Blanc, Chardonnay and Semillon. The Granite Belt was formally declared a wine region in 2000. Though most of Queensland is too hot for grapes, the Granite Belt is one of the highest vineyard regions in Australia with altitudes ranging from 700-1200 m. This altitude creates distinctive seasons with cold frosty winters and warm, but not hot summers. The major problems for this region are spring frosts, highly variable soils and rainfall during the harvest period. Local Wine tourism is of critical importance for the Granite Belt wineries. There are now more than 50 boutique wineries in the district as well as a wonderful range of fresh food outlets and gourmet cafes and restaurants in the area.

The region is divided into six districts for mapping and listing purposes: The local wine districts are: Amiens ; Glen Aplin ; North Ballandean ; South Ballandean ; Stanthorpe ; Tenterfield ; The Summit ; West Ballandean;.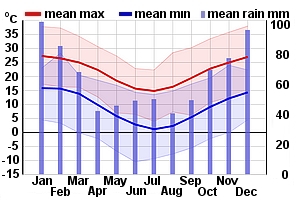 Winery Tour Map
Wineries
Girraween Estate, QLD 41 Hickling Lane Wyberba QLD 4382
Girraween Estate is forging a growing reputation as a premium quality producer in one of Australia's most unique wine growing regions. The vineyard is set high on the Great Dividing Range at an altitude of 810 metres, where humidity is relatively low and the growing season cool and long. The soils are well drained decomposed granite, ideal for viticulture. This unique terroir is becoming recognised in the Australian wine industry and wines from the Granite Belt region are keenly sought after by those who appreciate cool climate wines. Girraween Estate was one of the early plantings in Queensland's Granite Belt wine region. Originally a table grape vineyard planted in 1948, Shiraz grapes were added in 1977 and Chardonnay planted in 1981. The table grapes were grafted over to Sauvignon Blanc in 1986 – well before the emergence of Sauvignon Blanc from New Zealand! The most recent block, our Cabernet Sauvignon was planted in the 1990's.
Pyramids Roads Wine, QLD 25 Wyberba Lane, Wyberba via Ballandean QLD 4382
A passion for fine wines drives all operations at Pyramids Road Wines. Our focus is the production of high quality low volume hand made wines. All wines are hand crafted on the premises. Our 2 hectare vineyard was planted in November 1999 producing our first crop in 2002.Varieties include Cabernet Sauvignon, Shiraz, Merlot, Mourvedre, and Verdelho. A 70 year old patch of muscat has been revived an...
Robinsons Family, QLD 151 Curtin Road, Ballandean Qld 4382
Robinsons Family Vineyards was established in 1969 by John and Heather Robinson. The Winery is located approximately 23 kilometres south of Stanthorpe. The winery welcomes you into an attractive reception area where visitors can sample Chardonnay, Shiraz and Cabernet Wines, Vintage Brut sparkling wine, and make purchases. Visitors can see grape crushing and wine making from January to March. The W...
Twisted Gum Wines, QLD 2271 Eukey Road, Ballandean QLD 4382
If you are looking for premium-quality, single-vineyard, award-winning wines and a charming holiday cottage set amongst hand-tended vineyards and beautiful grantite boulders then you have come to the right place! We are a small family-run vineyard (appoximately three hectares of vines) perched high on a ridge near Ballandean in the Granite Belt - Queensland`s premier wine district. Our focus is on...