Jump to Winery List
Stanthorpe Wine District
Stanthorpe, located in the Southern Downs area south west of Brisbane, is the major town in the centre of the world-famous Granite Belt wine region, showcasing more than 50 vineyards and wineries, many of which have cellar doors. Stanthorpe is regarded as the coldest town in Queensland and among the most elevated towns, with some locations in the surrounding area reaching more than1000 metres above sea level. Irregular snowfalls during winter, and frosty mornings from June to September are not uncommon. Late fronts and rain during the harvest period are some of the challenges for grape growers in the area. The high altitudes, cool temperatures and unique local soils provide fabulous growing conditions for not only grapes, but also for various varieties of apples and berries, stonefruit such as apricots, peaches and nectarines and also for olives and lavender. The bounteous harvest of the district is celebrated in the popular Apple and Grape Harvest Festival, which is held every second year, in even numbered years in February/March. Stanthorpe is surrounded by beautiful National Parks, including Girraween National Park located to the south of Stanthorpe. Close by are Bald Rock, Boonoo Boonoo and Sundown National Parks. Because of its elevation (873 m), Stanthorpe has a highland subtropical climate. At an altitude of (with some areas as high as 950 metres), Stanthorpe can be cold in winter but can also be very hot in the summer, with temperatures exceeding 30 degrees centigrade. The major local industry is agriculture, mostly focusing on being apples, stone fruits and grapes. Sheep and cattle grazing is also prevalent in the area. Tourism is also very important to the area. There are more than 50 wineries in the Granite Belt winery region, many offering cellar doors with cafes and restaurants. The major local events include the Australian Small Winemakers Show (held in October-November), Spring Wine Festival (held in September), the Apple and Grape Harvest Festival (February/March - every second year) and the annual Australian Country Shows and Rodeos.

The region is divided into six districts for mapping and listing purposes: The local wine districts are: Amiens ; Glen Aplin ; North Ballandean ; South Ballandean ; Stanthorpe ; Tenterfield ; The Summit ; West Ballandean;.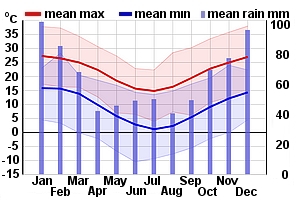 Winery Tour Map
Wineries
Amberley Edge, QLD 47 Clark Lane, Stanthorpe Qld 4380
Great Stanthorpe accommodation awaits you at Amberley Edge Vineyard Bed and Breakfast located in the heart of Queensland`s premier wine country. Carol and Trevor Sharp will be your hosts and offer Bed and Breakfast Accommodation with style and personal attention, which only owners in residence can offer. Amberley Edge is surrounded by 72 acres with captivating views over our vineyard and the magni...
Back Pocket, QLD 90 Savina Lane, Severnlea
Back Pocket is a small vineyard on Back Creek in the foothills of Severnlea, in the Granite Belt wine region.We produce a small range of distinctive, premium, single-vineyard wines that speak directly for our vineyard each and every season. Back Pocket - Past and Present Back Pocket has a long horticultural history. Subdivided in 1927, the property has grown apples, pears, plums, peaches, table gr...
Banca Ridge, QLD cnr Caves Road and New England Highway
Nestled in the heart of Queensland`s premier wine country, the Queensland College of Wine Tourism incorporates the Banca Ridge Winery and Cellar door and offers excellence in education and training, food and wine. With state of the art facilities over looking the tranquil Banca Ridge Vineyard, the Queensland College of Wine Tourism offers brilliant conference facilities, an informative interpretiv...
Lucas Estate, QLD 329 Donges Rd, Severnlea Qld 4352
A family established winery producing classic style wines on site from old and new vineyards in hill country with scenic views. Features local produce, wine tasting and sales, Art Gallery and handcrafted gifts. Lucas Estate Wines is located in a bush setting just south of Stanthorpe. Wine and local produce are available for tasting and sale from 10:00 am to 5:00 pm seven days per week. Visitors ca...
Moonrise Estate, QLD 47 Clark Lane, Stanthorpe Qld 4380
Moonrise Estate Dry Grown vineyard was established in the early 1980's and is situated 850m above sea level - ideal for cool climate viticulture.The Estate has spectacular views across the valley to Stanthorpe. The gentle slopes and the perfect North Easterly aspect enhance the growing conditions for the vines, and production of our Stanthorpe wine. Dry Grown vineyards produce quality grapes with ...
Ridgemill Estate, QLD 218 Donges Road, Severnlea
Ridgemill Estate is located in the heart of the Granite Belt in Queensland's premium wine growing region. Located just 2.5 hours from Brisbane and only a 10 minute drive from the township of Stanthorpe, ridgemill estate is an ideal location for a weekend away. Fill your days with the freshest local produce, beautiful scenery, gourmet delights and a diverse range of award wining wines. Ridgemill Es...
Savina Lane Wines, QLD 61 Savina Lane, Severnlea QLD 4380
Granite Belt premium hand-crafted wines from single vineyard hand-picked fruit. Lovely wines, passionate people, a beautiful setting. For the second time in two years our gorgeous Fiano has been honoured with a Champion White Wine award. Last year it was the 2015 that won Champion Queensland White Wine at the Australian Small Winemakers' Show, this time the Fiano 2016 won gold at the Queensland Wine Awards.
Severn Brae, QLD 49 Back Creek Road, Severnlea, QLD 4352
Vineyards established 1987 producing fine whites and great reds. Best Queensland Red Wine 1996 and 1997. Hi-tech vineyard. Traditional and interesting experimental wines. Cafe lunches, espresso coffee and homemade cakes.Visit our Cellar Door and Cafe. The vineyard is now 7 hectares in total being 4 ha Chardonnay, 0.5 ha Merlot, 1 ha Sangiovese and 1.5 ha Shiraz. We developed a high-tech winery in ...
Whiskey Gully Wines, QLD 25 Turner Lane, Severnlea
Whiskey Gully Wines is in the heart of the Granite Belt set on a hill east of the New England Highway at Severnlea just 5 minutes south of Stanthorpe. The cellar door is in a colonial homestead building, Beverley, which dates back to the late 1880s. The vineyard was established in 1997 and the cool climate and granitic, well-drained soils are ideal for premium wine grape production. Current varieties include French colombard, chardonnay, malbec, cabernet sauvignon, shiraz and black muscat which are used to produce elegant, fruit-driven wines with many trophies and medals awarded to them.