Jump to Winery List
North Ballandean Wine District
The charming village of Ballandean lies the heart of the famous Granite Belt Wine Region, just south of Stanthorpe, in Queensland south west of Brisbane. The village is faous for its beautiful and picturesque setting, fantastic country hospitality and the access it provides some of the best vineyards an wine makers in Queensland. Ballandean is the perfect destination for a week-end spent touring the local wineries, food outlets and local arts ad crafts. It is an ideal destination for tourists from New South Wales and Queensland and for day-trips from Brisbane and the Gold Coast. One of the best way to see and taste the local wines is by joining one of the many wine tours that operate from the centres. Ballandean has a wonderful variety of all types of accommodation from resorts and luxury retreats to farmstays, hotels, motels and backpackers. There is lots to see and do in Ballandean by visiting the award winning wineries with their cafes and restaurants as well as stunning array of local produce outlets and gourmet foods. There are many events throughout the year and many of the wineries offer entertainment on the weekends. The world-famous `Opera in the Vineyard` occurs every May and `Jazz in the Vineyard` every August. Every Spring, there is the very popular `Game Keepers Dinner` and draws fans from far and wide. The stunning Sundown National park and Girraween National Park are located just short drive from Ballandean. There are at least 20 wineries within 5 km of Ballandean. This region has four distinct seasons each with its own special food item for visitors to enjoy. In Summer there are stone fruit and fresh local berries available. Autumn is the season when the grapes are harvested and is the time for the wonderful display of autumn leaves - reds, yellow and orange. Winter features cool misty mornings, crystal and crisp clear days, beautiful sunsets and delightful cosy nights warming yourself beside a log fire enjoying your new favourite wine or port. The biggest challenge for local wine producers has been to convince Australians that not all of Queensland is hot and tropical and unsuitable for grapes or wine. The Granite Belt is about 850m above sea level and can have severe frosts in winter, with 35-45 frosts each year extending into early October. The vie buds start to burst at the end of September and unfortunately frost damage is quite common. Late summer rains can be hazard for the harvest. The night average minimum temperature during winter is only 0.3°C. Summer, however, provides a mild day time temperature with cool night time temperatures, making it a perfect getaway for people in the heat zones. The summer is not hot and tropical and autumn is warm days and cold nights.

The region is divided into six districts for mapping and listing purposes: The local wine districts are: Amiens ; Glen Aplin ; North Ballandean ; South Ballandean ; Stanthorpe ; Tenterfield ; The Summit ; West Ballandean;.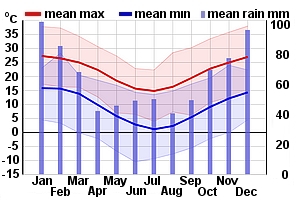 Winery Tour Map
Wineries
Andelas Estate, QLD 3 Sutton Lane, Ballandean Qld 4380
This family boutique vineyard is located adjacent to the Severn River. Its history goes back to the 1930`s, table and wine grapes have always been grown in this vineyard. Since 1995 new varieties have been planted, Chardonnay, Verdelho, Merlot and Tempranillo. These vines are individually tended, their every need catered for!! Hand pruned, hand harvested Our passion and belief is `from good vines ...
Aventine Wines, QLD 86 Watters Road Ballandean QLD 4382
High altitude, north facing hillside vineyards often caressed by early morning clouds and bathed in crimson gold sunsets. The farm, on which AVENTINE WINES is located, was first cleared for farming in the early 1900`s by the two Barker brothers. None of those fancy chainsaws or bulldozers in those days. The brothers used 6-foot long, (about 2 metres) steel saws with one man on each end pulling and...
Coolvale Country, QLD Ferris Lane, Ballandean QLD 4382
Coolvale Orchard is situated on the Granite Belt. The well-drained decomposed granite soils have allowed us to produce fruit of intense flavour and high sugar levels. Our wines are naturally fermented from fresh, tree ripe fruit, using traditional wine making techniques. The combination of high quality fruit and modern winemaking skills produce wines with a clean fresh taste suitable for immediate...
Hidden Creek Winery, QLD 2271 Eukey Road, Ballandean, QLD
At almost 1000 metres elevation and established in 1989, Hidden Creek Vineyard, Winery, Cellar Door & Cafe is a high altitude Wine Estate located in Queensland's acclaimed Granite Belt wine region. Our estate has warm summers and bitterly cold winters. This climate, together with the arid granite rocky soils, draws similar comparisons to high regions close to the Mediterranean. Areas such as north-eastern Spain, the inland south-west of France around Cahors and Gaillac, and the upper Rhone Valley in France, bear a great resemblance to our Granite Belt terrain. These regions have a tradition of unique characterful wines that are wonderful accompaniments to food. At Hidden Creek we have adopted the grape varieties and inspiration of these regions. The outcome of our vineyard site, climate and culture produces wines that taste unique to our region. The people of France call this "Terroir" but there may just be an Indigenous term for this concept to explain why a wine has a certain taste not just because of the variety and vineyard management but because of its place.
Just Red, QLD 2370 Eukey Road Ballandean QLD 4382
We are a boutique winery in the Granite Belt region of Queensland. As our name suggests we are specialists in red wine. Our altitude of almost 900m provides cool nights in the summer and very cool winters. The warm Queensland sunshine is particularly suited to growing red wine and hence we have chosen to specialise. Our soils are decomposing granite similar to the best soils of the Hermitage appel...
Mary Byrnes, QLD Rees Road, Ballandean QLD 4382
Distinctive wines made from estate grapes with minimal intervention in both grape growing and winemaking processes. Hours: weekends 10am-5pm and by appointment. Varieties: Rose, Shiraz, Liqueur Muscat. Mary Byrnes following her life long interest in wine bought a stone fruit orchard and table grape vineyard at Ballandean, Granite Belt, Queensland in 1990. Her pursuit of her wine interests were put...
Rumbalara, QLD 137 Fletcher Road, Ballandean QLD 4381
Bob and Una Gray established Rumbalara Estate Vineyards and Winery in 1974 when they purchased a 130 acre property at Fletcher in the Granite Belt. The vineyards, previously owned by the Verri family, had been renowned for many decades for the table grapes sent to the Brisbane and Sydney markets. In 1975, Cabernet Sauvignon, Shiraz and Pinot Noir, were planted whilst a large area of existing table...
Severn Hills, QLD Cnr Bents and Sundown Roads, Ballandean
Situated in the beautiful Severn River Valley at the northern approach to Ballandean, epicentre of the Granite Belt Wine Industry, the modern winery overlooks a 50 acre vineyard. The vineyard was established in 1997 with plantings of Shiraz, Cabernet Sauvignon, Merlot and Chardonnay. Varieties now include: Chardonnay, Merlot, Shiraz, Sauvignon Blanc, Semillon, Grenache/Cabernet/Merlot, Port, Musca...
The LiraH Trust, QLD 104 St Judes Road, Ballandean
LiraH is an Australian speciality food producer located in the cool, high altitude Granite Belt Region of Queensland, Australia. A family owned business, run by members of the family from Ballandean Estate Winery, LiraH is dedicated to producing high quality ingredients for professional and amateur chefs alike. At LíráH we aim to make `ingredients of Success`. We recognise that our products are no...
Windermere, NSW 409 Watters Road, Ballandean
Enjoy great wines at the newest high altitude winery on the New England Ranges. Hours: daily 9:30am-4:30pm. Varieties: Chardonnay, Semillon, Sauvignon Blanc, Shiraz, Sangiovese, Cabernet, Merlot, Liquor Muscat, Orange Coffee Liqueur....