Jump to Winery List
Tamworth NSW Wine District
The Tamworth Wine District in the New England Region is centred on the rural and tourist service centre of Tamworth. The delightful regional community lies on the banks of the Peel River and has a population of about 45,000 people. The city is ideally located about half-way between Brisbane and Sydney and is only about 2-3 hours from the North Coast cities of Port Macquarie, Coffs Harbour, Byron Bay, Coolangatta and Tweed Heads. The area is an ideal destination for wine tours you organise yourself, or one of the organised wine tours organised from these regional centres. Tamworth has a national and international reputation as the `Country Music Capital of Australia`, and annually hosts the renowned Tamworth Country Music Festival in late January. Tamworth is also recognised as a major centre for horse events staged at the Australian Equine and Livestock Events Centre. Tamworth has a thriving agricultural industry based on sheep and cattle grazing, various grain and oil-seed crops, olives and recent developments of vineyards and wineries. The area has seen recent growth in niche agricultural ventures such as various nuts, honey, fish farming, alpacas, hydroponics and various berries. Exquisite fine-dining, using the of tasty local produce is showcased in more than 50 restaurants and cafes in the Tamworth Region, many featuring the unique local wines. The elevation is around 400 m above sea level and the climate features four distinct seasons with warm dry summers and frosty cool winters. The many boutique wineries produce unique wines from a variety of red and white grape varieties.

It is worthwhile visiting the famous wineries in the nearby region of the Granite Belt Region and New England.

The New Englandregion includes six local wine districts: Tenterfield ; Texas ; Bolivia ; Inverell ; Glen Innes ; Armidale ; Tamworth .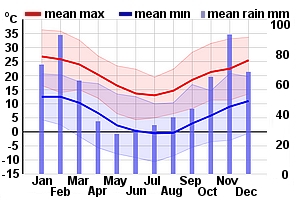 Winery Tour Map
Wineries
Dutton`s Meadery, NSW 57 Barraba Street, Manilla
Dutton`s Meadery is located in Manilla in the New England Wine Region in New South Wales ....
Mahers Vineyard, NSW Porcupine Lane, Kootingal
Mahers is a small vineyard in Kootingal in the New England Wine Region in Northern New South Wales....
Tangaratta, NSW 340 Old Winton Road, Tamworth
Tangaratta Vineyard is nestled in the tranquil Peel Valley only minutes from Tamworth, New South Wales. Our vineyard and almost century-old chapel offers the perfect backdrop for your wedding, function or special event. We are only one hour`s flight from Sydney with the conveniences of a major regional hub. Spoil your guests with a taste of country hospitality at Tangaratta. Tangaratta Vineyard pu...
Warrina Wines, NSW 772 Back Kootingal Road, Kootingal NSW 2352
David and Susan Nicholls began the establishment of their picturesque 2ha (5 acres) Warrina vineyard near Kootngal in 1989, and for some years were content to sell the grapes to other producers and make occasional forays into winemaking. Commercial winemaking commenced in 2001 for visitors and locals alike to appreciate and enjoy. Warrina is a boutique local winery featuring estate grown, made and bottled red, white, rosé and port wines. Varieties grown include Semillon, Chardonnay, Sauvignon Blanc, Shiraz, Pinot Noir and Cabernet Sauvignon. The single vineyard wines are made and bottled on site and the winery has a 20,000 litre capacity.