Jump to Winery List
Armidale NSW Wine District
The Armidale Wine District lies in the heart of the New England Wine Region. Armidale is a fantastic place to visit with its unique blend of culture, heritage, education (University of New England), state of the art technology, agriculture, wool and food outlets, National Parks and natural beauty. Armidale is ideally located about half way between Sydney and Brisbane and is only about 2 hours drive from the coast - Byron Bay, Coffs Harbour and Tweed Heads. It as four distinct seasons and features a warm summer, charming spring and colourful Autumn full of amber leaves, and a crisp frosty winter. The region showcases many fine heritage buildings, fascinating museums and galleries, fantastic cafes and restaurants, thriving cultural, arts, craft and entertainment scenes and access to a wonderful array of National Parks and Nature Reserves. The Autumn Festival is a renowned event held in April every year featuring a street parade, food outlets, wine tastings, stalls, arts and crafts and a variety of entertainment celebrations. During May Armidale hosts the famous England Wool Expo that includes displays of wool fashions, shearing competitions, handicrafts, shearing demonstrations, sheep dog trials and many other activities. The surrounding area features rugged gorge country, spectacular waterfalls and the wilderness areas along the Great Dividing Range escarpment of the nearby. Close by are several National Parks including: Cathedral Rock, Oxley Wild Rivers and New England National Parks that offer wonderful scenery, bushwalking and ecotourism activities. The New England offers a beautiful array of locally produced foods, including its lamb, beef, trout, yabbies, fresh fruits, locally made cheeses, wines, olives and much more. The roads around Armidale are dotted with small vineyards and cellar door outlets where you can taste the unique wines in this district. Armidale lies at the heart of the New England Wine district that stretches from Tamworth to the south to Tenterfield in the north, close to the border with Queensland, and the Granite Belt Region surrounding Stanthorpe. The varieties grown in the area include, Shiraz, Riesling, Sauvignon Blanc, Pinot noir, Gewurztraminer, Semillon, Chardonnay, Tempranillo, and Cabernet Sauvignon.

It is worthwhile visiting the famous wineries in the nearby region of the Granite Belt Region and New England.

The New Englandregion includes six local wine districts: Tenterfield ; Texas ; Bolivia ; Inverell ; Glen Innes ; Armidale ; Tamworth .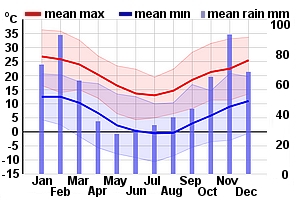 Winery Tour Map
Wineries
Blickling Estate, NSW 380 Green Valley Road, Bendemeer
Blickling Estate is one of the highest altitude vineyards in Australia. At almost 950m above sea level, growing grapes can prove quite a challenge. This means our grapes have a slower ripening process but the rewards are unique flavours of crisp, fruity, full flavoursome wines. You are welcome to visit our Cellar Door at our Visitor Centre on the property known as `Banalasta` (near historic Bendem...
Eastview Estate, NSW 296 Kentucky Road, Kentucky, 2354
Eastview Estate is New England's most inspiring restaurant,bar, vineyard, winery, brewery and distillery. The winery is purpose built. Craft beers and boutique spirits all produced on the Estate. Open weekends. Restaurant. The winery is state of the art producing varietal classics. The Brewery craft brews eight grain beers. The distillery makes four vodka's, a maple syrup and expresso liqueur and three whiskeys.
Martins Gully, NSW Uralla Road, Armidale
Martins Gully is a small vineyard in Bona Vista, Armidale in the New England wine region, on New South Wales Northern Slopes....
Merilba Estate, NSW Uralla Kingston Road, Kingston NSW 2358
Merilba Estate Wines is located in Uralla in the New England Wine Region in Northern New South Wales....
Petersens Wines, NSW Dangarsleigh Road, Armidale NSW 2350
Petersons Wines Armidale is located in the South East of Armidale in New England. The vineyard is located on a rich, red brown basalt hill facing to the north east, and is planted with Semillon, Sauvignon Blanc, Riesling, Shiraz, Cabernet Sauvignon, Merlot and Pinot Noir. Our first harvest was in 2002. As Armidale is a cool climate area, we expect very high fruit quality for many years, weather pe...
Simdanni Vineyard, NSW 11204 New England Highway, Armidale NSW 2350
Simdanni Vineyard is located in Armidale in the New England Wine Region of New South Wales....
Thunder Ridge Wines, NSW 1292 Castledoyle Road, Armidale, 2350
Thunder Ridge Wines is owned and operated by the husband and wife team of Peter and Susan Moore. The vineyard lies on part of the Moore family sheep and cattle property. Open Sundays. Accommodation available. The combination of granite soils, cold winters, mild summers and high altitude results in wonderful premium, boutique cool climate wines. Try the crisp Chardonnay and soft Merlot.
Walden Woods, NSW 469 Donald Road, Armidale
Walden Woods Farm vineyard is a biodynamic vineyard which practices organic methods, located in Armidalein the New England Wine Region in Northern New South Wales....
Whyworry Wines, NSW 376 Kingstown Road, Uralla NSW 2358
Whyworry Wines specialise in producing fine cool climate wines available through our conveniently located cellar door, situated just off the New England Highway in Uralla, about halfway between Sydney and Brisbane. Drop in on the cellar door any time of year to sample our wines and enjoy beautiful views over New England`s rugged high country. Situated just 4km off the New England Highway, the Whyw...