Jump to Winery List
Glen Innes NSW Wine District
The Glen Innes Wine District lies in the heart of the New England Wine Region which includes a large hilly area of elevated area of land with mild climates near the border between New South Wales and Queensland. Most of the area is over an altitude of 1000 m above sea level with some peaks over 1500 m in several places. The area has an interesting history of mining (tin, molybdenum, gold, wolfram and sapphires) and cattle and sheep grazing. The major agricultural activities are various cropping, vegetables, olives and orchards, and vineyards and wineries are becoming more significant, supporting tourism which is very important for the local economy. Glen Innes lies on the New England Highway provides an inland route between Brisbane and Sydney, while the Bruxner and Gwydir Highways provide important links with Byron Bay, Coffs Harbour, Tweed Heads and Coolangatta on the Far North Coast of NSW. Glen Innes boasts a wide range of accommodation types, including Bed and Breakfasts, apartments, caravan and camping parks, holiday houses, hotels and motels. Local things to do include: fossicking for sapphires, visiting heritage sites such as museums and galleries, ecotours in spectacular National Parks, fishing, horse riding, fishing and of course visiting the many cellar doors in the are on wine tours. There are now more than 30 vineyards and wineries in the New England Region and the Granite Belt Region to the north. The more renowned local wineries include The Wright Robertson Winery at Glencoe, located 20 km south of Glen Innes, among the pioneers. Their range includes Syrah, Shiraz, Pinot Gris, Pinot Noir, Chardonnay and Cabernet Sauvignon. Glen Innes outlets at bottleshops, most hotels and restaurants. The Wellington Vale winery, located at Deepwater, 40 km north of Glen Innes, makes wonderful award-winning wines using their Wellington Vale label. The range includes Semillon, Pinot Noir, Rose and Riesling.

It is worthwhile visiting the famous wineries in the nearby region of the Granite Belt Region and New England.

The New Englandregion includes six local wine districts: Tenterfield ; Texas ; Bolivia ; Inverell ; Glen Innes ; Armidale ; Tamworth .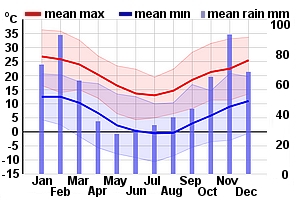 Winery Tour Map
Wineries
Glen Gowrie Distillery 622, NSW 375 Furracabad Rd, Glen Innes NSW 2370
David Scott and Susie Snodgrass were granted a Vigneron's Licence in 2000 and began producing wines made from fruits other than grapes, in The Good Food Shop, Bellingen. The opportunity to purchase a large double brick building in Dorrigo initiated the move of the winery in 2004. With a rapid increase in their business, a decision was made to transfer the business to larger premises in Glen Innes in early 2017. This also was prompted by the desire to 'come home', David's family have been in the Glen Innes district for 5 generations. Premium local and regional fruits and potatoes have always been sourced directly from growers, to produce our products. Being pioneers in the Vodka, Gin and Liqueurs movement of recent times, all the research and development of our product is based on our own research findings. Fermentation and storage of our various wines occurs in 200L or 400L stainless steel variable capacity tanks, which are sealed with a stainless steel lid and air lock. This small scale production can be easily handled by the two of us, keeping the whole process very 'hands on' and entirely our own. Fermentation and clarification of the 'must' typically takes six to eight weeks, using specialty yeasts and 'state of the art', but small scale, production systems. The distillation is undertaken with a column still in small batch runs. This allows the spirit to be closely monitored for the performance of the unit, and the quality of the spirit produced.
Wright Robertson of Glencoe, NSW 8262 New England Highway, Glencoe, 2365
Wright Robertson of Glencoe have a small vineyard and winery near Glen Innes. The vineyard was established in 1999 and now crushes approximately 50 tonnes/year. The vineyard is organic. Open Monday to Saturday 10am to 4pm. The vineyard has Chardonnay, Pinot Gris, Pinot Noir, Shiraz and Riesling. The cellar door also has a fortified Shiraz. Online ordering available.