Jump to Winery List
Inverell NSW Wine District
The Inverell wine district, in the New England Wine Region in Northern New South Wales. The charming rural area, surrounding Inverell is a thriving tourist, commercial and service centre with a local population of 15, 000 and a district population of 20,000. Inverell is perfectly located in a scenic valley adjacent to the mighty Macintyre River, on the Gwydir Highway, that links New England and Newell Highways. The township lies south-west of Tenterfield and North West of Armidale. There are has many popular tourist attractions including fossicking, ecotourism, food outlets and produce, heritage sites, arts and crafts, cultural and recreational areas and of course a range of 5 local vineyards and wineries. Inverell has a pleasant climate, with four distinct seasons. There are warm summers (average maximums of 30 degrees C) and cool to mild winters with frosts. Inverell is located about 500 km South West of Brisbane and 700 km North West of Sydney. Inverell is a mixed agricultural and grazing district - the main crops are oats, barley, sorghum, wheat, grain and oilseed crops. Sheep and cattle grazing is also prominent.

It is worthwhile visiting the famous wineries in the nearby region of the Granite Belt Region and New England.

The New Englandregion includes six local wine districts: Tenterfield ; Texas ; Bolivia ; Inverell ; Glen Innes ; Armidale ; Tamworth .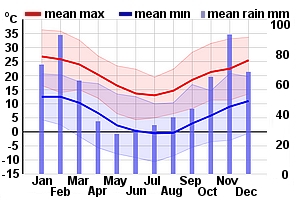 Winery Tour Map
Wineries
Gilgai Estate, NSW 15233 Guyra Road, Gilgai
Gilgai Estate is located in Gilgai on New South Wales Northern Slopes, in the New England wine area...
Thomas New England Estate Wines, NSW Gwydir Hwy, Delungra NSW 2403
We are a family owned mixed farming business in the New England area of northern NSW producing wine from our estate grown Chardonnay, Shiraz , Cabernet Sauvignon & Merlot grapes.
Toppers Mountain, NSW Guyra Road, Tingha NSW 2369
Toppers Mountain Vineyard is located just north of Tingha (near Inverell) in northern NSW. They are on the western edge of the New England Tablelands at an altitude of 880m to 900m above sea level. The vineyard is situated on beautiful, deep, red volcanic soils high above the valley of the MacIntyre River. In fact, the southern boundary of `Topper`s Mountain` is on the watershed between the Gwydir...