Jump to Winery List
Bolivia NSW Wine District
The Bolivia district lies on the beautiful New England tablelands south of Tenterfield, and is surrounded by scenic and rugged landscapes and a range of wonderful National Parks and Conservation area. The Bolivia district features for vineyards and wineries and there are many more in the Tenterfield area and the Granite Belt Wine Region surrounding Stanthorpe just over the border in Queensland. This district is worth a visit when you are visiting the nearby famous winery regions of the Granite Belt Region and New England. There are many magnificent National Parks in the area including: Bald Rock National Park, which rises 250 m above the surrounding hilly bushland. The rock is huge - 750 m long and 500 m wide. It is one of the largest exposed granite rocks in the southern hemisphere. You can climb the rock for a magnificent panoramic view of the surrounding area. You can camp and enjoy many bush walks in the area. B oonoo Boonoo Falls National Park includes a spectacular waterfall where the water cascades about 220 m into the gorge and rainforest below. You can enjoy wonderful camping, swimming and picnic areas. You can combine wine tours with visits to these park areas.

The New Englandregion includes six local wine districts: Tenterfield ; Texas ; Bolivia ; Inverell ; Glen Innes ; Armidale ; Tamworth .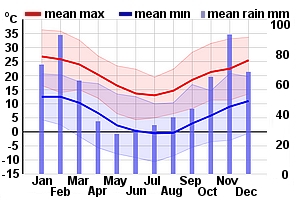 Winery Tour Map
Wineries
Splitters Swamp, NSW Craigielee, Mt Speribo Road, Bolivia NSW 2372
Splitters Swamp Vineyards are located in Bolivia near Tenterfield on the Norhtern Slopes of New South Wales (New England)....