Jump to Winery List
Murrumbateman Wine District
The Murrumbateman Wine District lies in the heart of the Canberra Wine Region about half way between Yass and Canberra and is centre on the village of Murrumbateman. This vibrant rural village surrounded wineries and cellar doors is located about three hours South of Sydney is becoming a popular place for Canberra residents to live in a country setting and it is very popular with tourists. The traditional local industries are sheep grazing wool and beef cattle but tourism has become a major focus with its host of wonderful wineries, cellar doors, cafes and restaurants, as well as award winning Bed and Breakfasts and the many other attractions in Canberra, Wee Jasper, Yass and the southern tablelands. A great time to visit is on the October long weekend when you can tempt your tastebuds at The Murrumbateman Moving Feast and enjoy the premium local wines, fabulous food and lots of entertainment, hosted by the Makers of Murrumbateman. Tour through the historic Yass Valley with its wonderful range of arts and crafts, heritage sights and spectacular scenery. Stay at the comfortable Murrumbateman Country Inn and enjoy the country hospitality.
The
Canberra Wine Region
is home to 12 districts:
Binalong
;
Lake George
;
Gunadaroo
;
Gunning
;
Hall
;
Wee Jasper
;
Yass
;
Canberra City
;
Bungendore
;
Murrumbateman
;
Sutton
;
Queanbeyan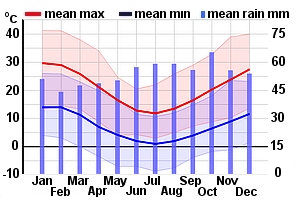 Winery Tour Map
Wineries
Barton Estate, NSW 2307 Barton Highway, Murrumbateman NSW 2582
n the heart of Murrumbateman cool climate wine country, Barton Estate is a small family owned producer of handmade premium Canberra District wines from estate grown fruit. Our wines reflect the unique place we grow the grapes, the passion we have for vines and wines and the science we bring to the artisan products we produce.
Clonakilla, NSW Crisps Lane, Off Gundaroo Road, Murrumbateman, NSW 2582
Celebrated as one of the best wineries in Australia, Clonakilla is a small, family business dedicated to producing distinctive, handcrafted Canberra region wines in limited quantities. Their wines have earned critical acclaim, with Tim Kirk named Gourmet Traveller Wines' Winemaker of the Year in 2013. Established by the Kirk family at Murrumbateman in 1971
Dionysus Winery, NSW 1 Patemans Lane, Murrumbateman NSW
Located in the Canberra District at an altitude of 600m, Dionysus Winery is ideally suited to the production of high quality wine. The vineyard was planted over three years, commencing in 1998. In all 10 acres of vines have been planted. The varieties planted are: Cabernet Sauvignon; Shiraz; Pinot Noir; Merlot; Chardonnay; Sauvignon Blanc; and Riesling. The winery was constructed in 2002 and the C...
Eden Road Wines, NSW 3182 Barton Highway, Murrumbateman NSW
Eden Road is a boutique wine company creating wines from the rich soils of the Australian high country. Their search for great terroir and their commitment to making great wines that express that terroir underpins the business. Eden Road Wines have won numerous prestigious awards since they opened. Stop by the cellar door and try some of our great wines. You will not be disappointed!
Four Winds Vineyard, NSW 9 Patemans Lane, Murrumbateman NSW
Four Winds Vineyard is located to the north of Canberra just east of Murrumbateman, on the Murrumbateman Road. The thirty-three acre vineyard was planted in 1998 and 1999 with six varieties; Shiraz, Riesling, Cabernet, Merlot, Chardonnay and Sangiovese. The vineyard is 50 acres with 33 acres under vines. It has a generally north to south slope, giving excellent sun exposure. We use two wires (call...
Gallagher Wines, NSW 2770 Dog Trap Road, Jeir NSW
Greg and Libby Gallagher established Gallagher Wines in 1993. After doing climatic data searches for about 2 years, looking for the best area to grow Shiraz for a full, multi-layered flavour profile with full soft and generous texture, they choose the Murrumbateman area of the Canberra District. The climate during the critical ripening period is warm to cool, with good sunlight and slow sugar accu...
Granitevale, NSW 153 Magennis Drive, Murrumbateman NSW 2582
Granitevale Estate offer beautiful wines, that are made and sold with pride and with an affection for the tradition and the processes that create great wine. Granitevale, however, do not operate to the norm. They are innovators and use the regions unique flavours and tones to create wines that surprise and delight all of the Estate`s guests. Granitevale challenges the belief that wineries are ofte...
Helms Wines, NSW 19 Butts Road, Murrumbateman NSW
Raise your glass to a palate-pleasing experience at Helm Wines, one of the leading wineries in the Canberra district. Established by Ken and Judith Helm in 1973, Helm Wines is known for producing award-winning Rieslings and Cabernet Sauvignons. The winery, which has been given a 5 star rating by James Halliday, is a must-visit 
Idyllic Hills Wines , NSW Murrumbateman NSW
Idyllic Hills Wines is a boutique, family-owned producer of quality Canberra District cool climate wines. We grow the following varieties : Shiraz, Cabernet Sauvignon, Merlot and Viognier. Only the highest quality fruit is vinified each year and quantities of this fruit are also available for purchase. Idyllic Hills vineyard is situated at an elevation of 620m above sea level, in beautiful Murrumbateman.
Jeir Creek, NSW Bluebell Lane, Via Gooda Creek Road., Murrumbateman
Jeir Creek Winery is located six kilometres on the Canberra side of Murrumbateman. It was established by the Howells in 1984. Since then, they have produced a variety of quality wines including Sauvignon Blanc, Chardonnay, Cabernet Merlot and Botrytis Semillon Sauvignon Blanc. The tasting area overlooks the vineyard, where visitors can also enjoy a picnic
Long Rail Gully, NSW 161 Long Rail Gully Road, Murrumbateman NSW 2582
Long Rail Gully Vineyard and Winery are situated in the Canberra Region in one of the most picturesque settings a little north of the Murrumbateman village. The vines are grown in park like surrounds in an amphitheatre layout around a beautiful large dam. The wines produced are Riesling, Pinot Gris, Rose, Pinot Noir, Merlot, Cabernet…
McKellar Ridge Wines, NSW 2 Euroka Avenue, Murrumbateman NSW
McKellar Ridge is a boutique winery situated on a picturesque vineyard producing award-winning handcrafted wines. Our wines exhibit the unique characteristics of the Canberra cool-climate region: rich fruit flavours, distinctive spiciness and crisp acidity. Owners and winemakers John and Marina Sekoranja select premium fruit from low yielding mature vines and apply best practice standards
Murrumbateman Winery, NSW 131 McIntosh Circuit, Murrumbateman NSW
Murrumbateman Winery is a boutique winery, combining traditional methods with young passion; creativity and finesse to produce outstanding award winning wines that capture the true essence and character of this cool climate region.  Established in 1973, it is one of the oldest vineyards of the area.  The young team is passionate about making high quality…
Ravensworth, NSW 312 Patemans Lane, Murrumbateman NSW 2582
Ravensworth wines are grown and produced by Rosehill Vineyard situated 3km South East of Murrumbateman in the cool climate-growing region of the Canberra District. Our 7ha vineyard spread over two sites is in the heart of the Murrumbateman sub region taking advantage of the regional climate: persistent cool nights throughout the growing season; a dry autumn with moderate daytime temperatures and v...
Shaw Wines, NSW 34 Isabel Drive, Murrumbateman NSW 2582
Visit one of Murrumbateman's premium cool climate family owned wineries. Shaw Wines is located only 25 minutes north of Canberra where the picturesque setting offers a relaxing escape amongst the vineyards. Our new state-of-the-art cellar door is now open with seated tastings.  Tastings are $5 per person, refundable on a bottle purchase.
The Vintner's Daughter , 5 Crisps Lane Murrumbateman NSW
Established by husband and wife team, Stephanie Helm & Benjamin Osborne, The Vintner's Daughter crafts premium small-batch wines from estate grown grapes. Stephanie learnt to make wine from her local vintner father, Ken Helm. Together Ben and Stephanie control the entire process from vine to glass.  
Wily Trout, NSW Nanima Road, via Hall NSW 2618
The vineyard is planted on the north east facing slopes of the hills outside Canberra. At 720 metres the vineyard experiences frosts in winter, mists in spring, hot dry summers and hopefully wet autumns. The average year would suggest a rainfall of 675mm (27 inches). However the average rarely happens so creating challenges for viticulturists and vignerons alike. The Wily Trout Vineyard consists o...
Wimbaliri Wines, NSW 3180 Barton Highway, Murrumbateman NSW 2582
Wimbaliri is a small family owned and operated vineyard and winery with a passion for producing distinctive cool-climate wines. The vineyard sits at an altitude of 620m and is well positioned on a north-eastern slope overlooking a small valley with beautiful views, just three kilometres south of Murrumbateman village.
Yarrh Wines, NSW 380 Greenwood Rd, Murrumbateman NSW 2582
Welcome to the most beautiful cellar door in the region, surrounded by vineyard and bush, overlooking the Yass River valley.  We farm sustainably, handcrafting authentic expressions of variety, vintage and place with all wines estate grown and bottled.  Enjoy a relaxed tasting at the bar or a seated food and wine flight (bookings required).