Jump to Winery List
Lake George Wine District
The Lake George Wine District is based on the area at the northern end of Lake George and surrounding the township of Collector in the Canberra Wine District located south of Goulburn and north of Canberra and Yass. The wineries are all easily accessible from the Federal Highway and the cellar doors, cafes and restaurants make a perfect stop-over for travellers between Canberra and Sydney. The first winery off the highway near Lake George is Lerida Estate and there are stunning views of Lake George from their cafe. Other wineries in the area include Lake George Winery, Madew Wines and also closer to Collector - Athenabacchus Vineyard and Collector Wines. There are many other wineries close by in the other districts of the Canberra Region.
The
Canberra Wine Region
is home to 12 districts:
Binalong
;
Lake George
;
Gunadaroo
;
Gunning
;
Hall
;
Wee Jasper
;
Yass
;
Canberra City
;
Bungendore
;
Murrumbateman
;
Sutton
;
Queanbeyan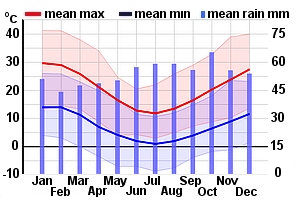 Winery Tour Map
Wineries
Collector Wines, NSW 7 Murray Street, Collector NSW
Taste award-winning wines in the beautiful old Collector Inn, circa 1829. Winemaker Alex McKay crafts elegant wines which perfectly express the Canberra region. Historic Collector includes a café, pub, fresh produce market and art gallery, and is just one minute off the Federal Highway, 40 minutes from Canberra or 2.5 hours from Sydney.  Group bookings can be made.
Lake George Winery, NSW 173 The Vineyards Road, Lake George
Established in 1971, Lake George Winery is family owned and operated and is located on the north-western shores of Lake George. Located 700m above sea level, our award-wining wines are produced with minimal interference. Come and taste for yourself. Lake George Winery embraces two of Canberra's earliest vineyards
Lerida Estate Wines, NSW The Vineyards, Lake George (Old Federal Highway), NSW 2581
Located on the Federal Highway with breath-taking views of Lake George, visit Lerida Estate for a great lunch and taste our award-winning wines. Enjoy a gourmet tasting plate in our courtyard in summer or sit by the fire over winter. Lerida Estate was established in 1998 on the shores of Lake George. 
Summerhill Road Vineyard, 44 Summerhill Road, Bywong NSW
You ll find Summerhill Road Vineyard a little way along the road, high on the Lake George Escarpment, in the Canberra Wine District in New South Wales. Everything is lovingly handpicked and made locally to produce high quality wine, that the district is fast becoming renowned for producing. Summerhill Road Vineyard make award-winning wines