Jump to Winery List
Bungendore Wine District
The Yass Wine District is located in the Canberra Wine Region and is centred on the friendly rural townships of Yass and Browning, located about 280 km south-west of Sydney and 70 km from Canberra . The district includes wineries and vineyards in the picturesque Yass River Valley. Yass is a charming country town that features a wide range of accommodation, cafes, restaurants, antique shops, historic buildings, museums and art galleries.Yass is also an ideal base from which to explore the many natural attractions in the Yass Valley region. There are also excellent facilities for a wide range of activities and many interesting local events, that include: Walking along the Hume and Hovell Walking Track that starts in the township of Yass. # Enjoy active sports such as bushwalking, rock-climbing, mountain trail horse-riding and caving. # The Yass Show and Rodeo held very year in April and the Picnic Races in March # Camping in the Wee Jasper Reserves. # Fishing, canoeing, kayaking, boating, swimming in Burrunjuck Dam # The Yass Valley Festival, which occurs in November each year that features circus acts, film, music, dance, drama, craft and local food and wine. # Visit Cooma Cottage, which was the home of Hamilton Hume and is now a National Trust museum. # Exploring Carey's Caves in the scenic Wee Jasper Valley.
The
Canberra Wine Region
is home to 12 districts:
Binalong
;
Lake George
;
Gunadaroo
;
Gunning
;
Hall
;
Wee Jasper
;
Yass
;
Canberra City
;
Bungendore
;
Murrumbateman
;
Sutton
;
Queanbeyan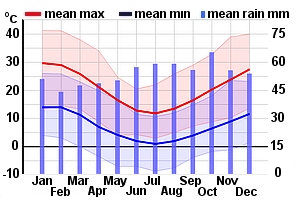 Winery Tour Map
Wineries
Lambert Vineyard, NSW 810 Norton Road, Wamboin NSW 2620
Lambert Vineyards is a family owned winery and vineyards producing award winning premium quality wines. Only 30km northwest of Canberra, the winery is nestled in the rolling hills of Wamboin, NSW. Situated at the crest of one of the many hills, the winery is 810 metres above sea level, providing for true `cool climate` wine growing as well as spectacular views. From humble beginnings with a small ...
Lark Hill Biodynamic Winery, NSW 31 Joe Rocks Road, Bungendore NSW 2621
Lark Hill is a family winery, established in 1978 and is certified Organic & Biodynamic, producing a range of vibrant wines, including Australia's first Gruner Veltliner, in a pristine and picturesque environment. Lark Hill was established by Sue and David Carpenter in 1978, on the Lake George Escarpment above Bungendore
Norton Road Wines , 44 Norton Road, Wamboin, NSW, 2620
Norton Road Wines is a family owned venture specialising in growing and making small batch cool climate wines that reflect the terroir of our region. Owners Karen and Simon, are working with local viticulturists and winemakers to produce exceptional cool climate wines. Norton Road Wines showcases cool climate wines from across the local Canberra District…
Shepherds Run, NSW 344 Norton Rd, Wamboin ACT 2620
Shepherds Run offers a restaurant, cellar door, function centre and vineyard shop selling our locally grown and bottled wines, a superb restaurant with a friendly family atmosphere and gift shop with the best local products and wine accessories. Shepherds Run has a large range of wines available. Our cellar door provides a very attractive area for wine tastings and sales of a range of classic Aust...