Jump to Winery List
Canberra City Wine District
The Yass Wine District is located in the Canberra Wine Region and is centred on the friendly rural townships of Yass and Browning, located about 280 km south-west of Sydney and 70 km from Canberra . The district includes wineries and vineyards in the picturesque Yass River Valley. Yass is a charming country town that features a wide range of accommodation, cafes, restaurants, antique shops, historic buildings, museums and art galleries.Yass is also an ideal base from which to explore the many natural attractions in the Yass Valley region. There are also excellent facilities for a wide range of activities and many interesting local events, that include: Walking along the Hume and Hovell Walking Track that starts in the township of Yass. # Enjoy active sports such as bushwalking, rock-climbing, mountain trail horse-riding and caving. # The Yass Show and Rodeo held very year in April and the Picnic Races in March # Camping in the Wee Jasper Reserves. # Fishing, canoeing, kayaking, boating, swimming in Burrunjuck Dam # The Yass Valley Festival, which occurs in November each year that features circus acts, film, music, dance, drama, craft and local food and wine. # Visit Cooma Cottage, which was the home of Hamilton Hume and is now a National Trust museum. # Exploring Carey's Caves in the scenic Wee Jasper Valley.
The
Canberra Wine Region
is home to 12 districts:
Binalong
;
Lake George
;
Gunadaroo
;
Gunning
;
Hall
;
Wee Jasper
;
Yass
;
Canberra City
;
Bungendore
;
Murrumbateman
;
Sutton
;
Queanbeyan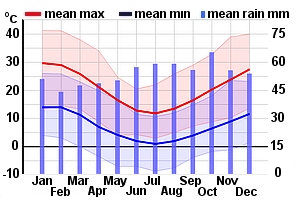 Winery Tour Map
Wineries
Contentious Character, NSW 810 Norton Road, Wamboin NSW
Contentious Character is a contemporary vineyard estate with winery, cellar door, kitchen, and event facilities, in the hills of Wamboin, 15 minutes from Canberra Airport. Experience the half or full monty traversing wines from the Founders Museum Collection of old world style vintages and recent vintages from Contentious Character that bring a fresh new world twist to the old world styles.
Enotrea Wines, NSW
We are making wine in the Lake George cool climate region – perfect for High Quality Pinot Noir. Pinot Noir is best grown in cool harsh conditions, bringing out the best in the grapes — a perfect Canberra premium variety! Enotria is an ancient Greek name given to the area of southern Italy 
Kamberra, NSW Cnr Northbourne Ave and Flemington Rd, Lyneham, ACT, 2602
Kamberra Wine Company provides a scenic winery setting for all types of functions including weddings, conferences and parties. Located ten minutes from the heart of Canberra in North Lyneham, the venue offers three modern rooms with full conference facilities and ample free parking on-site. Rooms come complete with an open fireplace, built-in dance floor, full-length glass windows, covered veranda...
Mount Majura Vineyard, ACT 88 Lime Kiln Road, Majura ACT
Mount Majura Vineyard is a dynamic boutique winery and vineyard. Their cellar door features a unique seated tasting allowing an interactive yet relaxing tasting experience. Mount Majura is a leader in the Canberra District for Spanish varieties such as Tempranillo. Their single vineyard site of red clay loam soils containing limestone also produces quality Riesling,…
Murrora Wines, ACT Wallaroo
Murrora Wines is a very small vineyard and winery in Wallaroo (about 4 mins drive from Hall). We produce our own grapes and make all our wine on-site. Our current wines include Riesling, Sauvignon Blanc, Rosé and Cabernet Sauvignon. We are very much a boutique winery (total production is approximately 500 cases a year). 
Pialligo Estate, NSW 18 Kallaroo Road, Pialligo ACT 2609
Just minutes from Canberra CBD, Pialligo Estate is nestled in a private and peaceful setting. In addition to the beautiful vineyard, The Estate incorporates the Garden Pavilions Restaurant, an olive grove, orchard, market garden and an award-winning smokehouse. Pialligo Estate's food is grown onsite or sourced from only the finest producers in the region
Quarry Hill , ACT Canberra
Quarry Hill is a family-owned vineyard situated just outside Canberra and is part of the Canberra cool-climate region, with elevations ranging from 630m up to 655m. Established in 1999 by Professor Deane Terrell at the end of his tenure as vice-chancellor of the Australian National University, it was named after a section of the property…
Sapling Yard Wines, Canberra
Petite in volume, big in quality. Sapling Yard Wines are made with authenticity, precision and passion. We source the best  fruit from the Canberra Region and surrounds making award winning  'Wow' factor wines, Call us for a private tasting. Cellar door coming soon! Carla Rodeghiero and Andrew Bennett planted a small vineyard in Charley's Forest, just outside…
The Canberra Wine House, ACT 2 Badham Street Dickson ACT
he Canberra Wine House's intimately-refined setting encourages a celebration of this region's internationally-renowned drops. With a magnificent wine bar, a tapas menu comprising entirely local produce, and competitively-priced takeaway bottle purchases, The Canberra Wine House truly is Canberra wine's extraordinary home