Jump to Winery List
Gundaroo District
The Gundaroo Wine District is centred on the rolling grazing country around the historic town of Gundaroo located in the Canberra Wine Region about 35 km from the centre of Canberra. Much of the town is classified by the National Trust and the community is proud of its historic buildings and its heritage. The area has many tourist attractions and is popular as an alternative place is the country for Canberra's population to live as it is in easy commuting distance from Canberra. Gundaroo lies in the scenic Yass River valley that features rolling hills with distant wooded hills. A popular local event is the Gundaroo Bush Festival. The village is alive with visitors every weekend. The 'Grazing at Gundaroo' restaurant at the Royal Hotel is very popular with visitors. Local wineries include: Capital Wines, Tallagandra Hill, Gundog Estate.
The
Canberra Wine Region
is home to 12 districts:
Binalong
;
Lake George
;
Gunadaroo
;
Gunning
;
Hall
;
Wee Jasper
;
Yass
;
Canberra City
;
Bungendore
;
Murrumbateman
;
Sutton
;
Queanbeyan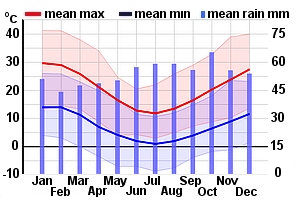 Winery Tour Map
Wineries
Gundog Estate, NSW The Stables' 42 Cork Street, Gundaroo NSW 2620
Gundog Estate is a family owned vineyard and winery located near the historic village of Gundaroo. Award-winning winemaker Matt Burton produces a restricted range of high quality wines that are designed to reflect the unique features of the vineyard's cool climate terroir.  
Tallagandra Hill, NSW 1692 Murrumbateman Road, Gundaroo NSW
 A family-owned winery producing premium hand-crafted cool climate wines from our Tallagandra Hill single-vineyard grapes. Each boutique wine comes with its own unique story helping to create an unforgettable authentic tasting experience in a beautiful country setting. Our wines carry in them the unique characteristics and the passion of the people and the place.