Jump to Winery List
Yass Wine District
The Yass Wine District is located in the Canberra Wine Region and is centred on the friendly rural townships of Yass and Browning, located about 280 km south-west of Sydney and 70 km from Canberra . The district includes wineries and vineyards in the picturesque Yass River Valley. Yass is a charming country town that features a wide range of accommodation, cafes, restaurants, antique shops, historic buildings, museums and art galleries.Yass is also an ideal base from which to explore the many natural attractions in the Yass Valley region. There are also excellent facilities for a wide range of activities and many interesting local events, that include: Walking along the Hume and Hovell Walking Track that starts in the township of Yass. # Enjoy active sports such as bushwalking, rock-climbing, mountain trail horse-riding and caving. # The Yass Show and Rodeo held very year in April and the Picnic Races in March # Camping in the Wee Jasper Reserves. # Fishing, canoeing, kayaking, boating, swimming in Burrunjuck Dam # The Yass Valley Festival, which occurs in November each year that features circus acts, film, music, dance, drama, craft and local food and wine. # Visit Cooma Cottage, which was the home of Hamilton Hume and is now a National Trust museum. # Exploring Carey's Caves in the scenic Wee Jasper Valley.
The
Canberra Wine Region
is home to 12 districts:
Binalong
;
Lake George
;
Gunadaroo
;
Gunning
;
Hall
;
Wee Jasper
;
Yass
;
Canberra City
;
Bungendore
;
Murrumbateman
;
Sutton
;
Queanbeyan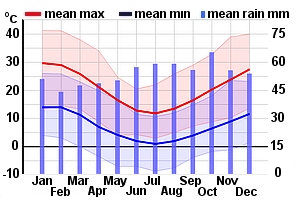 Winery Tour Map
Wineries
Crowe Wines, NSW 9 Pritchett Street, Yass, NSW 2582
Crowe Wines, established in 2018, is a family-owned winery that produces small-batch wines from the Canberra and Gundagai region. Producing award winning wines for nearly 20 years, Bill and Jaime's passion and remarkable talent for quality wines is evident in every bottle.
Dog Trap Vineyard, NSW 262 Dog Trap Road, Yass NSW
Dog Trap Vineyard is a small, boutique producer of fine red wines made from Shiraz and Cabernet Sauvignon. Owned and operated by Dr Dennis Hart and Ms Julie White since 2003, we do everything from growing the grapes to producing, maturing and bottling the finished wines. Outstanding quality and value for money 
Kerralee Wines, NSW 2504 Barton Highway Yass NSW 2582
Kerralee is a five acre/two hectare vineyard on the Barton Highway, half way between Yass and Canberra. Named for their three daughters, they meticulously tend 5000 vines to produce pinot noir and Merlot, single vineyard wine. Rose is made from both varieties and they have recently produced their first clear sparkling wine.
Mallaluka Wines, NSW 517 Dog Trap Road, Yass NSW
Mallaluka Wines is, by any measure, a boutique operation.  We are committed to producing premium, handmade wines that reflect the very best of the cool climate Canberra district.  Family owned and run, we drink what we make, the rest is for you. Private tours, tastings and functions by appointment.