Jump to Winery List
Bellarine Wine District
The Bellarine Wine District, the Geelong Wine Region includes wineries on the Bellarine Peninsula, near the towns of Drysdale and Portarlington. The friendly towns and communities include Point Lonsdale, Clifton Springs, St Leonards, Queenscliff and Ocean Grove. The small seaside resort of Portarlington, that lies on the northern tip of the Bellarine Peninsula, near Queenscliff is a charming and relaxing Australian resort town that has been a favourite summer holiday destination for more than 50 years. Portarlington has a wonderful range of heritage listed buildings, and there is a pier and marina, as well as museums, hotels, cafes and restaurants for visitors to enjoy. The region has an array of fantastic local wineries including Bellarine Estate, Scotchmans Hill, Kilgour Estate, Coatsworth Wines, Grassy Point Wines, Kilgour Estate, Mermerus Vineyard, Nurringa Park and Spray Farm. Visitors will enjoy the wonderful food in Portarlington's diverse range of cafes and restaurants. Visit during the Mussel Festival in January. Local attractions include boating, canoeing, kayaking, sailing, golf, excellent fishing, a safe swimming beach. There are wonderful bike and walking tracks around the foreshore to Indented Head, and along The Esplanade. The local fresh produce, including vegetables, poultry and dairy products are showcased at the local farmers markets that are held in Portarlington on the last Sunday of the month.

The Geelong Wine Region includes eight districts : Waurn Ponds ; Colac ; Curlewis ; Bellarine ; Werribee ; Lethbridge ; Bannockburn ; Batesford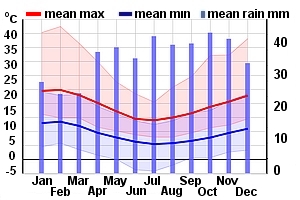 Winery Tour Map
Wineries
Basils Farm, VIC 43–53 Nye Road, Swan Bay VIC 3225
Basils Farm is an artisan winery situated on Swan Bay, overlooking the historic township of Queenscliff. Take in the Bellarine's most picturesque views to Queenscliff at Basils Farm. Visit the cellar door to learn more about their passion for minimal intervention winemaking. Enjoy tastings of quality, hand-crafted wines, including Basils Reserve, Basils Farm and Farmhouse. Varieties include Prosecco, Sauvignon Blanc, Chardonnay, Pinot Gris, Rose, Pinot Noir and Shiraz. The expansive lawns provide the perfect place to relax as you take in the stunning views, or sit inside Basils Settlers style Farmhouse Café or new Pavilion Space, overlooking Swan Bay. Indulge in an antipasto platter or a selection of house-made seasonal dishes. The menu changes seasonally, so ensure you visit their website for updates.
Bellarine Estate, VIC 2270 Portarlington Rd., Bellarine Vic 3222
Bellarine Estate Vineyard and Winery is dedicated to providing some of Australia`s best premium wines, produced only from Estate Grown fruit. Bellarine Estate was established in 1996 to grow and produce fine Australian Boutique Wines. The wines you will find on our site are not typical of wines you will find in retail outlets. They display the highest quality flavours, colour and most importantly,...
Jack Rabbit Vineyard, VIC 85 McAdams Lane, Bellarine VIC 3221
An essential destination of The Bellarine. Jack Rabbit Vineyard's restaurant, winery and cellar door offers people the ultimate when only a brilliant regional experience will do. The unrivalled panoramic views across the bay to Melbourne, the You Yangs and Geelong are just the beginning. This winery has forged a reputation as a gastronomic showpiece for The Bellarine alongside a stable of sophisticated cool climate wines. In 2015, the Jack Rabbit Restaurant was awarded 'Best People Place and Product Tourism Restaurant in Australia' at the prestigious Savour Australia Restaurant and Catering Association National Awards for Excellence. Jack Rabbit Executive Chef, David Warmisham and Head Chef, Paul Andrews have created a stunning, seasonal a la carte menu, featuring an abundance of local produce to indulge even the most discerning culinary whim.
Kilgour Wines, VIC 25 McAdams Lane, Bellarine VIC 3223
Kilgour Wines are elegant and reflective of the Bellarine's maritime climate, with the vineyard only a stones throw from the coastline. Family owned and operated, Kilgour Wines is a boutique vineyard located in McAdams Lane on the northern coast of the Bellarine Peninsula; overlooking Port Phillip Bay and the You Yangs with views to Melbourne's city skyline. Anne Timms is the founder behind the Kilgour name, which all began with the planting of her first vines in 1989. Anne quickly became a pioneer of the Geelong food and wine scene; winning may prestigious awards for her fruit-driven wines and establishing the former-iconic winery & restaurant in 1996 – Kilgour Estate.
Mermerus, VIC 60 Soho Rd, Drysdale VIC 3222
We specialise in the production of fine wine from the Bellarine Peninsula in Southern Victoria. Our aim is to produce wines that elegantly reflect the terroir of this beautiful part of the Geelong wine region. Our vineyard is situated on the Eastern slopes of the Bellarine Peninsula, with views of Pope`s Eye and Port Phillip Bay. The naturally cool and dry climate, and the influence of prevailing ...
Scotchmans Hill, VIC 190 Scotchman`s Road, Drysdale, Vic 3222
Scotchman`s Hill is the benchmark winery of the Bellarine and it`s wines rarely disappoint. Situated on the Bellarine Peninsula, southeast of Geelong, with a well-equipped winery and first class vineyards. It is a consistent performer with its Pinot Noir and has a strong following in both Melbourne and Sydney for its astutely priced, competently made wines. A doubling in production has seen the es...
Terindah Estate, VIC 90 McAdams Lane, Bellarine, Victoria, 3221
As you drive down McAdams Lane to the entrance of Terindah Estate, you gain glimpses of the breathtaking views awaiting you. Terindah Estate is a boutique winery situated on the Bellarine Peninsula in Victoria, Australia. Rated Australia's 2016 Dark Horse Winery of the Year by James Halliday, Terindah is the place for anyone interested in visiting a vineyard with award-winning wines, delicious food and stunning architectural event spaces. Terindah Estate is open seven days a week offering cellar door wine tastings, lunch, winter dinners Friday and Saturday evenings and weekend breakfast from 8:00am.