Jump to Winery List
Bannockburn Wine District
The Bannockburn Wine District is located about 25 km north-west of Geelong, along the Midland Highway and is included in the Geelong Wine Region. The average annual rainfall in the area is of 600mm and most of the rain occurs during winter and spring. Generally rainfall in this area is lower than in the neighbouring wine growing regions such as Mornington Peninsula and Yarra Valley. The climate is dominated by maritime influence which maintains mild average temperatures and long sunshine hours. The region features an extended ripening period and ideal conditions for producing wonderful grapes that characteristically shown gradual and full flavour development. The generally poor soil fertility, low rainfall, close-plantings applied for many vineyards and strong prevailing winds make create a tough growing environment that can greatly restricts yields, but adds to the character of the wines. The region has a unique terroir which generates the unique wine flavours of ten region.

The Geelong Wine Region includes eight districts : Waurn Ponds ; Colac ; Curlewis ; Bellarine ; Werribee ; Lethbridge ; Bannockburn ; Batesford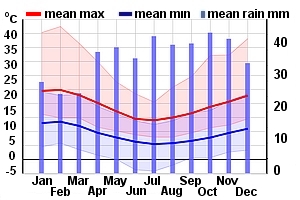 Winery Tour Map
Wineries
Austins & Co, VIC 870 Steiglitz Road, Sutherlands Creek VIC 3331
From the heart of Victoria's Moorabool Valley wine region to the tables of the most contemporary restaurants and dining rooms the world over. A blend of cool climate elegance meets warm family atmosphere. That's us. For more than thirty-years, our bold venture has crafted Pinot Noir for the people, and Riesling, Chardonnay and Shiraz to be seriously shared. This is why the Co. in Austins & Co. affectionately stands for the Company we love to keep – our circle of friends, family and followers and the quality Conversations sparked by a glass or two of Austins & Co. You could say we've a real taste for longing and belonging. Austins & Co. Step into the world of an Australian original. You're very welcome.
Bannockburn, VIC Kelly Lane (off Midland Hwy) Bannockburn Vic 3331
Bannockburn Vineyards was established by Stuart Hooper in 1974 with the planting of a 3 hectare block of Shiraz vines near the township of Bannockburn, 25 kilometres north of Geelong. Since this Humble beginning, Bannockburn Vineyards has grown in size and notoriety to become one of the most highly regarded small winemaking estates in Australia. It was Stuart Hooper`s passion to share the enjoymen...
Clyde Park, VIC 2490 Midland Highway, Bannockburn Vic 3331
Fine wine, magnificent views and luscious fruit are what you can expect from the Clyde Park Vineyard. Set on the north-easterly slopes of the truly unique hills surrounding the Moorabool River, 30 kilometres north of Geelong, Victoria, put Clyde Park at the forefront of cool climate viticulture. The property was established in 1981 with small plantings of Pinot Noir and Chardonnay. Further plantin...
Farr Rising, VIC 27 Maddens Road, Bannockburn Vic 3331
Nicholas Farr is the son of Gary Farr, and with the full encouragement of his father, has launched his own brand. He has learnt his winemaking both in France and Australia, and has access to some excellent base material, so much can be expected. Product Range: Chardonnay, Geelong Pinot Noir, Mornington Pinot Noir, Saignee, Merlot....
Provenance Wines, VIC 870 Steiglitz Road, Sutherlands Creek Vic 3331
Our family winery is located north of Geelong, east of Bannockburn, 60km west of Melbourne in the state of Victoria. We specialise in producing Pinot Gris, Chardonnay, Pinot Noir and Shiraz ; all grown in low yielding vineyards that have been selected for their distinctive terroir, match of site to grape variety and sustainable viticultural practices. Traditional winemaking ensures our wines truly...
Santa & D'Sas, VIC 2 Pincott Street, Newtown VIC 3220
SANTA & D'SAS is a collaboration between two winemaking families – Santarossa & Di Sciascio. Andrew Santarossa and Matthew Di Sciascio met while studying their Bachelor of Wine Science at Deakin and Charles Sturt Universities. With a shared Italian cultural heritage, a strong passion for making wine and a great friendship a joint venture seemed like a natural next step. The company was established in 2013 and Andrew and Matthew went about sourcing fantastic wine grapes to make their first wines. After a process of hand crafting these wines together, several long lunches and of course a few bottles of great wine, it came time to think about a label for this jointly made wine. SANTA & D'SAS was born. Excited by this concept, production has grown and fruit is now sourced from 5 different Victorian wine regions: King Valley, Yarra Valley, Heathcote, Henty & Geelong.
Spence Wines, VIC 760 Burnside Road, Sutherlands Creek VIC 3221
Spence Wines aims to make wine of the highest possible quality. We only use our own fruit from our own vineyard, to ensure we get the best quality grapes. These are wines that reflect the site they are grown on. They are made in small quantities, have limited availability and are amongst the best from the region.
Three Colours Wine, VIC 21 Rutland St, Newtown VIC 3220
The name refers to the three colours of wine that are made by the business: white, red and rosé. It is also a subtle reference to the French Flag, the tricolor, symbolising the inspiration drawn by the winemaker from a formative year in Provence, France. In the vineyard 'three colours' buys grapes from within the Geelong region, and is proud to have sourced fruit from the Bellarine Peninsula, the Moorabool Valley and the Surf Coast. Emphasis is placed on harvesting the grapes when they have produced the flavours which Johnny wishes to retain in the finished wines. Some green harvesting (crop reduction) for example was used in 2017 to achieve this aim. The wines are made by Johnny, who applies much of the knowledge he acquired in his Oenology studies, and many of the skills he has picked up in the vineyard, laboratory and cellar.