Jump to Winery List
Batesford Wine District
The Batesford Wine District is located about 10 km north-west of Geelong, along the Midland Highway, and this district is part of the Geelong Wine Region in Victoria, situated about 170 km south-west of Melbourne. The district is centred on the towns of Batesford, Ceres and Barrabool. The charming town of Batesford is located on the banks of the Moorabool River and on the Midland Highway.

The Geelong Wine Region includes eight districts : Waurn Ponds ; Colac ; Curlewis ; Bellarine ; Werribee ; Lethbridge ; Bannockburn ; Batesford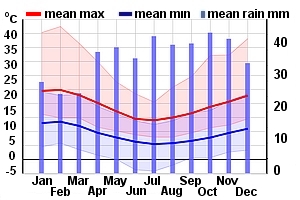 Winery Tour Map
Wineries
Eagles Rise (Wild Wine), VIC 310 Russels Bridge Road, Russells Bridge VIC 3331
Welcome to Eagles Rise vineyard and Wild Wine. From our spectacular site perched above the Moorabool River valley near Bannockburn, Geelong, we make a range of commercial and wild ferment wines from our 20 acre vineyard. Over a decade ago David Dillon reaffirmed his love of the region when he established Eagles Rise vineyard on a patch of red soil over limestone, above the waterholes he used to fish as a teenager. Together with his wife Erica, they continue to tend the vines, make the multi medal winning single vineyard wines and serve the growing congregation of customers at their restored 1880's Sunday Schoolhouse cellar door. Their range included the Moorabool Valley's only sparkling wines as well as conventional and natural indigenous ferment wines (under the "Wild Wine" label). The Schoolhouse now stocks an equally impressive range of old fashioned confectionery, to hold the attention of little ones while you sample some delicious wines and take in the magnificent view through to Geelong from their verandah.
Moorabool Ridge, VIC 37 Spiller Road, Lethbridge VIC 3332
A place of peace and tranquility, Moorabool Ridge is truly a special place to linger. Deep in the Valley perched on the edge of the Moorabool River is a shepherd's cottage built in 1856. This historic building is now home to Moorabool Ridge's tasting room. The cottage is full of the delights of the vineyard, olive grove and farm. Shelves are stacked with gourmet jams, pickles, relishes and olive oil, all produced on the farm. Fine wine, cheese platters and foccaccias can be enjoyed in the wonderful succulent garden whilst watching the Moorabool River slowly slide by or order beautiful freshly baked cakes and coffee from the shade of the verandah.