Jump to Winery List
Waurn Ponds Wine District
This Waurn Ponds District includes wineries on the fabulous Bellarine Peninsula between Anglesea and Geelong and includes wineries and vineyards surrounding the towns of Waurn Ponds, Barrabool, Torquay, Anglesea, Moriac, Mt Duneed and Bellbrae. The dstrict includes the western end of the Bellarine Peninsula which is transforming into one of Victoria`s beat gourmet destinations, due to a host of new and innovative food and wine businesses and the development of the new Bellarine Taste Trail. The district also includes the area inland from the famous surfing and beach holiday destinations of Torquay and Anglesea. There are many attractions and activities in the district including water-based sports such as swimming, surfing, snorkelling, jet-skiing, diving with dolphins, canoeing, kayaking, fishing, marine sanctuaries, sailing and much more. The area is also popular for bushwalking, camping and mountain bikes. A number of operators also offer ecotourism and nature tours in the area.

The Geelong Wine Region includes eight districts : Waurn Ponds ; Colac ; Curlewis ; Bellarine ; Werribee ; Lethbridge ; Bannockburn ; Batesford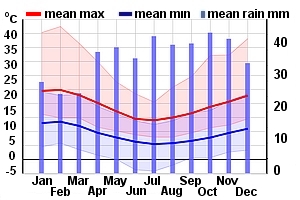 Winery Tour Map
Wineries
Barwon Ridge Wines, VIC 50 McMullans Barrabool VIC 3221
Our aim at Barwon Ridge is to express the characteristics of fine Geelong wines through the growing of premium grapes and production of quality distinctive wines. Discover our hidden gem in the Barrabool Hills just 10 minutes west of Geelong. We planted in 1999 and there are approximately 3.6 hectares (9 acres) under vine. Our range of wines is Pinot Noir, Shiraz, Marsanne, Chardonnay, Cabernet Sauvignon, Cabernet/Shiraz and Sparkling Chardonnay/Pinot Noir. The vineyard is located on a dry limestone ridge above the Barwon River and has sweeping views over the You Yangs. We are following in the footsteps of the original Swiss vignerons and are one of a small number of vineyards re-establishing in the Barrabool Hills after an absence of over 100 years. All of our wines are vegan compliant
Bellbrae Estate, VIC 520 Great Ocean Rd, Bellbrae Vic 3228
Bellbrae Estate is located on the Great Ocean Road only minutes from Bells Beach. The Longboard label takes its name from the coastal lifestyle that inspires the wine. Impatient to start making wine, before we had our own first crop, in 2001 the Longboard label was started with the release of 1999 Shiraz. To quote from the back label `Longboard` wine is a direct reflection of the coastal lifestyle...
Brown Magpie, VIC 125 Larcombes Road, Moriac Vic 3240
The planning of Brown Magpie Wines started in 1998 by Shane and Loretta Breheny . This new venture was born through Shane`s love of fine wine and Loretta`s love of horticulture. The property we selected is ideal for the purpose. It consists of 20 hectares on a gentle, north facing slope: the cypress trees, planted on the western and southern borders, provide a warm, sheltered site. Situated in Mod...
Dinny Goonan Wines, VIC 880 Winchelsea-Deans Marsh Road, Winchelsea South, Victoria, 3241
One of a handful of families pioneering grape and wine production in the Otway hinterland, Dinny Goonan Wines have won numerous awards since the first commercial release in 2001. The vineyard and cellar door are conveniently situated on the inland road to Lorne, between Winchelsea and Deans Marsh. This location provides a great springboard to explore the Otways and surrounding attractions, and Dinny Goonan Wines are happy to share some local knowledge of other places to see and visit. Visitors are welcome to taste wines and relax in the peaceful vineyard setting. Find out more about the wines by talking to Dinny the winemaker, or stroll around the vineyard and winery.
Domlina Estate, VIC 55 Marendaz Rd Waurn Ponds VIC 3216
Hidden away in Geelong's Waurn Ponds Valley, Domlina Estate have brought their heritage and family values into being Geelong's only producer of Tempranillo. Their story began in 2009 with a vision to create beautiful wine, the plantings and careful nurturing were overseen by father and son. With vines brought over from Spain, the true Tempranillo vibrancy has been brought to Geelong. Their main goal is for you to "enjoy this wine with family and friends, as they do."
Kisaan Estate Winery, VIC 1452 Barwon Heads Road, Connewarre, Victoria, 3227
Kisaan Estate Winery is a family owned boutique winery in Connewarre, approximately three minutes drive from the seaside town of Barwon Heads. The estate sits on a working farm, where visitors can enjoy the serene surroundings and more often then not hear the surf crashing on Thirteenth Beach not far from the farm. The winery serves beautiful Shiraz, Chardonnay and Rose along with a delicious cheese platters.
Moshulu Estate, VIC 830 Nortons Road, Paraparap VIC 3216
Moshulu Estate is a boutique winery, family owned and operated by Melanie and Warren Heinnen, specialising in cool climate wines – Shiraz, Pinot Noir and Chardonnay. This stylish wine has been handcrafted from quality fruit, delicately hand pressed and aged in premium French oak. The most moderm techniques of wine making are used, combining new technology with strong proven traditional methods. The Winery is located only 9km from the Great Ocean Road, between the popular holiday towns of Torquay and Anglesea on the Shipwreck Coast of Victoria. Established in 2001 with less than 4 hectares under vine, the vineyard produces quality fruit for premium boutique style wines.
Mt Duneed Estate, VIC 65 Pettavel Road, Waurn Ponds VIC 3216
Located just 15 minutes from Geelong and the Surf Coast (or an hour from Melbourne), Mt Duneed Estate offers countless ways to relax and unwind with a meal and a glass of something special. Welcome to Mt Duneed Estate, home to one of the Geelong region's most exceptional winery experiences. The Barrel Hall is open Wednesday to Friday 11-5pm and serves up local gourmet fare with a focus on pairing food with the our wine and craft beer range. We offer wine tasting and encourage guests to find their favourite drop!
Nicol's Paddock, VIC 35 Waurn Ponds Drive, Waurn Ponds VIC 3216
Nicol's Paddock's vines were planted in 1997, in the rich limestone soil of Waurn Ponds on the edge of Geelong. 2001 marked Nicol's Paddock's first vintage. Nicol's Paddock is family owned operated, specializing in Shiraz, Pinot Noir and Chardonnay. Situated on the rolling hills beside the Geelong Ring Road in Waurn Ponds, Nicol's Paddock is a family owned & operated Winery & Food & Wine Bar. Come and enjoy delicious local seasonal sharing dishes and snacks, complimented beautifully by Nicol's Paddock wines, in a friendly, relaxed atmosphere, overlooking the vineyard.
Pettavel, VIC 65 Pettavel Road, Waurn Ponds Vic 3216
Pettavel Winery and Restaurant was recently awarded the overall winner of The Telstra Country Wide Golden Plate Awards, Winner Best Restaurant, Winner Best Chef as well as being Highly Commended in the Best Cellar of Local Wines. Pettavel provides wine tasting, cellar door sales and serves modern, vibrant food made with the freshest seasonal ingredients, distinctly local in flavour. Perched on a h...
St Regis Vineyard, VIC 35 Princes Highway, Waurn Ponds Vic 3216
Welcome to St. Regis - Waurn Ponds, Geelong. Wine made with passion ! The Wine is mad from hand picked grapes, open ferments, hand plunged and basket pressed. Winery production varieties Eight acres, small crop levels and lots of sunshine on the bunches. Best grapes, cold soak, wild yeast, long skin maceration, maximum complexity and top French oak. Made by Pete Nicol, on site, in the shed. Where ...
The Minya Vineyard & Winery, VIC Minya Lane, Connewarre VIC 3227
We look forward to sharing this special place with you. The only footprint is yours. A small family winery established in 1972. Located 3km from the coast between Torquay and Barwon Heads. A very secluded place in the Thomson Valley. Wines are made in the traditional way and have always been good value. Minya by Moonlight in the ampitheatre during summer offers jazz, country, blues, folk and opera. Minya is a popular place for weddings and family functions. Views over the billabong and wetlands creates a very tranquil scene. The cafe is open weekends over summer. Cabin accommodation is available
Waybourne Winery, VIC 60 Lemins Road, Waurn Ponds Vic 3221
Waybourne Vineyard and Winery is situated in an area originally selected in the early 1840`s for winegrowing purposes. The vineyard was re-established in 1980 and opened its doors to wine-lovers in 1992. The vineyard is set on a north facing slope with soil structure and climate similar to the renowned region of Burgundy in France. The owner`s goal of achieving premium hand made wines has been acc...
Wolseley Wines, VIC 1790 Hendy Main Road, Paraparap Vic 3240
Wolseley Wines is the Surfcoast`s best kept secret. Situated on the gently sloping hills of Paraparap, just off the Great Ocean Road (inland from Bells Beach, Torquay), Wolseley Wines is a boutique sized vineyard, producing limited quantities of the finest wines. A cool climate and maritime influences combined with gravelly ironstone soils, produce a remarkable Pinot Noir, an intense, syrupy Botry...