Jump to Winery List
Curlewis Wine District
Curlewis Wine District is part of the Geelong Wine Region, includes vineyards and wineries on the Bellarine Peninsula between Leopold and Drysdale. The towns in the district includes Curlewis, Ocean Grove, Leopold, Barwon Heads and Wallington. The township of Leopold is a great base for exploring all the attractions and activities in the district. Leopold has Lake Connewarre and Bass Strait to its south and Port Phillip Bay to the north and providies wonderful opportunities for all types of lovers of watersports. Just a short drive away lie the communities of Barwon Heads, Ocean Grove, Apollo Heads and Torquay at the eastern gateway to the Great Ocean Road. These towns offer fabulous surfing and fishing. The area has a wonderful range of nature reserves offering bushwalking, mountain biking and camping. The area has a wide range of fresh food products.

The Geelong Wine Region includes eight districts : Waurn Ponds ; Colac ; Curlewis ; Bellarine ; Werribee ; Lethbridge ; Bannockburn ; Batesford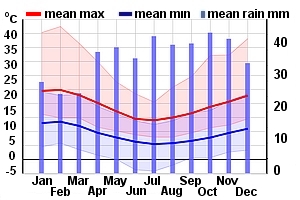 Winery Tour Map
Wineries
BAIE Wines, VIC 120 McDermott Rd, Curlewis VIC 3222
BAIE Wines is a small batch winery on the Bellarine Peninsula that produces award winning wines harvested from our Curlewis vineyard. We are a family run winery dedicated to handcrafting some of the regions finest cool climate wine. From picking the grapes to pouring and selling the wine – the Kuc family does it all and we wouldn't have it any other way. The family all take an active role in the running of the business; each family member operating in an area that they truly love, which can be seen in our passion and pride in the way we look after the families, guests and businesses the work with.
Banks Road Vineyard, VIC 600 Banks Road Marcus Hill Vic 3222
All wines are made onsite in our small hands-on facility. We also make wine for some of the other vineyards in the area. We are very passionate about our wine and enjoy the closeness to our produce that being a small winery gives us. A boutique winery based in the Bellarine Peninsula just outside Geelong. We have approximately 12 acres of grapes planted and a cellar door that offers wholesome meals using local produce of the region. The vineyard is set in a rural environment with a contemporary setting surrounded by sculptures of renown artists, rows of vines and views of the picturesque Swan Bay. Acknowledged in the 2014 James Halliday Australian Wine Companion as a 4.5 star winery. Bistro at Banks is now open with fabulous food for breakfast, lunch and dinner, matched to our wonderful wines.
Barrgowan Vineyard, VIC 30 Pax Parade, Curlewis, Victoria, 3222
The Barrgowan Vineyard and Winery is owned and operated by the Simonsen family. Vines were planted in 1994 with the objective of producing a high quality Shiraz for private consumption. This specialisation in Shiraz continues and the high quality is reflected in an impressive list of awards since 1998. The production is very small from the half acre of vines, 50 cases in 2003 rising to an expected 200 cases in 2010 with no plans to expand further. This will ensure the continued high quality and attention to detail. The wine matures for over 12 months in the best, ultra fine grained French oak barrels available, and do not blend, filter or fine. Barrgowan Vineyard do not have a distributor, all wine is sold by word of mouth, mail order or email. Cellar door open by appointment only.
Curlewis Winery, VIC 55 Navarre Road, Curlewis Vic 3222
Curlewis winery is located on the Bellarine Peninsula which features a maritime climate ideal for winemaking. Owners Rainer Breit and Wendy Oliver are committed to producing premium cool-climate wines. All wines are made by hand using traditional French methods. The vineyard consists of 1.6 hectares of 17 year old Pinot Noir vines in black cracking clay over limestone marl. Low 1.5 tonne per acre ...
Finesse Wines, VIC 20 Fines Lane, Leopold VIC 3224
We are a small but dedicated producer of cool climate table wines in the Geelong region. We are prepared to cellar our wines for some time prior to marketing to allow them to achieve the quality we think they are capable of. We hope you enjoy the results of our efforts
Flying Brick Cider Co, VIC Cnr Swan Bay and Bellarine Highway, Wallington VIC 3222
Think innovate space, a spectacular al fresco and lawn area, a tasting paddle of ciders, great food, the best Bellarine wines around, a solid selection of beer, fair trade coffee. Crafted from 100% crispy, crunchy apples and fresh, succulent pears. Naturally brewed with minimal interference. Dangerously delicious. Brewed onsite at local five star winery, Leura Park Estate, in the heart of the stunning Bellarine Peninsula, the Flying Brick range comprises three ciders – Original, Draught and Pear.
Leura Park Estate, VIC 1400 Portarlington Road, Curlewis VIC 3222
Leura Park Estate began vineyard life in 1995 with an initial 20 acre planting of Chardonnay. The gently undulating vineyard faces north with views in the vines across Corio Bay to the You Yangs, Buninyong, Mt Macedon and beyond. Exemplary of cool, maritime climate Leura Park experiences a long cool to mild growing season with Vintage 2002 completed just before Easter as usual. Soils are sandy loa...
Marcus Hill Vineyard, VIC 560 Banks Road, Marcus Hill VIC 3222
Marcus Hill Vineyard is located on the Bellarine Peninsula, a short drive from Geelong towards the coastal townships of Queenscliff and Point Lonsdale. This small vineyard was established in 1999 with plantings of Pinot Noir, Chardonnay, Shiraz and finally Pinot Gris and is managed with the aims of growing premium quality grapes in an environment where natural balance is encouraged. The vineyard is part of a small farm with substantial plantings of indigenous trees and shrubs which are home to a wide variety of birds and other creatures which provide natural pest control for the vines – no pesticides are required. The vines receive minimal watering and a variety of natural fertilisers are used to encourage soil and plant health.
McGlashans Wallington Estate, VIC 225 Swan Bay Rd, Wallington VIC 3221
Russell and Jan McGlashan began establishment of their 10 hectare vineyard at 225 Swan Bay Road, Wallington in 1995. Four varieties are now planted including Chardonnay, Pinot Noir, Pinot Gris and Shiraz. The sandy loam over buck shot clay provides the perfect soil structure for production of their premium cool climate wines. Winemaker, Robin Brocket uses French Oak to mature the wines for twelve ...
Oakdene, VIC 255 Grubb Road, Wallington VIC 3222
Oakdene is more than just a winery, it is an experience. Oakdene is situated on 93 hectares of coastal farmland in Wallington on the Bellarine Peninsula. Approximately 20 kilometres east of Geelong and 90km south of Melbourne and features an award-winning cellar door, restaurant and café. Established in 2001, Oakdene produces wines which are complex and elegant with the region enjoying a maritime climate, producing low yields of high-quality fruits. Oakdene produces both still and sparkling wines and specialises in chardonnay, pinot noir, shiraz, pinot gris and sauvignon blanc. The winery's dedication to excellence has produced incredible results, with wines winning medals and trophies at major shows holding a consistent five red star rating in James Halliday's Australian Wine Companion. Visitors can experience guided tastings at Oakdene's unique cellar door, the Upside-Down House, and sample estate-grown, extra-virgin olive oils.
Ponda Estate, VIC 150 Rhinds Road, Wallington VIC 3221
Ponda Estate Vineyard is a small, boutique family owned vineyard situated in the Bellarine Peninsula wine region of Geelong, Victoria. Our three acre block produces a stunning handcrafted, single-vineyard Pinot Noir wine. We also offer an award winning Bellarine Chardonnay. At Ponda, we are committed to using sustainable and eco-friendly viticultural practices – our low-yielding vines are hand tended, sheep and chooks work the block to sort out weeds/bugs and provide fertilisation for the vines, and family/friends help us hand pick our grapes at harvest time.
Wayawu Estate , VIC 1070 Bellarine Highway, Wallington VIC 3224
Wayawu Estate is a family owned boutique winery on a picturesque property owned by Stephanie and John Henry. Stephanie manages the vineyard while John manages the winery. Family and friends help with the pruning, the picking and with the bottling.
Yes said the Seal, VIC 1251 Bellarine Highway, Wallington VIC 3222
Exclusive Bellarine winery located at Flying Brick Cider Co. Delight in the refined maritime climate suite of wines unavailable anywhere else in Australia. Crafted from the finest of Bellarine fruit by leading winemaker Darren Burke. Exclusive and relative newcomer to the Australian wine scene, Yes said the Seal went straight into Halliday's Australian Wine Companion as a 5 Star rated winery in 2015, its first year of release. A proud resident of the renowned Flying Brick Cider House, Yes said the Seal comprises a suite of refined, limited release cool maritime climate wines. Crafted by leading Bellarine winemaker, Darren Burke, this elite range of wines is refined and complex yet inherently cutting edge. Yes said the Seal's stable of wines includes sparkling blanc de blanc reserve 2009, sauvignon, chardonnay, rose, pinot noir and shiraz.