Jump to Winery List
Lethbridge Wine District
The Lethbridge Wine District includes wineries north west of Geelong near the towns of Lethbridge, Anakie. Maude and Bannockburn in the Geelong Wine Region, Victoria. The small rural town of Bannockburn is located just off the Midland Highway, about 22 km north-west of Geelong. The historic buildings at Bannockburn include the beautiful bluestone railway station and the gaol, built in 1860. You can sample the local varieties of Pinot, Chardonnay, Shiraz, Cabernet, Riesling and auvignon blanc at local Vineyards, that are produced with fruit from carefully grown vines and made using traditional techniques to allow the true terroir to be expressed. Their winemaking encompasses the full range traditional techniques. Some wineries conduct theri fermentations using indigenous yeast and employ pre- and post-fermentation maceration to produce the best tannin structure naturally. Extended lees contact is used for enhanced mouth feel, and all our oaked wines are made using the very best French oak barrels. Environmental sustainability is critical to many local wineries. One local winery is built from strawbales which provide excellent thermal qualities.

The Geelong Wine Region includes eight districts : Waurn Ponds ; Colac ; Curlewis ; Bellarine ; Werribee ; Lethbridge ; Bannockburn ; Batesford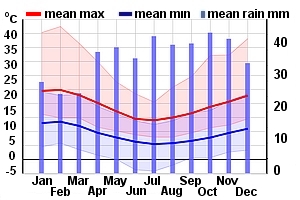 Winery Tour Map
Wineries
Amietta Winery, VIC 30 Steddy Road, Lethbridge VIC 3332
Amietta Vineyard and Winery, on the slopes of the Moorabool Valley near Bannockburn, Geelong, Victoria, is a micro-boutique winery dedicated to producing premium wine from estate grown and nurtured fruit. Nicholas Clark, Janet Cockbill and their young sons Rory and Liam live at Amietta and grow the grapes and make the wine with their own hands - and feet! Amietta successfully blends the best of tr...
Anakie Ridge, VIC 2290 Ballan Road, Anakie Vic 3221
Anakie Ridge Cellar door and restaurant has now opened to the public. Located on a stunning rise with huge views over the vineyard and surrounding plains, this winery is the latest addition to our quality regional wine and food assets. The building is architecturally very spunky, using alternative materials in a really original composition. And the wines?..... well come up and try for yourself. Yo...
Del Rios Mt. Anakie, VIC 2320 Ballan Rd, Anakie, Vic 3221
The vineyard is located on the Western slopes of Mt Anakie in Victoria, on 14 hectares of rich, black volcanic and grey alluvial soil with a granitic sand base. The property rises to a high plateau with views over Corio Bay, the You Yangs, Geelong, the Brisbane Ranges and Mt Duneed. The adventurous (and very fit) can climb further to the very top of Mt Anakie, a 2km walk, for views of Melbourne. Y...
Lethbridge Wines, VIC 74 Burrows Road, Lethbridge Vic 3332
Made following traditional French methods, with wild yeasts, no pumping and no fining, Lethbridge Wines are making their mark with their fine cool climate wines Lethbridge Wines is available through cellar door and a few selected retail outlets and restaurants. Open: Sat - Sun 10am - 5pm (1st and 3rd weekends) November 17th - April 1st Meredith cheese tastings and sales. We believe in the importan...
Staughton Vale Vineyard, VIC 20 Staughton Vale Rd, Anakie VIC 3213
This pretty 12.5 hectare property offers excellent wine tasting experience and impressive tour and accommodations. Established in 1986 as the first winery tourism facility in Victoria, Staughton Vale Winery now is a part of Pettavel Australia Pty Ltd, an iconic wine group in Geelong. Perched on the gentle slopes of Mt Anakie surrounded by vines and with immediate views of the Brisbane Ranges National Park in Anakie, the property is unique and the visit will provide lovely memory for years to come.
Tarcoola Estate, VIC 60 Spiller Road, Lethbridge Vic 3332
Tarcoola Estate is a boutique vineyard and winery located at Lethbridge, north west of Geelong in the heart of the Moorabool Valley, south eastern Victoria. Established in 1971, this is one of the oldest surviving vineyards planted in the Moorabool Valley, and one of the region`s larger boutique wineries. The Moorabool Valley was Victoria`s premier wine region last century, but took a battering du...