Jump to Winery List
Rochford Wine District
The Rochford Wine District, which is part of the Macedon Ranges Wine Region in Central Victoria includes the area around the towns of Rochford, Carlsruhe, Woodend, Newham and Mt Macedon. The district lies about 70 km from Melbourne. The township of Woodend features county charm, wonderful arts and crafts, a fascinating heritage and fabulous wines. After the end of the gold rush in the 1850s and 1860s, Woodend was transformed into a resort town boasting many guesthouses, a racecourse, beautiful private gardens, golf club and several hotels. Visitors will enjoy wandering through the antique stores, art galleries, boutique gift shops, weekend markets and local wineries and food outlets. Visitors can also explore the picturesque bushland in the Macedon Regional Park, meet the winemakers and discuss how their wines are crafted at the cellar doors. The famous Hanging Rock, which is located about 7 km east of Woodend, was thought to be a hideout for bushrangers during the gold rush era. Hanging Rock was also featured in the popular Peter Weir's film (1975) `Picnic at Hanging Rock` based on the novel by Joan Lindsay. The Hanging Rock Picnic Races are staged every New Year's Day and Australia Day (January 26). This tradition that has been maintained for more than 80 years. In late February, local food and wine is celebrated at the annual Harvest Picnic at Hanging Rock. Some of the many outstanding boutique wineries in the area include: Braewattie Vineyard, Hanging Rock Winery, Macedon Ridge, Mt Macedon Winery, Rochford (Macedon Ranges), Stonemont Winery, Straws Lane Winery and Woodend Winery.

The Macedon Ranges Wine Region includes six districts : Malmsbury ; Kyneton ; Glenlyon ; Lancefield ; Gisborne ; Rochford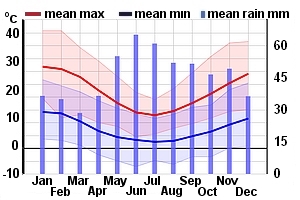 Winery Tour Map
Wineries
Hanging Rock, VIC 88 Jim Road, Newham Victoria 3442
Established in 1983 by John and Ann Ellis, Hanging Rock Winery is located just north of the famous Hanging Rock landmark, only a 55-minute drive from Melbourne. Their flagship wine is sparkling `Macedon`, a Champagne style sparkling unashamedly modelled on Krug and Bollinger. Other Flagship wines are The `Jim Jim` Sauvignon Blanc and Heathcote Shiraz. The winery sits on The Jim Jim, a hill facing ...
Mount Towrong Wines, VIC 4 Taylors Rd, Mount Macedon
Family operated vineyard and winery using sustainable and biodynamic principles to achieve the best possible quality. Our focus is on Italian varieties. Rustic Italian food served Saturday & Sunday.
Mt MacedonWinery, VIC 433 Bawden Road, Woodend Vic 3442
Mount Macedon Winery is an 80-acre property with 20 acres under vine. It has been established since 1989 and is presently the home in Australia for Olivia Newton-John`s `Koala Blue ` wine range. It is as picturesque as it is peaceful, perfectly located on the western slopes of Mt Macedon, at an elevation of 680 metres above sea level. This is one of the highest wineries in Australia. It is classif...
Rochford Wines, VIC 146 Otts Road, Rochford, VIC 3422
Rochford Wines have an extensive and exciting winery, restaurant and special events venue in the picturesque Yarra Valley, less than one hour`s drive from Melbourne, and a vineyard at Rochford. They are committed to the highest standards in customer service and customer satisfaction. The approach of their winemaker, David Creed, is simple: `Produce the best fruit possible in the vineyard; handle t...
Stonemont Winery, VIC 421 Rochford Rd, Rochford, VIC 3422
Stonemont vineyard is nestled between Mt Macedon and the Great Dividing Range on the picturesque northern slopes of the Rochford Hill. It was established with the planting of Chardonnay vines in 1993 with subsequent plantings of Pinot Noir and Chardonany in 1996 making a total of three hectares. Particular care and attention is paid to viticulture to produce low yielding crops for premium wine pro...