Jump to Winery List
Gisborne Wine District
The Gisborne Wine District is centred on the towns of Gisborne, Riddells Creek and Monegeetta in the Macedon Ranges Wine Region in Central Victoria. Gisborne is famous as the gateway to all the accommodation, attractions, activities and entertainment that the Macedon Ranges Region has to offer. Treat yourself at local wineries and their cafes, stroll through the many State Parks, nature reserves and botanical gardens, discover the rich heritage of the goldfields and take a wonderful tour through the wineries.Enjoy a day hiking. mountain biking, bushwalking, swimming or fishing for trout and blackfish at nearby Lederberg State Park. This intriguing area includes a 300 metre deep limestone and slate gorge. Go rock climbing and abseiling, enjoy canoeing, kayaking and rafting on the Lederberg River, or plunge the slopes on a mountain bike. The bushwalking in the area is also wonderful with a wide range of flora and fauna and many scenic attrctions and look-outs. Some of the major events in teh area include: # The Macedon Ranges Grand Tour in February # The Budburst Macedon Ranges Wine and Food Celebration held in November # Gisborne Farmers Market and Olde Time Market # The Gisborne Festival held in December.

The Macedon Ranges Wine Region includes six districts : Malmsbury ; Kyneton ; Glenlyon ; Lancefield ; Gisborne ; Rochford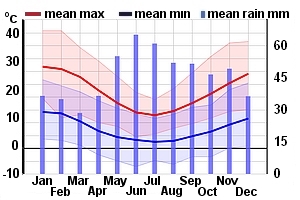 Winery Tour Map
Wineries
Bindi Wines, VIC Gisborne-Melton Rd, Gisborne VIC 3437
'Bindi', 50 kilometres north-west of Melbourne in the Macedon Ranges, is the family property of the Dhillon family. Originally purchased in the 1950s as part of the larger grazing farm 'Bundaleer', 'Bindi' is a 170 hectare farm of which 7 hectares are planted to Chardonnay and Pinot Noir. Fifteen hectares are dedicated to managed plantation eucalypts for high grade furniture timber whilst the remainder of the land is maintained as remnant bush land and important indigenous grasslands. The Bindi vineyard is the fundamental focus of our endeavors. Our vineyard and winemaking philosophy is to seek balance and purity in the expression of our various individual vineyard sites and this philosophy is applied to farming and conservation at 'Bindi'; the preservation of the natural harmony.
Gisborne Peak, VIC 69 Short Road, Gisborne South Vic 3437
Located just 6 km off the Calder Highway at the Gisborne South Exit, the cellar door is open 7-days a week and serves delicious wood-fired pizza on weekends and public holidays. The winery was formerly called `Mawarra Winery`, but during a recent `think-tank` it was decided to give our wine more regionality and locality, hence a new brand name change to Gisborne Peak Wines. We like it - we hope yo...
Mount Charlie, VIC 228 Mount Charlie Road, Riddells Creek Vic 3431
Mount Charlie Winery is a small boutique winery situated on the southern side of Mt. Charlie, one of the mountains of the Macedon spur. It is situated at about 430m on the slope of a small hill facing north east. This affords it a unique microclimate different from most of the vineyards of the Macedon ranges in that it is protected from the cold southerly and south westerly winds. Budburst and rip...
Mount Gisborne, VIC 83 Waterson Road, Gisborne Victoria 3437
Mount Gisborne Wines is dedicated to producing high quality, hand fashioned Burgundian style wines. The owners, David and Mary Ell, under the guidance of Master Winemaker,Stuart-Anderson, have been producing quality wines since 1991. The property, on 75 acres is located in Waterson Road, South Gisborne, in the Macedon Ranges Viticultural Region, and is bordered by the Wombat State Forest, and the ...
Ray-MondeWines, VIC 250 Dalrymple Road, Sunbury Vic 3429
Ray-Monde is a family owned boutique vineyard in the Sunbury wine region north of Melbourne, in Victoria`s Macedon Ranges and Spa Country (Daylesford area), specialising in Pinot noir....