Jump to Winery List
Malmsbury and Taradale Wine District
The Malmsbury and Taradale Wine District is a small rural service centre and tourist hub on the Calder Highway, about 100 km north-west of Melbourne and just 10 km away from Kyneton. The District is centred around the townships of Malmsbury, Drummond, Taradale, Kyneton, Metcalfe. Local attractions, events and activities include: # Malmsbury Reservoir # Taradale - an old gold mining township that has a beautiful array of historic buildings dating back to the 1850s. The Metcalfe Cascades on the Coliban River. # The Viaduct that spans the Coliban River, # The historic streetscape # The Historic botanic gardens established in 1865. # The historic steam mill # Malmsbury Bakery # Various fascinating local shops including antiques, crafts, cafes, restaurants and food outlets.

The Macedon Ranges Wine Region includes six districts : Malmsbury ; Kyneton ; Glenlyon ; Lancefield ; Gisborne ; Rochford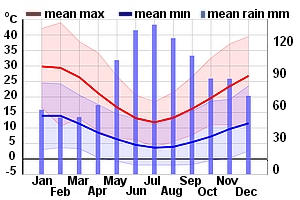 Winery Tour Map
Wineries
Birthday Villa, VIC 101 Mollison St, Malmsbury VIC 3446
Birthday Villa was named after Birthday Mine at Drummond – discovered on Queen Victoria's Birthday. Our boutique vineyard was established in 1976. We have an old world garden and views of the historic Malmsbury viaduct. Our award winning wines are made only from our estate grown fruit by winemaker Cameron Leith from Passing Clouds Winery in Musk. Cellar door is open weekends 11am to 5pm or by appointment.
Cleveland Winery – Restaurant, VIC 55 Shannons Road, Lancefield, Victoria, Australia
The Carriagehouse Restaurant resides within Cleveland Winery, overlooking the vineyard and lake with a panoramic view of the surrounding ranges provides a casual dining experience, where time glides by. It showcases the best of our regionally-grown produce in the highest standards within breathtaking surroundings. The true Australian country values of simplicity and friendliness are celebrated. Open for dinner on Thursdays, Friday, Saturday and Sunday, breakfast/brunch on Sundays and public holidays. Fresh wood fire pizzas are also served at lunch time on Saturday and Sundays.
Cloud 9 Farm, VIC 204 Goochs Lane, Pastoria, Victoria, Australia
Here at Cloud 9 Farm we want you to sit back, relax and enjoy a true paddock to plate experience in our beautiful countryside. Head into our cellar door to taste our wine and cheeses served by the makers themselves and perhaps take a free tour of the winery & cheese making areas learning all about the processes from our winemaker Alan. You can then sit and be surrounded by the stunning panoramic view from our seated area – inside or outside – while enjoying some wine and/or a cheese platter which includes preserves made from locally sourced ingredients.
Double Oaks Estate, VIC 104 Ashworths Road, Lancefield
Double Oaks Estate is a boutique cool-climate winery and truffle plantation located in the Macedon Ranges. Double Oaks Estate is situated in the scenic town of Lancefield, just 1 hour from Melbourne. Family owned and operated, our passion is to provide structured, fruit-driven and aromatic wines that reflect our cool climate and altitude. Our commitment to hand-pruning of vines, and hand-picking of grapes at harvest is underscored to our passion for viticulture and winemaking.
Hawksmoor, VIC 1060 Kyneton-Metcalf Rd., Kyneton Vic 3444
Hawksmoor produces elegant and subtle wines, predominantly Chardonnay and Cabernet with some Pinot Noir. The reds are made with no added preservatives, while the Chardonnay is made using a technique new to Australia, which prolongs shelf-life and produces a dry, European style of wine. Wines currently available from local liquor stores and restaurants, with a cellar door planned for May-June. Prop...
Hunter-Gatherer Vintners, VIC 362 Pipers Creek Pastoria Road, Pipers creek
Visit the Hunter-Gatherer cellar door to taste our range of award winning handcrafted wines from the Macedon Ranges and Heathcote. Our range includes Sparkling Pinot Chardonnay, Riesling, Chardonnay, Rose, Pinot noir, Shiraz, Sangiovese and Sparkling Shiraz. Chat to the winemaker. Enjoy a grazing platter at the outside picnic tables taking in the stunning views of the Pastoria Valley. Play some lawn games. Snuggle up by the open fire in the cooler months.
Lanes End Vineyard, VIC 885 Mount William Rd, Lancefield
Planted in the mid 1980s, Lanes End Vineyard is one of the older established vineyards in the Macedon Ranges. Our wines are made with minimal intervention and use natural (wild) yeasts. No herbicides or insecticides are used in the vineyard and the only addition made to the wine is minimal sulphur pre bottling - vegan friendly! There are two ranges of Pinot Noir and Chardonnay as well as a Rose (available October 2018). All wines are available through our website or leading wine outlets throughout Central Victoria.
Lord Malmsbury Vineyard, VIC Calder Hwy, Malmsbury
Green Viticulture is at the core of our winemaking. Established in 1989 , our 5 acres of hand tended, unirrigated vines produce elegant award-winning wines with soul.
Lynon Will Estate, VIC 60 Whalans Track, Lancefield
Nestled at the foothills of the Cobaw State Forest this winery produces quality wines with a minimalist approach. Family owned and with ingrained European roots, Lyons Will Estate aims to produce wines that ring true to the stunning and rare environment that is the Macedon Ranges. Our ethos is simple, 'take care of the land and the land will take care of the plants'. All of our blocks are hand pruned, hand groomed and hand-picked, ensuring the best quality possible from bud-burst to picking. You can sample the wines at our cellar door, open on the fourth weekend of every month, or by appointment. Cheese and charcuterie boards also available.
Metcalfe Valley, VIC 283 Malmsbury-Metcalfe Rd, Metcalfe
Metcalfe Valley produces single-vineyard, cool climate wines in the Rhone style suited to our varietals.
Paramoor Winery, VIC 439 Three Chain Road, Carlsruhe, Victoria, Australia
A boutique operation, Paramoor Winery is not about mass production. Quality always comes before quantity – and there is quality in everything the winery does. From the meticulous selection of grapes for Paramoor's wine, to the delicious wood fired oven pizzas, and the personalised service at the cellar door; every detail is considered… and the results speak for themselves.
Rock House, VIC 20 Burton Avenue, Kyneton Vic 3444
Overlooking the Campaspe River and the picturesque Kyneton Racecourse, Rock House vineyard was established in 1982 with plantings of Cabernet Sauvignon, Merlot and Rhine Riesling. The winery was completed in 1992. Modern equipment with the simplicity of traditional winemaking techniques and locally grown fruit produce wines which are quintessentially regional in character. Bottle-aged wines a spec...
Virgin Hills, VIC Salisbury Road, Lauriston, VIC 3444
Established in 1968, Virgin Hills was the first vineyard in the resurgence of viticulture in the Kyneton area. It was established by the flamboyant Hungarian Gypsy restaurateur, Tom Lazar, and soon shot to prominence as one of Australia`s pre-eminent red wine labels. The wine is made exclusively from estate-dry grown fruit, resulting in a distinctive blend. Styled on the great Bordeaux Cabernets, ...
Wilimee Wines, VIC 72 Powell's Track, via Mt William Rd, Lancefield
Ben Ranken and Sally Richardson own and run this small 37 year old vineyard, making great wines which express the soils from which they are grown.