Jump to Winery List
Kyneton Wine District
The Kyneton Wine District in the north-west part of the Macedon Wine Region is centred around the townships of Kyneton, Pipers Creek, Sidonia, Baynton, Emu Flat and is located about 85 km from Melbourne in Central Victoria. Kyneton a fabulous destination for a days outing, a week-end getaway of a longer stay, and is a great base for exploring the district and the Macedon Ranges area. The area has many wonderful attractions and facilities for a wide range of activities The Kyneton Mineral Springs are located in Burton Avenue near where it joins Lauriston Road. About 10 km to the west of Kyneton is the charming Lauriston Reservoir. South-west of Kyneton is the much larger Upper Coliban Reservoir which provides various water sports, bushwalking and camping. The Kyneton Botanical Gardens, which were established on the banks of the Campaspe River in 1856. Extending alongside the Gardens is the wonderful Campaspe River Walk which passes through the Sculpture Park near Quarry Reserve. Other attractions in the region include: Turpin Falls, Hanging Rock, Trentham Falls, Mount Macedon, Daylesford. Local events include: # The famous Kyneton Farmers Market, that abounds with fresh local produce and wines is held weekly in St Pauls Park # Kyneton Daffodil and Arts Festival # Horse Racing at Kyneton.

The Macedon Ranges Wine Region includes six districts : Malmsbury ; Kyneton ; Glenlyon ; Lancefield ; Gisborne ; Rochford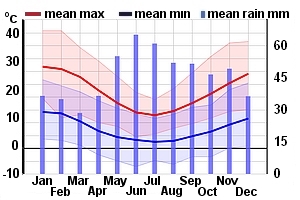 Winery Tour Map
Wineries
Cobaw Ridge, VIC 31 Perc Boyers Lane, East Pastoria
Certified Organic/Biodynamic. Fifth Australian member of the elite French based 'La Renaissance des Appellations"
Fontanella wines, VIC 1225 Malmsbury Road, Glenlyon
Fontanella wines is a family owned 5 acre boutique vineyard producing high quality, Italian, estate grown wines.
Granite Hills, VIC 1481 Burke and Wills Track, Baynton, Kyneton Vic 3444
Knights Granite Hills is arguably one of Victoria`s most successful small family wineries, which has amassed some 400 Australian and International awards in it`s 25 vintage history. Perched atop the spectacular granite strewn hills of the Great Dividing Range, this pioneer cool climate winemaker specializes in producing discrete batches of premium cool-climate wine styles. Particular emphasis is o...
Guildford Vineyard, VIC 6720 Midland Hwy, Guildford
Vineyard, cellar door and restaurant where wild species, biodiversity, conservation and production of great local wines is our passion.
Kyneton Ridge, VIC 90 Blackhill School Road, Kyneton Vic 3444
Producers of premium cool climate wine, boutique winery nestled on our Northern slope surrounded by 40 hectares of bush and majestic boulders with stunning views from all angles. In 1997 we planted our premium Pinot Noir block in the granite soils of the Estates sheltered northern slope. The vines have been carefully nurtured and trained to consistent standards by the same family team of Ann Bouch...
Limestone Track Vineyard, VIC 48 Limestone Track, Guildford
A family owned vineyard producing hand crafted wines from handpicked vines.
Rowanston on the Track Winery, VIC 2710 Burke and Wills Track, Glenhope, Victoria, Australia
Visit Rowanston for great wines, a chat with the winemaker and a tour of our small winery or just a lazy afternoon tasting wines in the cellar door or garden. You will find Rowanston on the Track Winery on the famous Burke and Wills Track just north of Kyneton & Lancefield overlooking the scenic McCarg Ranges. Owners John and Marilyn Frederiksen run this small friendly, family winery which specializes in quality cool climate wines.
Shadowfax Little Hampton Vineyard, VIC 35 Breheny Lane, Trentham
The vineyard sits high in the Macedon Ranges, 95km km north east of Melbourne. The days are cool and the nights colder. Fruit ripens in the autumn, accumulating extraordinary flavour and retaining excellent acidity. Sustainably farmed, our winemaking is simple and considered. Hand harvesting, natural fermentation and long slow maturation in our cool underground cellar ensure every wine we grow is a pure and faithful expression of Little Hampton.
Wombat Forest Vineyard, VIC 189 Springhill Road, Denver, Victoria, Australia
Wombat Forest winery is surprise package nestled in the Wombat Forest at Denver. We are passionate about the local area with its rich fauna and flora. We've always been keen to establish a family vineyard and winery on our property as our soils and climate being conducive to cool climate viticulture. Our first plantings were in 1997. We planted two varieties of Pinot Noir and a small amount of Cabernet Sauvignon. Our vineyard has a northerly aspect with a large dam at the base of the valley to assist with drawing frost away from the vines in winter and spring. We produce handcrafted wines paying particular attention to detail. The extended ripening period enhances the fruit flavour and provides subtle tannins.