Jump to Winery List
Traralgon Wine District
The Traralgon Wine District, in the West Gippsland Rwegion includes wineries close to the towns of towns of Erica, Traralgon, Morwell, Rosedale, Willung, Willung South, Glengarry, Rosedale and Sale. Traralgon is the largest city in the Latrobe Valley and lies about 160 km from Melbourne on the Princes Highway and is the major centre for entertainment and district events and features an array of cafes and quality dining at many restaurants and clubs. See the many historic buildings in town dating from the gold rush years. Traralgon is a major service centre for the energy industries and the district's agricultural, timber industries, dairy, pastoral, papermaking and tourism industries. The nearby Tarra Bulga National Park is renowned for its beautiful fern gullies, giant Mountain Ash trees and ancient myrtle beeches. It is also a great location for bushwalking and camping. Local events include: Traralgon Agricultural Show held in November; Traralgon Pro Am held in February and the Traralgon Cup - horse racing event held in November.

The Gippsland Wine Region includes eight districts : Stratford-E.Gippsland ; Cann River-E.Gippsland ; Lakes Entrance-E.Gippsland ; Gurdies & Phillip Island-S.Gippsland ; Leongatha-S.Gippsland ; Warragul-W.Gippsland ; Traralgon-W.Gippsland ; Beaconsfield-W.Gippsland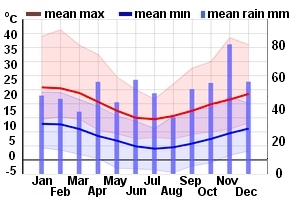 Winery Tour Map
Wineries
Boola Boola, VIC Coopers Creek Rd (PO Box 158), Erica Vic 3825
Boola Boola Winery and Tea Rooms invites you on your next visit to the Walhalla and Mountain Rivers region to drop in and sample our unique selection of fine fruit liqueurs. The winery nestles between the Thomson and Boola Boola state forests between Erica and Walhalla above the old mining settlement of Coopers Creek. Set amongst picturesque gardens teeming with native bird life the cellar door te...
Moondarra, VIC Browns Road, Moondarra Vic 3825
In 1991 Neil Prentice and family established their Moondarra Vineyard in Gippsland, planted to 11 low-yielding clones of pinot noir. The vines are not irrigated, and vineyard management is predicated on the minimum use of any sprays with the aim of ultimately moving to Biodynamic/Pagan farming methods. The winemaking techniques are strongly influenced by the practices of controversial Lebanese-bor...
Narkoojee Wines, VIC 170 Francis Road, RMB 1110, Glengarry Vic 3854
Narkoojee is a boutique winery committed to the production of premium quality wines, reflecting both varietal and regional character. Narkoojee, meaning `place of flowers`, was a dairy farm owned and operated by Edna and Athelstan Friend, since the early 1940s. Their son Harry planted the first experimental vines back in 1980. The Cellar Door is open 10.30am to 4.30pm, daily except Christmas Day, ...
Piedmont Wines, VIC 3470 Yarra Junction - Noojee Road, Piedmont VIC 3833
Established in 1991 by Ivan and Ljubica Juric, the winery is located in scenic West Gippsland near the town of Noojee. We purchased the bush block in 1988, cleared the land, built a small cottage and had fun on weekends in the beautiful countryside, and then Ivan decided he wanted to grow his own grapes and make wine. The Sauvignon Blanc that Ivan entered in his first ever wine show won him a Gold medal and also a trophy for the best white wine in the amateur section at the Victorian Wines show at Seymour in 1997. Inspired by his early success he went on to plant additional vines in two further stages until he had a total of six acres under vine. Our wines truly are boutique single vineyard cool climate wines. We produce Chardonnay, Sauvignon Blanc, Shiraz and Sparkling white wines. Also on offer is our fine Grappa, a grape brandy distilled from pressed skins.
Red Coor Estate, VIC 175 Napiers Road, Mirboo North VIC 3871
Red Door Estate is a boutique winery/vineyard nestled in the Mardan hills of the Strezlecki Ranges of South Gippsland. John and Adrienne Neilson are the second proud owners of 5 years in the vineyards 19 year old history of growing and producing Pinot noir, Sauvignon blanc and cool climate Shiraz. "We love talking to the folk that drop in for a tasting, how the wine making process works and showing them around the vineyard. Hopefully they leave with a bit more knowledge than when they arrived and more importantly have enjoyed our wines and the experience."
Toms Cap, VIC Cnr Toms Cap and Lays Rds, Carrajung Vic 3844
Toms Cap is a small boutique vineyard situated in Central Gippsland and surrounded by the forests of the Strezlecki Ranges, the ninety-mile beach at Woodside and the natural flora and fauna of Tarra Bulga national park. The property consists of 100 acres of rolling green paddocks with six acres of vines and forty acres of planted gums and pines. Close by is the Tarra Bulga national park which is o...