Jump to Winery List
Lakes Entrance Wine District
The Lakes Entrance Wine District includes wineries in far East Gippsland Wine Region centred on the holiday centre of Lakes Entrance which is the gateway to the magnificent waterways of the Gippsland Lakes and extends inland to Omeo at the foothills of the Snowy Mountains. Other towns in the area include: Omeo, Cassillis, Ensay, Lakes Entrance, Paynesville and Bairnsdale. Lakes Entrance is located between Orbost and Bairnsdale and on the channel that connects the magnificent expanse of 400 square km network of waterways known as the Gippsland Lakes to Bass Strait and the Tasman Sea. This area is very popular with tourists for boating, fishing, diving, surfing and enjoying the beaches and National Parks in the area. There is a wide variety of accommodation options and many cafes, shops, restaurants that specialise in the fresh local seafood and dairy products. Inland the tourist centre of Omeo, on the Great Alpine Road is a great base from which to discover the history the high country, the historic gold rush days, horse riding and Victoria`s famous snow resorts. Omeo is renowned for its natural areas and adventure sports including: Trout fishing and white water rafting on the Mitta Mitta River, bushwalking along the tracks through the Bogong High Plains, cross-country skiing at Dinner Plain and the snow resorts at Mount Hotham.

The Gippsland Wine Region includes eight districts : Stratford-E.Gippsland ; Cann River-E.Gippsland ; Lakes Entrance-E.Gippsland ; Gurdies & Phillip Island-S.Gippsland ; Leongatha-S.Gippsland ; Warragul-W.Gippsland ; Traralgon-W.Gippsland ; Beaconsfield-W.Gippsland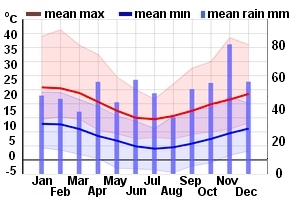 Winery Tour Map
Wineries
Ensay Winery, VIC 5094 Great Alpine Road, Ensay Vic 3895
Established in 1992, the six acre vineyard comprising of Shiraz , Cabernet Sauvignon, Pinot Noir, Chardonnay and some Merlot has a north and west aspect on granitic soils at an elevation of 220 metres above sea level. In its early development stages the vineyard was watered to encourage establishment . Subsequent soil practises and mulching has allowed it to sustain itself without watering since 1998 and it is now a dry land vineyard. Hot, dry summers and warm autumn conditions punctuated by cool evening temperatures (due to our proximity to the mountains) allow lengthy ripening periods to produce wines displaying unique cool climate flavours which continue to develop and intensify The 20 tonne crop is handpicked by our ever reliable team of local pickers and promptly processed at the winery. All of the must (grapeskin, seeds and stalks) ejected from the crusher is recycled as compost and mulch
Lightfoot & Sons, VIC 717 Wy Yung-Calulu Road, Calulu, Victoria, 3875
Lightfoot and Sons is a family owned and operated vineyard, winery and cellar door in the Gippsland Lakes district, specialising in Pinot Noir, Chardonnay and Shiraz. Established in 1995 by Brian and Helen Lightfoot. The family's vineyard and winery are now managed by sons Rob and Tom. At the Lightfoot and Sons Cellar Door, visitors are welcome to the vineyard and winery for wine tastings or to enjoy a glass of wine and local produce plate on the deck overlooking the vineyard and Lindenow Valley. Wine sales available. All wines are 100 per cent Estate grown, made and bottled. Winemakers Alastair Butt and Tom Lightfoot embrace traditional wine-making methods as well as some more experimental techniques. The resulting wines reflect the unique character of the Myrtle Point Vineyard and the Gippsland Lakes District.
Mount Markey, VIC Swifts Creek Rd, Cassillis Vic 3896
Mount Markey Winery is Omeo Region`s award winning, family owned, cool climate wine producer. Located midway between Omeo and Swifts Creek in the picturesque Cassilis Valley Gold Fields, Mount Markey is a small producer of hand crafted, deliciously different wines. Committed to quality, variety and visitor service their cellar door is open for free tasting 6 days a week. Most of their 750 case ann...
Nicholson River Winery, VIC 57 Liddels Road, Nicholson, VIC 3882
Since 1978, our aim has been to create wines reminiscent of the great European styles, with a character that reflect the intense flavours unique to the area. The extensive range of wines on offer is ideal for people wanting more than the mainstream can offer, and are great with food. We make small quantities – 30 to 200 dozen – of wines that suit our soils and climate, and that we find interesting. Visit our Cellar Door for a tasting and a chat. We have a picnic area that is ideal for enjoying lunch or a snack over-looking the lovely Nicholson River while the kids play
Sarsfield Estate, VIC 345 Duncan Road, Sarsfield, Vic 3875
The property is owned by Suzanne Rutschmann, who has a PhD in Chemistry, a Diploma in Horticulture and and a BSc (Wine Science) from Charles Sturt University, and by Swiss-born Peter Albrecht, a civil and structural engineer who has also undertaken various courses in agriculture and viticulture. For a part-time occupation, these are exceptionally impressive credentials. Their 2-hectare vineyard wa...
Tambo Vineyard, VIC 96 Pages Road, Tambo Upper, Victoria, 3885
Tambo vineyard is located on a north east facing slope in the foothills of the Great Dividing Range in south east Australia. The cool maritime climate with relatively consistent intermediate temperature allows the fruit to slowly build complexity and purity. The slope shelters the fruit from the wind, captures a higher amount of sunlight, and moderates yield. Low fertility soil over a sandstone/limestone base further reduces yield and provides a mineral dimension to the fruit. Great wines have a basis of fruit weight, concentration, length and sense of place – characters which can be formed only in the vineyard. Our primary task at Tambo Wine is to grow grapes which express the site and take the essence of that fruit and then preserve it as wine. The character of the fruit from Tambo vineyard reflects the relatively soft temperate maritime climate. The winemaking starts in the vineyard monitoring the fruit, assessing the balance of fruit and tannin ripeness, acid structure and flavour development. The picking decision is shared with the winemaker and the grape grower based on an understanding of the year and the possible wine style.
Wyanga Park, VIC 222 Baades road, Lakes Entrance Vic 3909
Tucked away on the idyllic North Arm in the Gippsland Lakes, with easy access by boat or car, Wyanga Park is Gippsland`s oldest winery. We offer visitors a relaxed tasting of our wines, including Estate-grown Chardonnay, Riesling, Traminer, Cabernet: Sauvignon and Pinot Noir You`ll love our famous frozen Muscat and the fruity sweetness of Boobialla! Locally made jams and condiments, a range of qua...