Jump to Winery List
Warragul Wine District
The Warragul Wine District includes wineries in the West Gippsland Wine Region and includes the towns of Warragul, Moe, Seaview, Korumburra, Drouin, Neerim South, Moe, Ellinbank and Morwell south-east of Melbourne. Warragul lies at the heart of a thriving rural district amongst rolling green pastures and dairy fields.The town's heritage is showcased by the many heritage-listed buildings, museums and galleries, and it is the gateway to the Gippsland gourmet country and the beautiful Mount Baw Baw snowfields to the north of the town. You can choose from a delightful array of cafes, restaurants, wineries, food stalls and farmers markets and enjoy visiting the many boutique wineries and vineyards in the area including the famous Wild Dog Winery. Join in the celebrations and events of the Gippsland Food and Wine festival held in March every year. Visit the wonderful art and craft galleries and studios throughout the district, featuring painting, glass blowing and sculpture, land the regular craft markets.

The Gippsland Wine Region includes eight districts : Stratford-E.Gippsland ; Cann River-E.Gippsland ; Lakes Entrance-E.Gippsland ; Gurdies & Phillip Island-S.Gippsland ; Leongatha-S.Gippsland ; Warragul-W.Gippsland ; Traralgon-W.Gippsland ; Beaconsfield-W.Gippsland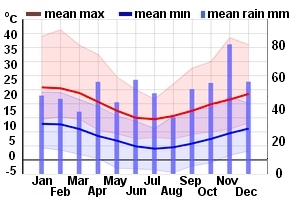 Winery Tour Map
Wineries
Ada River Vineyard, VIC 2330 Main Road, (cnr. Sawyer Road), Neerim South VIC 3831
Ada River wines are individual vineyard wines produced from fruit grown at the Millstream vineyard in Gippsland and the Goondalahg vineyard in the Yarra Valley. The Goondalahg vineyard is located in Steels Creek, in the northern end of the Yarra Valley bordering the Kinglake National Park. The vineyard was originally planted in the early 1970`s. The total area planted is 7 acres comprising 3.5 acr...
Brandy Creek Estate, VIC 570 Buln Buln Road, Drouin East, Victoria, 3818
Nestled into the evergreen undulating hills, just to the north of Warragul and Drouin, is Brandy Creek Estate, West Gippsland's premier wine, food, function destination and Day Spa. Enjoy many of Brandy Creek Estate's tasty tapas dishes, paella feasts and churrasco barbeques with family or friends and take in the stunning views over the vineyard, olive grove and neighbouring farms out to the Baw Baw Ranges.Complete your day visit the world class Brandy Creek Day Spa and indulge with their signature spa packages designed to relax, restore and re-energise you.
D'Angelo Estate Vineyard, VIC 41 Bayview Rd Officer, Vic 3809
D'Angelo Estate Vineyard comprises of two vineyards, one in Officer and the other in Montrose, Victoria. The D'Angelo Estate Vineyard at Officer is located on the North Side of Princes Highway on the outskirt of Berwick, just 45 minutes south east of Melbourne. The topography of Officer makes an excellent site for growing cool climate varietals such as Pinot Noir, Chardonnay, Sauvignon Blanc, Pinot Grigio, Shiraz and Viognier, which is ideal for bringing out the complex flavours of all these grapes. From the Yarra Valley Vineyard, D'Angelo Estate produces Pinot Noir, Cabernet Sauvignon and Sauvignon Blanc. Both of these vineyards are family owned and are maintained by the D'Angelo family. Benny also produces Shiraz and Cabernet Sauvignon from a premium low cropping vineyard in Langhorne Creek (S.A).
Patrick Sullivan, VIC 146 Petersons Road, Ellinbank, VIC
In 2010, Patrick launched his own brand Patrick Sullivan Wines, using grapes grown on leased farmland, before purchasing his own farm and winery in 2015 with his wife, located in the Strzelecki Ranges, Gippsland. The brand embodies Patrick's passion for and commitment to his natural surroundings, with each of his small-batch, boutique wines inspired by an emotion, a moment in time and a sense of place. Patrick's approach to the land and its produce is entirely sensory - the bottles at the end of the wine-making process are filled with a pure expression of the fruit that goes into it, with no intervention other than time. He is entirely immersed in the process and a true purveyor of producing acclaimed, intriguing and honest wines.
Wild Dog Winery, VIC 6 Farrington Close, Warragul Vic 3820
Situated among the rolling country that climbs in a series of high hills and deep valleys to Korumburra, it`s a quaint cottagey kind of place, very hospitable and comfy, with a good range of wines, particularly spicy/rich Shiraz. There are a few dogs there too, but they`re real softies, anything but wild. With a trial plot of only 150 vines, 30 acres now stand. Wild Dog Winery started back in 1981...
William Downie, VIC 6 Farrington Close, Warragul
Born and raised in Gippsland, William has been making wine in various places for 15 years. His wines have, until recently, been made from purchased fruit from the Yarra Valley, Mornington Peninsula and South Gippsland. As of 2017 he and Patrick Sullivan lease 5 vineyards in Baw Baw Shire and farm them organically. William and his wife Rachel also own a property in Yarragon called Guendulain Farm which includes a vineyard, orchard, vegetable garden as well as producing pork, lamb, beef and poultry.