Jump to Winery List
Stratford Wine District
The Stratford Wine District in the East Gippsland Wine Region in Victoria, is centred on the major towns of Stratford, Sale, Maffra and Longford and includes wineries near the townships of Waterford, Wuk Wuk, Lindenow, Brigalong, Letts Beach, Golden Beach. It includes the area surrounding Lake Wellington and the southern end of the Gippsland Lakes near the beach holiday townships of Letts Beach, Golden Beach. Sale is the western gateway to all the attrctions and activities of Gippsland Lakes and the delightful coastal areas. The historic Port of Sale first opened to shipping in 1890 and is now a popular tourist destination. Visitors enjoy the fine selection of cafes, local food outlets and many fine restaurants in this area, and the renowned Gippsland Art Gallery at Sale. The historic town of Maffra was established in the 1890s initially focused on growing sugar beet. You can visit the Beet Museum, which showcases the early days of agriculture in the region, as well as the dairying and cattle heritage of the district. Explore the motoring industry history displays at the vintage car museum, and see the many historic buildings in the town. You can fish for trout in the Thomson and Macalister Rivers, or travel north to Lake Glenmaggie for canoeing, boating, kayaking, waterskiing and camping. Visit the delightful Stratford Village on the Avon River for its wonderful array of art and craft shops, antiques and bric a brac outlets, and local food outlets.

The Gippsland Wine Region includes eight districts : Stratford-E.Gippsland ; Cann River-E.Gippsland ; Lakes Entrance-E.Gippsland ; Gurdies & Phillip Island-S.Gippsland ; Leongatha-S.Gippsland ; Warragul-W.Gippsland ; Traralgon-W.Gippsland ; Beaconsfield-W.Gippsland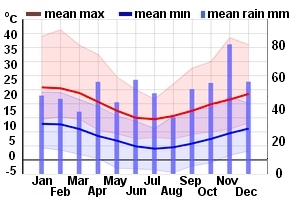 Winery Tour Map
Wineries
Avon Ridge Vineyard, VIC 446 Maffra - Stratford Road, Maffra VIC 3860
Avon Ridge is an established boutique vineyard set between the picturesque country towns of Stratford and Maffra overlooking the Avon River Valley in Eastern Gippsland. Over 30 year old vines, our hand crafted award winning wines are the product of our cool local climate, which produces fruit deep with varietal flavour and elegance. Guests are welcome year round to explore our intimate vineyard, enjoy our restaurant and sample our highly drinkable wines and ciders.
Blue Gables, VIC 100 Lanigan Road, Maffra West Upper, VIC
Blue Gables is a small boutique vineyard in East Gippsland and boasts four varieties spread across 7 acres: Sauvignon Blanc, Chardonnay, Pinot Gris & Shiraz. We strive to produce premium quality wine, year on year.Situated high on a hill, we have an exposed site that is warmer than most in Gippsland by day, yet with the absence of any sea breeze, our nights cool off significantly. These day/night temperature extremities are perfect for viticulture and this unique microclimate has resulted in the wines displaying intense varietal flavour and elegance. We crop at lower yields to concentrate the flavour of our fruit which is hand-picked to ensure we end up with wines of premium quality and character. Our first vintage was 2009, with wines initially made by Mal Stewart, who continues to make our sparkling wines. Our new winemaker Alastair Butt has set a high benchmark for us with his first 2 vintages, commencing 2015. The 2016 Pinot Gris won Gold & Best Alternate White at the 2016Gippsland Wine .
Dargo Valley, VIC Lower Dargo Rd, Dargo Vic 3862
Dargo Valley Wines grow cold climate wines on rich alluvial river flats with conditions and altitude very similar to those found in Europe. The Winery produces chardonnay, sauvignon blanc, traminer, riesling, pinot noir and cabernet sauvignon. Bed-and-breakfast accommodation is available and there are picnic and barbecue areas. The cellar door is open from midday to 5.00 p.m. Monday to Thursday an...
Golvinda Winery, VIC Lindenow Road, Lindenow VIC 3865
Established in 1977, this winery is the only one of its kind, featuring a golf course, there can be no better way to end the day. The wines are well made....
Wa-De-Lock, VIC Stratford Road, Maffra Vic 3860
Wa-Da-Lock Cellar Door is located on the Princes Highway in Stratford - Next door to Powerscourt Country House. Cellar door sales: 10am-6pm Thurs-Tues. Closed Wed. Dining: Snacks, platters, light lunches specialising in local produce. Winemaker: Graeme Little. Varieties: Sauvignon Blanc, Chardonnay, Pinot Noir, Cabernet Sauvignon and Noble Sauvignon Blanc. Facilities: Picnic area, BBQ and scenic v...