Jump to Winery List
The Gurdies and Phillip Island Wine District
The Gurdies District includes wineries in the Gippsland Wine Region on the south-eastern shore of Westernport, The Gurdies area in West Gippsland and Phillip Island includes the towns of The Gurdies, Cowes, Korumburra, Glen Forbes and Cape Paterson. The world renowned Phillip Island is located about 140 km South East of Melbourne and is the home of the Australian MotoGP event (motor bike racing), the world famous Penguin Parade. Phillip Island has a fabulous array of activities, facilities, events and attractions throughout the year that make the island an ideal holiday of daytrip destination. There is a wonderful range of holiday accommodation or all types available on Phillip Island and the surrounding areas of the Gurdies District.

The Gippsland Wine Region includes eight districts : Stratford-E.Gippsland ; Cann River-E.Gippsland ; Lakes Entrance-E.Gippsland ; Gurdies & Phillip Island-S.Gippsland ; Leongatha-S.Gippsland ; Warragul-W.Gippsland ; Traralgon-W.Gippsland ; Beaconsfield-W.Gippsland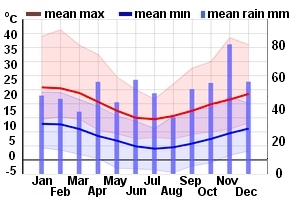 Winery Tour Map
Wineries
Bass River Winery, VIC 1835 Dalyston - Glen Forbes Road, Glen Forbes, VIC, 3990
Bass River is one of the first five vineyards planted in Gippsland. The Butera family passionately grow the grapes and produce wines that display varietal, regions and season. At Bass River, we're inspired by experimentation. Our hearts are set on hunting out fresh knowledge, iterating on existing techniques, and taking calculated risks which result in wines that strive to be better than what has come before. We challenge conventions in order to build on what truly works. This liberates us from simply repeating the past for the sake of tradition. And it emboldens us to explore fearlessly in our pursuit of perfection. We believe crafting great wines is a journey without a final destination, because we're always moving the goal posts further. We strive to better our best, and invite those who share this spirit to join us for the journey.
Circe, VIC Hillcrest Road, Red Hill
Circe was a character from Homer's Odyssey, a seductress and witch who helped Odysseus when he was shipwrecked on her island. She then used her magical wine to turn Odysseus' men into pigs. We are Pinot noir lovers. We began Circe with the intention of producing Pinot noir with focus on elegance, aromatic impact and perfume over power and weight. To that end we employ whole bunch winemaking which I have learned both here and abroad. Today we make Pinot from Mornington, Gippsland and Macedon Ranges. My instinct is that ultimately Gippsland will be a big focus for our small brand. We also make a small amount of Chardonnay, sparkling Blanc de blancs and Shiraz. But these are all distractions from our main variety, Pinot noir.
French Island Vineyards, VIC Long Point Rd, French Island VIC 3921
All wines are handmade and bottled on site by winemaker Peter Hatton. Being off grid and isolated is a major challenge for the winery, the Pinot Noir & Shiraz are de-stemmed, crushed in open top fermenters, and hand plunged throughout natural fermentation.
Gippsland Wine Company, VIC 6835 South Gippsland Highway, Loch 3945
The philosophy behind the name "Gippsland Wine Company" is to produce premium varietal wine showcasing the regional characteristics that Gippsland has to offer. The vineyard at Loch was planted in 2004 on a sloping northerly facing aspect, with Sangiovese, Cabernet Sauvignon and Chardonnay. The vines 1.5 metres apart and traditionally cane pruned to achieve optimum quality fruit. GWC maintain two other local vineyards situated in South Gippsland providing Pinot Noir, Sauvignon Blanc and Cabernet Sauvignon. This is supplemented by Riesling, Pinot Gris and Gewurztraminer grown by our grapefriends throughout Gippsland. The distinctive wine labels of GWC pay homage to the vineyard sites where the fruit source originates.
Gurdies Winery, VIC 215 St Helier Road,The Gurdies VIC 3984
There are wonderful clean, low preservative wines. You get rich, ripe fruit flavours right from the first glass to the end of the bottle. The low preservatives mean a cleaner, healthier and tastier product for you. The winery is open every day of the year for group tours. There are no tasting fees, we have room for your largest coaches and we cater for small or large groups. The winery is just ove...
Phillip Island Winery, VIC 414 Berrys Beach Road, Ventnor 3922
This winery is what happens when three groups of friends want to do a winery a little differently and find the perfect spot to make it happen. Aside from food and wine (and cider), we have our cellar door for tastings, "The Yards" that sells some of our favourite things and famous flowers, events and always something going on. Basically, all you need to know about us we're more than happy to tell you in person – we find over a few drinks is best.
Purple Hen Winery, VIC 96 McFees Road, Rhyll 3923
Purple Hen Winery is located on a small peninsula on Phillip Island, overlooking the Bay of Western Port with beautiful views of Swan Inlet, Churchill Island and Denne Bight. Purple Hen began in 2001 when Rick Lacey and Maira Vitols purchased the property – 32 hectares of prime grazing land. Planting of vines began in January 2002 with the first vintage in 2004. An on-site winery was established in 2005 and the Cellar Door opened at Easter 2006. In the ensuing years we have expanded the vineyard to its current 7.5 hecatres and established an enviable record for producing elegant and strongly varietal wines – winning over 100 Medals and 20 Trophies at wine shows in Australia.
Ramsay`s Vin Rose, VIC 30 Helier Rd, The Gurdies Vic 3984
Ramsays vineyard enjoys a prime hillside location with great balcony views of Westernport Bay and French Island. While you`re soaking up the scenery take time to wander through the garden which features around 350 different varieties of beautiful, fragrant roses. There`s also self-contained accommodation and good picnic facilities. The range of distinctive wines not surprisingly includes a refresh...
The Gurdies Winery, VIC 215 Gurdies-st Helier Rd, The Gurdies VIC 3984
The Gurdies Winery overlooks Western Port Bay in the Bass Coast region of South Gippsland. The vineyard and winery, which have been established for 30 years, are now operated by third owner and wine-maker, Dick Wettenhall. The Winery produces a range of varietal and blended wines made from eight varieties of Estate-grown grapes, using traditional wine-making processes. The wines are typically cool climate in style, the most popular being Riesling, Verdelho-Chardonnay, Chardonnay, Merlot, Cabernet Sauvignon and Shiraz. Other varieties include Pinot Noir and Tempranillo and the Winery also produces red and white port. Features include spectacular views over Western Port Bay and a large cellar door facility. There is an extensive garden area with barbeque facilities suitable for family picnics.
Villa Terlato, VIC 1200 Bass Highway, The Gurdies Vic 3984
Both and unwooded chardonnay and a wooded chardonnay are produced here, along with riesling, cabernet sauvignon and a pinot noir/cabernet sauvignon. Open 10am-6pm daily....