Jump to Winery List
Leongatha Wine District
The Leongatha Wine District includes wineries in the South Gippsland Wine Region It includes the towns of Leongatha, Korumburra, Inverloch, Koonwarra, Foster and Kardella in South Gippsland, north west of Westerport and Phillip Island. Leongatha lies in the foothills of the scenic Strzelecki Ranges and is a prime dairy and cattle grazing district and forestry area. There are a plethora of cultural events, entertainment and festivals at Leongatha throughout the year. The town also boasts many galleries devoted to the local arts and crafts of the region and a host of cafes, restaurants and fresh food outlets showcasing the food products of this rich agricultural area. The District also boasts many National parks, State Forests and Nature Reserves offering bushwalking, camp9ing 4WD adventures, bird watching and nature appreciation. There are has outstanding natural beauty that provides the backdrop to its array of vineyards and wineries.

The Gippsland Wine Region includes eight districts : Stratford-E.Gippsland ; Cann River-E.Gippsland ; Lakes Entrance-E.Gippsland ; Gurdies & Phillip Island-S.Gippsland ; Leongatha-S.Gippsland ; Warragul-W.Gippsland ; Traralgon-W.Gippsland ; Beaconsfield-W.Gippsland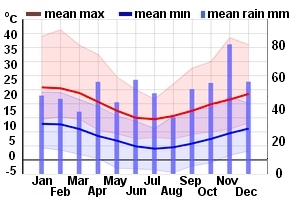 Winery Tour Map
Wineries
Basia Mille, VIC 1 Taylor Court, Fish Creek Vic 395
Basia Mille is a boutique winery producing estate Pinots. It is situated in South Gippsland on the sensational Prom Coast, overlooking Waratah Bay, the islands of Bass Strait and Wilson's Promontory. It has magical views and a great cellar which is open to the public on weekends from September through to June. Basia Mille has a strong team from the cellar crew, to Dan Grundy the vineyard manager who works closely with owner Tony Conabere to produce the best quality fruit. This is the delivered to Dean Roberts of Lithostylis in Leongatha to be made into formidable Pinot Noir, Pinot Grigio and a wonderful Sparkling.
Bass Phillip Wines, VIC Toschs Road, Leongatha South, Vic 3953
Bass Phillip is renowned for producing some of the best pinot noir in Australia. Established by Phillip Jones in 1979, the vineyards are located at Leongatha in the most southern part of Victoria, Australia, not far from Phillip Island and Wilson`s Promontary. Named after early explorers of the region, George Bass and Arthur Phillip, Bass Phillip is located not far from the sea, but far enough inl...
Bellvale Wines, VIC 95 Forresters Lane, Berrys Creek Vic 3953
Established in 1998, Bellvale Wine is a family-owned business run by principal winemaker and viticulturalist, John Ellis. Situated in the lush Tarwin River valley of South Gippsland, the area is acknowledged as one of Australia`s best Pinot-Noir producing regions. The name, Bellvale, is derived from the Ellis family`s rich agricultural heritage, which may be traced back to a farm in Nieuw Amsterda...
Caledonia Australis, VIC 105 Leongatha-Yarragon Rd, Leongatha North
Inspired by a landscape that reminded him of his beloved Scotland, explorer and squatter Angus McMillan was so moved by his first view of eastern Victoria from Mount Macleod in 1839, that he `...named it at the moment Caledonia Australis`. Caledonia, an old name for Scotland, and Australis, meaning southern is the region now known as Gippsland. Today certain privileged vineyard sites around the Gi...
Cannibal Creek Vineyard, VIC 260 Tynong North Road, Tynong North, Victoria, 3813
Just one hour out from Melbourne, Cannibal Creek Vineyard is a boutique, award-winning, single estate Vineyard owned and operated by winemakers Pat and Kirsten Hardiker. In 2018 it was recognised as Cellar Door with Best Food in Gippsland by Gourmet Traveller Wine Magazine. Cannibal Creek wine is picked and made onsite, by hand, using traditional methods and French oak. Sit at the long jarrah bar or a table to sample the range of Sauvignon Blanc, Chardonnay, Pinot Noir, Merlot, Cabernet Merlot, Cabernet Sauvignon, Blanc de Blancs, Vin de Liqueur.
Dirty Three Wines, VIC 64 Cashin Street, Inverloch, Victoria, 3996
Dirty Three Wines are named after the three 'dirts' (vineyards) that their vines are grown in, and accordingly, the three distinct flavours of Pinot Noir which are produced. Owned by Marcus and Lisa, a couple who are local to the area, Dirty Three's Tasting Room is situated in Inverloch, between Wilsons Promontory National Park and the coastal town of Phillip Island. Alongside the wine, Dirty Three also offer sample platters of local cheese and charcuterie, as well as beer, gin, and coffee from other local businesses. Private tutored tastings are available, just call in advance.
Djinta Djinta Winery, VIC 10 Stevens Road, Kardella South Vic 3951
djinta djinta Estate is an 8.5 acre vineyard boutique Winery, nestled amongst the Strezelecki Ranges. `djinta djinta` takes it`s name from the indigenous Willy Wagtail`s living there. It is located in South Gippsland, Australia`s Southern most mainland growing area, just 1.5 hours from Melbourne CBD. djinta djinta Winery is pleased to invite you to enjoy our seasonal Restaurant Menus / Cellar Door...
Harman Wines, VIC 612 Inverloch-Kongwak Road, Wattle Bank, Victoria, 3995
Harman Wines is a family owned and run award winning vineyard and winery just north of Inverloch in the Bass Coast Region of Victoria. The cellar door is open all year round where visitors can taste their cool climate maritime influenced wines and enjoy friendly hospitality, good food, and local produce in a relaxed, family friendly comfortable environment surrounded by tranquil views.
Lithostylis, VIC Cnr. Mardan and Hulls Roads, Mardan, VIC 3953
Lithostylis was established in 2006 with the purchase of a mature vineyard just outside Leongatha. 'Lithos' means rock and 'stylis' means column, a reference to the volcanic bedrock which underpins the red soils of Leongatha. Lithostylis focuses on the two prime South Gippsland varieties; Pinot Noir and Chardonnay. Our estate vineyard is planted to these two proven performers, including multiple clones of each. Our vines are now over 20 years old which means they are producing more complex and interesting wines than ever. The red 'iron stone' or 'ferrosol' soils of Gippsland are free-draining, warm and fertile. They tend to produce red-berry dominant Pinot Noir, with fine tannins, and Chardonnay with a strong citrus flavour and fine natural acidity. We favour close vine spacings and low trellising, and ensure that our vines dont overproduce by pruning hard and thinning crop where necessary. This is our way of ensuring depth and intensity of flavour.
Lucinda Estate, VIC Parr Street, Leongatha, Victoria, 3953
Lucinda Estate is a boutique winery, cellar door and bistro located on the edge of Leongatha, overlooking the Tarwin River and the rolling green hills of Gippsland. Lucinda Estate produce beautiful Pinot Noir wines, and other varietials, their quality under pinned by the rich volcanic soil and meticulous attention to viticulture. To accompany their wines they make pizza using ingredients produced by similarly passionate farmers from South Gippsland. Enjoy stunning views, great wine, cider, delicious pizza and plenty of space to have fun.
Lyre Bird Hill, VIC Inverloch Road, Koonwarra Vic 3954
Lyre Bird Hill Winery and Guest House is owned and operated by Owen and Robyn Schmidt and offers RACV four plus rated Bed and Breakfast accommodation and fine cool climate wines grown and produced on the property situated in the green rolling hills of South Gippsland, Victoria, Australia. Catering both to the tourist trade and to the local clientele, Lyre Bird Hill Winery is open for cellar door s...
The Wine Farm, VIC 370 Koonwarra-Inverloch Rd, Leongatha South, VIC
Anna and Neil Hawkins bought 7 acres of 25 year old vines in 2014. We grow eight varieties on our small vineyard in Koonwarra, South Gippsland and passionately believe great wine is made in the field. All our wines are made from grapes grown on The Wine Farm using strict organic principles (currently undergoing Demeter certification). The wines are aged and bottled on site with no additions bar a minuscule amount of sulphur dioxide before bottling to allow the wines to express the grapes and soils from which they hail. The wines are fresh and vibrant in style and include Pinot noir, Cabernet Sauvignon, Chardonnay, Riesling, Sauvignon blanc, Gewürtztraminer Pinot gris and a Sparkling.
Waratah Hills Vineyard, VIC 20 Cottmans Road (Off Meeniyan-Promontory Road) Fish Creek, VIC 3959
Come and visit our friendly cellar door to experience stunning wines, and regionally inspired luncheons. Resembling a small French domain in size, approach and passion, Waratah Hills specialises in the Burgundian varieties of Pinot Noir and Chardonnay. The vineyard, which was planted 22-years ago in the French style of close planting and low trellising is nestled in the rolling green hills of South Gippsland not far from the entrance to the world famous Wilsons Promontory National Park. Waratah Hills produces complex, elegant Pinot Noir and Chardonnay with great fruit characteristics and lingering flavours. Our cellar door offers a comfortable, relaxing and friendly location for a lazy afternoon of fine wine and local produce shared with friends.
Windy Ridge Winery, VIC 527 Fish Creek-Foster Road, Foster Vic 3960
In 1985 the current owners purchased the vineyard which had been planted in 1978 by Dr Chris Hill. They built the winery, and made the first wines in 1988. Each year since then, except 1992 and 1993, they have made a Pinot Noir and a Cabernet Sauvignon and Malbec blend. They also now offer tiny quantities of dry Traminer. Being the southern-most winery on the Australian mainland (approximately 150...