Jump to Winery List
West Mudgee Wine District
The West Mudgee district includes the wineries north-west of Mudgee along the Castlereagh Highway and Hill End Road west of Mudgee. The district and the other districts in the Mudgee Region are well-known for their fine wines and friendly cellar doors. Mudgee is a very popular destination for tourists from Sydney as it is only about three hours away, with most enjoying tours of the more than 40 wineries in the area. Other rural product from the area includes lucerne, olives, canola, sheep, cattle, wheat, honey, fruit, fresh vegetables such as tomatoes and corn, and a range of dairy products. There re coal mines in the area and in the past there were gold mining. The Mudgee district also produces pottery clays, marble, shale and dolomite. The tourism industry a growing major contributor to the local economy. Mudgee has a wonderful range of places to stay with many bed and breakfasts, farmstays, hotels, motels and some fabulous cafes and restaurants which showcase the local wines and fresh foods.

The Mudgee Wine Region is home to seven districts: Mudgee ; Gulgong ; Rylstone ; North Mudgee ; Cooyal ; Appletree Flat ; West Mudgee.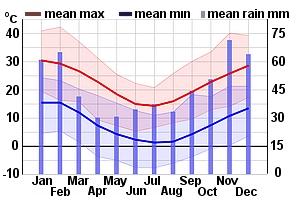 Winery Tour Map
Wineries
Burnbrae Wines, NSW Hargraves Road, Mudgee NSW 2850
Burnbrae Wines vineyard sits alongside the McDonald Creek. Their vines rooted firmly in the rich earth, for more than fifty years. They feel it must suit them, as they yield a consistent rich harvest, and that suits us, and those that share our wines. They invite you to drop by our vineyard and cellar door. Maybe stick your nose into the winery, where we make our wines from our own fruit. Their vi...
Thistle Hill, NSW McDonalds Road, Mudgee NSW 2850
Thistle Hill is an intimate family owned vineyard and winery just 10 minutes drive from Mudgee. In 1993, Thistle Hill Vineyard was certified. Great wine starts with great vines and a connection, and true commitment to the earth that sustains them. We believe this relationship with the land is at the core of the commitment to quality we are renown for. This commitment to `Go Organic` 35 years ago h...