Jump to Winery List
Mudgee Central Wine District
The Mudgee Central Wine District, in the Mudgee Wine Region, includes wineries and vineyards in the area immediately surrounding the town Centre. Mudgee is located in the Cudgegong River Valley, about 280 km north-west of Sydney, and its a favourite destination for week-end getaways for enjoying the regional wine tours, fresh food outlets, cafes, restaurants, arts and crafts, events and entertainment, the great outdoors and the wide range of quality accommodation. Some of the local attractions and activities in Mudgee and the surrounding area are: Follow the Mudgee Gourmet Trail, Mudgee Taste Trail and Wine Tours and enjoy tasting some of the fabulous fresh local produce, such as olives, hazelnuts, wines, honey and venison prosciutto. # Visit to enjoy the Mudgee Wine Show held in September and the Mudgee Wine Festival. # Explore the equipment and implements on display at the Mudgee Small Farm Field Days held in July. # Tasting fresh produce at the Monthly Farmers Markets # See the range of historic buildings and museums # Go bush walking and camping in the many nature reserves close to town including Munghorn Gap Nature Reserve with its fabulous bird life.

The Mudgee Wine Region is home to seven districts: Mudgee ; Gulgong ; Rylstone ; North Mudgee ; Cooyal ; Appletree Flat ; West Mudgee.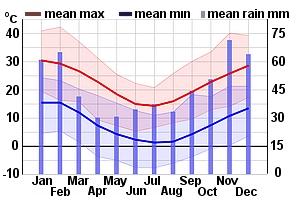 Winery Tour Map
Wineries
5 Corners, NSW 785 Henry Lawson Drive, Mudgee NSW 2850
5 Corners Wines vineyard is situated in the heart of the Eurunderee Valley, on the outskirts of Mudgee, three and a half hours North West of Sydney. This new boutique winery gets its name from the local flower mentioned in Henry Lawson`s poems and a family with 5 children and 5 dogs. Grant and Suzie Leonard came to Mudgee in 2001 on a short overnight stay. They instantly fell in love with the town...
Andrew Harris, NSW Sydney Road, Mudgee NSW 2850
In Andrew`s own words: `My vision from the outset was to produce wines that would appeal to the connoisseur, with all those complexities that a carefully made wine acquires to awaken and charm the well travelled palate, wines that would subtly captivate and intrigue the unacquainted, alluring a desire to explore further all the tantalising characters and personalities; or just simply give pleasure...
Blacklea Vineyard, NSW 29 Alexander Road, Mudgee NSW
Welcome to the Blacklea Vineyard and Olive Grove, Mudgee. Gai and Bernard Blackley invite you to experience our range of premium wines, olives and olive oils, and a variety of other products grown on the estate. We would also like to extend an invitation to visit our Cellar Door here in Mudgee for a tasting experience we are confident you'll remember with pleasure. Our products are only available ...
Blue Wren, NSW 433 Cassilis Road (Ulan Road), Mudgee NSW
The Blue Wren Vineyard of Mudgee, located in the Cooyal Valley, was first planted in 1985. The vineyard produces premium table wines, with the fruit 100% Mudgee grown. The 1998 Chardonnay is un-wooded, 1999 Chardonnay was barrel fermented, the Semillon elegant and the 1999 Merlot is rich in colour with a smooth finish. The proprietors, Jim and Diana Anderson lovingly care for their vineyards, the ...
Clearview Estate, NSW Corner Sydney and Rocky Waterhole Road, Mudgee NSW 2850
Clearview Estate is located just 3 km from Mudgee on the corner of Sydney and Rocky Waterhole Road. Clearview Winery is a family owned and operated vineyard by John and Dale Hickey. Established in 1995, the first vintage of Chardonnay was picked in 1998 and Clearview now has 11.5 ha of vines with the following varieties planted: (in order off planting size) Shiraz, Chardonnay, Cabernet Sauvignon, ...
Elephant Mountain Wines, NSW 68 Edgell Lane, Buckaroo NSW 2850
Family owned vineyard with self contained accommodation situated in the heart of Lue in the Pyangle Valley. Located 3.5 hours from Sydney between the historic towns of Rylstone and Mudgee on grazing farmlands with spectacular views, including that of the imposing Elephant Mountain.
Farmers Daughter, NSW 791 Cassilis Road Mudgee 2850
Friendly country hospitality in beautiful surrounds. Our aim is for you to enjoy your visit while tasting Premium Award-winning Wines – Sweet, Dry, Fortified – Wine for all palates! Relax in our own wine garden (only minutes from town). Take advantage of our Barbeque facilities. Stay in our self-contained accommodation – your holiday in a vineyard. How to find us: Our cellar door is north of Mudgee township on the Cassilis Road (791 Cassilis Road).
Frog Rock, NSW Edgell Lane, off Ulan Road Mudgee NSW 2850
Frog Rock is a family owned company, established since 1970. They are passionate about our wines and offer a highly regarded brand of individuality that represents affordable well crafted wines of outstanding quality. Come and visit our friendly cellar door in Edgell Lane, off Ulan Rd Mudgee, about 5kms from Mudgee town centre, opposite the Airport. Rick and Jenny Turner were initially attracted t...
HighValleyVineyard, NSW 137 Cassilis Road, Mudgee NSW 2850
Visit the beautiful High Valley Cellar Door and Cheese Factory, just a stone`s throw from the CBD, at the start of Mudgee`s cellar door trail. Premium wines from Ro and Grosvenor Francis` High Valley vineyards at Dunedoo are superbly complemented by fresh and aged cheeses. Relax and enjoy fresh, tasty lunches, cheese platters, wine by the glass or bottle, home made cakes or our range of Toby`s Est...
Honey Haven, NSW 2 Hill End Road, Mudgee NSW 2580
The Mudgee Honey Haven is one of Mudgee`s premier tourist attractions with a range of experiences for the whole family. With the widest selection of honeys available you can taste trial each variety of honey before you decide on your favourites. Even the kids get to have a good time with a game of putt-putt on our new 18 hole course. They`ll also love watching the bees hard at work through a speci...
Moothi Estate, NSW 85 Rocky Waterhole Road, Mudgee NSW 2850
Moothi Estate is a family owned and run vineyard and boutique wine producer in Mudgee, NSW. In 1995 the Moore family began their search for a suitable property to turn into a world-class vineyard. They were lucky enough to discover the perfect parcel of land in the prestigious, premium wine making region of Mudgee. They planted and developed `CountyView Vineyard` on the north-west facing slopes of...
Mount Vincent Mead, NSW `Kinlochleven` Common Road, Mudgee NSW 2850
Overlooking the town, Mount Vincent Mead, creates mead with honey from local beekeepers, and produces around 3000 gallons, or 18,000 bottles, a year. And if you want honey itself, Mudgee Honey Company or Mudgee Honey Haven is the place to head for. Children love Honey Haven as one wall allows them to peep into a hive through a glass window, and watch the bees ponderously moving around their tiny p...
Mudgee Wines, NSW 280 Henry Lawson Drive, Mudgee NSW 2850
Steeped in heritage, Mudgee`s oldest vineyard offers you a taste of its legacy - from crisp Chardonnays from the first ever Chardonnay plantings in Australia; to the soft, subtle Shiraz, mellowed in French Oak and hand-finished to palate perfection. In 1854 Andreas Kurtz the Great Grandfather of Alfred Gustave Kurtz, migrated from Bavaria to Australia. Andreas was a weaver and a wine maker and pla...
Poets Corner, NSW Craigmoor Road, Mudgee NSW 2850
The cellar door is located in the oldest winery in Mudgee, established in 1858. Visit the historic museum full of winemaking tools and memorabilia dating back to early 19th century. Poet`s Corner was named in honour of the highly acclaimed Australian poet, Henry Lawson, who grew up in the Mudgee Gulgong area. Launched in 1989 out of the popular Montrose brand, Poet`s Corner has become a part of Au...
Red Clay Estate, NSW 269 Henry Lawson Drive, Mudgee NSW 2850
Red Clay is situated in the heart of the Mudgee Valley in Central West NSW. The Vineyard was first planted in 1988 and the Winery established in 1996. Their award winning Reds are all handcrafted from handpicked premium grapes and pressed in the traditional style Basket Press on the Estate. The Winery is constructed from handmade Adobe bricks using the same rich soil that the vineyard has been pla...
Rosby Wines, NSW PO Box 3 Mudgee NSW 2850
Rosby wines are produced from one of Mudgee's best-rated vineyards and are available from an invitation-only mailing list. Not sold through bottle shops or restaurants, with no cellar-door and no money spent on marketing, it is the Mudgee region's most exclusive wine label. Rosby is a small vineyard about 10 kilometres north of Mudgee, wholly owned and operated by the Norton-Knight family. After p...
Rosemount, NSW `Glendiver`, Mudgee NSW 2850, Australia
With more than 500 hectares in production Southcorp`s Cumbandry Vineyard is the biggest in Mudgee. It`s probably the best example of precision viticulture in the region and is being judged on how it manages grape quality while reducing its high cost inputs such as water, labour and chemicals. Mudgee has a great deal to offer the world of wine. The Hill of Gold vineyard and property have for 30 yea...
Secret Garden, NSW 251 Henry Lawson Drive, Mudgee NSW 2850
A new cellar door close to town. Pretty, quiet setting, medal winning wines by Ian MacRae (Miramar). Relax with a coffee in the garden, gallery and already read books. A pretty Tuscan style cellar door in the middle of the vines, with as the name implies a walled garden, a Tuscan front garden with a Koi pond and beautiful life size cement statue of a naked lady created by Margot Stephens. There ar...
Vinifera Wines, NSW 194 Henry Lawson Drive, Mudgee NSW 2850
Vinifera Wines is a family owned vineyard planted 9 years ago only 500 metres from the first recognised Chardonnay vines in Australia, themselves in an old 1860s vineyard. Vitis Vinifera is the proper botanic name for the grape species that makes wine, thus if Vitis Vinifera means grapevine, then Vinifera Wines means wine in its best sense. With a climate like northern Spain, Vinifera Wines have e...
Walter Wines, NSW 179 Tinja Lane, Mudgee, NSW 2850
Our vineyards are located in Mudgee on the Central Tablelands of New South Wales approximately 260 kms. north west of Sydney. The Mudgee region has been producing wine grapes for many years, its oldest vineyard was established in 1858. We planted Cabernet Sauvignon and Chardonnay grape varieties in 1994 with Shiraz and further Chardonnay vines being planted in 1996. Other varieties have since been...