Jump to Winery List
North Mudgee Wine District
The North Mudgee district includes the wineries north of Mudgee near the villages of Buckaroo, Budgee Budgee, Eurunderee, Wilbetree. The wineries are dotted along Ulan Road towards Mudgee airport, Henry Lawson Drive, Black Springs Road, Eurunderee Road, and close to Pipeclay Creek. Most of the wineries are located on the broad, rich and fertile of the Cudgegong River, located about 260 km north west of Sydney. There are more than 40 wineries in the Region and you can join one of the local wine tours in the area or embark on your own tours using the maps provided on this site.

The Mudgee Wine Region is home to seven districts: Mudgee ; Gulgong ; Rylstone ; North Mudgee ; Cooyal ; Appletree Flat ; West Mudgee.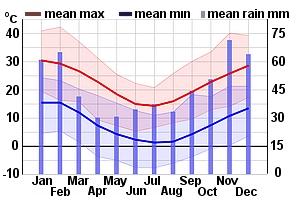 Winery Tour Map
Wineries
Bunnamagoo Estate Wines, NSW 603 Henry Lawson Drive, Eurunderee Mudgee NSW
Bunnamagoo Estate Wines, located at Bunnamagoo, the focus is on individual, traditionally-made wines. The grapes are sourced from Bunnamagoo's two vineyards, the Bunnamagoo vineyard at high-altitude Rockley NSW and from the Eurunderee vineyard not far from Mudgee NSW. The Bunnamagoo cellar door is located at Eurunderee, on Henry Lawson drive, 6km from the Mudgee town centre. The entrance is just past the Henry Lawson Memorial. Drop in and try our trophy winning Chardonnay, Methode Traditonelle sparkling wine, regional earthy cabernet sauvignon, national trophy winning Late pick Semillon and many more varietals. Sit back and enjoy our breath-taking views , bring a picnic to have on our manicured lawns or book a tour of our state of the art winery.
Craigmoor Wines, NSW 815 Craigmoor Rd, Eurunderee NSW 2850
Robert Oatley Vineyards is the reincarnation of the Oatley family winemaking dynasty. Wine is 'in the blood' of our late founder Bob Oatley and his eldest son Sandy, leader of the family business founded upon a four decade passion for grape growing, wine making and marketing - the combination of which has seen the Oatley family rise to the top of the Australian winemaking scene. With interests spanning the world of competitive sailing, tourism, hospitality and of course, wine - the family produces wines both of immediate appeal and cellar-ability, with satisfying flavours over an elegant frame, under a variety of stylish labels including Robert Oatley, Wild Oats, Pocketwatch, Four in Hand, Montrose and Craigmoor. Over forty years of nurturing grapevines and making wine has taught the Oatley family many lessons. Site selection is paramount, that 'sense of place', as where you choose to grow your grapes is vital to both style and quality. The Oatley approach is to overlay this philosophy with an outstanding team of grape growers and wine makers, using the best possible equipment, to allow them every chance of producing a winner.
Di Lusso Estate, NSW Eurunderee Lane, Mudgee NSW 2850
Di Lusso is a boutique vineyard and winery inspired by the wines and foods of Italy. We have a low-alcohol frizzante Moscato!; our white wines Pinot Grigio, and Vermentino are lean and crisp to suit grilled seafood and just about any fish or chicken dish. Our red wines such as Sangiovese, Barbera and Nebbiolo are made in the Italian style - medium bodied and savoury; and our medium-dry Vino Rosato...
Ernest Schuetz Estate Wines, NSW 778 Castlereagh Hwy, Menah NSW 2850
Ernest Schuetz Estate Wines is a boutique wine producer located in the premium wine growing region of Mudgee, NSW. "Ernest Schuetzs involvement in the wine industry started in 1988 at the age of 21. Working in various liquor outlets and as a sales representative for Miranda Wines, McGuigan Simeon and, later,Watershed Wines, gave him an in-depth understanding of all aspects of the wine market. In 2003 he and wife Joanna purchased the Arronvale Vineyard (first planted in 91) in the micro-valley of Menah, at an altitude of 530m. When the Schuetzs acquired the vineyard it was planted to merlot, shiraz and cabernet sauvignon, and they have since grafted 1ha to riesling, pinot blanc, pinot gris, zinfandel and nebbiolo. The estate plantings have been complemented by other varieties purchased from other growers. A new cellar door was opened in March 12 at the old Frog Rock site. Ernest Shuetz has had outstanding success at the Mudgee Wine Show."
Gilbert, NSW 137 Ulan Road, Mudgee NSW 2850 Australia
Gilbert Family Wines began its journey in 2004 by fifth generation winemaker Simon Gilbert. Simon has always had a strong desire to do things his own way and create a label true to himself, at the same time paying tribute to his heritage.Simon Gilbert winemaker at winery Mudgee. While his friends, mentors and previous employees have gone on to international acclaim, Dad has quietly continued doing what he loves, away from the limelight… crafting great wine for you all to enjoy! Wine of purity, elegance and vibrancy. Wine that is varietally true to itself, clean and technically sound. It's a real honour to be working side by side with him, someone of his calibre who is revered by so many of his contemporaries. Dad has had a significant impact on the career of countless young winemakers across the countryside and I feel incredibly fortunate to be one of those.
Gooree Park, NSW Castlereagh Highway, between Mudgee and Gulgong
Gooree Park, 15 kilometres outside of Mudgee on the Cudgegong River comprises 21,000 acres of prime Mudgee land that includes a premier horse racing stud of 400 horses, 545 hectares of vineyards and 12,000-acre pastoral operation. Not only is Gooree stunningly beautiful to look at but also for many families in the Mudgee area it is their lifeblood, employing almost 80 staff across the Group. We pu...
Heslop Wines, NSW 112 Craigmoor Rd, Eurunderee NSW 2850
Our small family-owned dryland vineyard in the heart of Mudgee's premium wine growing area produces small batches of handpicked, mostly hand pressed, high quality wines. Our aim is to 'tread lightly', a philosophy of conservation and moderation. Minimal intervention strategies are embraced in the vineyard and winery, such as hand picking, gentle crushing, hand plunging, and basket pressing through to the use of sustainable building materials. We're currently working on a straw bale warehouse and cellar door. While it's under construction you can try all our wines at The Cottage Tasting Room.
Huntington Estate, NSW Cassilis Road, Mudgee NSW 2850
Established in 1969, with two generations of Winemakers, Bob Roberts and his daughter Susie, the Estate grown, made and bottled wines result in unique, powerful and developed red wine styles displaying terroir. Halliday`s 2005 Wine Companion rates Huntington as Mudgee`s only 5 star winery, one of eleven in NSW and within Australia`s top 10%. Established in 1969, Huntington Estate is one of the old...
Knights, NSW 655 Henry Lawson Drive, Eurunderee NSW 2850
Established 1985, Knights Eurunderee Flats Wines is a family owned and operated boutique winery 8km from Mudgee. The produce estate grown hand picked grapes and use traditional basket pressed production. From the Caloola vineyard planted in the 1970`s, Knights Vines emerged in 1991. Our wine making starts here in the vineyard, where the long journey from the grapevine to the bottle begins. Traditi...
Lowe Family, NSW Tinja Lane, Mudgee NSW 2850
Lowe Family Wine Company is a leading boutique wine company with a down to earth attitude to fine wine. Located in the up and coming region of Mudgee in New South Wales, and also at Peppers Creek in Pokolbin in the Hunter Valley. Their innovative approach extends to the vineyard with plantings of unirrigated bush vines producing low yielding, intensely flavoured red wines. Sangiovese, barbera and ...
Mansfield Wines, NSW 204 Eurunderee Road, Mudgee NSW 2850
Taste the Synergy from one of the oldest family owned wineries in district, taste some of the new exciting Mediterranean wine varieties available in Mudgee. Let our Touriga tick your tongue. Let our Zinfandel put some Zing back in your Life. Taste our Frontignac just for Fun! Surprisingly different exotic grape varieties and wine styles you won`t find anywhere else in Mudgee. Well awarded. Plus al...
Miramar Wines, NSW Henry Lawson Drive, Mudgee NSW 2850
A small family owned Vineyard and Winery located at the head of the Valley in Eurunderee about 12 km from Mudgee. Miramar made its first wine in 1977 and has won more than 36 Trophies, 183 Gold, 170 Silver and innumerable Bronze medals at regional, National and overseas Wine Shows in that time. Most sales are cellar Door or Mail Order, but Miramar wine is stocked by some of the best Restaurants an...
Petersons Wines, NSW Black Springs Road, Mudgee NSW 2850
One of Mudgee`s best kept secrets, situated in the true heart of MudgeeWine Region, `the famous golden triangle`. Recognised as Mudgee`s topproducer of Cabernet Sauvignon and also one of Mudgee`s Super PremiumShiraz producers. At Glenesk we are committed to producing the verybest the Mudgee Red has to offer.How to find us: We are located on Black Springs road, near the corner of Eurunderee Lane, g...
Pieter van Gent Winery, NSW 141 Black Springs Road, Mudgee NSW 2850
In the winery`s cask hall, beneath the cobwebs, barrels full of wine are maturing in a restful slumber which is almost tangible. By contrast technology meets tradition in the winery tank room as the grape starts the transition into wine. The vineyards, first planted in 1978, now cover 15 hectares at the foot of the hills which define Mudgee (aboriginal for `nest in the hills`) in the middle of the...
Robert Oatley, NSW Craigmoor Road, Mudgee NSW
Robert Oatley Vineyards marks Bob Oatley`s return to the winemaking business. The winemaking company began in 2006, evolving from seven of the family`s existing vineyard sites in Mudgee - properties that had been retained since the sale of Rosemount Estate. Bob Oatley`s homestead and home-block vineyard in Mudgee adjoin the historic Montrose property, comprising a superb vineyard and the region`s ...
Robert Stein, NSW Pipe Clay Lane, Mudgee NSW 2850
The Robert Stein Vineyard and cellar door are located just a short drive from the centre of Mudgee, in the Central West of New South Wales. With a winegrowing family lineage dating back to 1838, the 25 year-old vineyard produces award-winning reds, whites and fortifieds. The owners are proud that our wines have received numerous awards, trophies and medals from various shows around the country. Th...
Slow Fox Wines, NSW 196 Black Springs Road, Mudgee NSW 2850
We run about 7ha of vines on Brambletye Vineyard in Mudgee with a combination of trellised and bush vines. All our fruit is handpicked and made in our small scale winery on site. We do wild yeast ferments when we can and basket press the smaller batches before putting them in a mixture of French and American oak barrels. Our wines are represented in local restaurants and wine bars and at our eclectically styled Cellar Door for tastings and sales. We have built up a variety of wines leading with our award winning ripe and beautifully coloured Malbec. We do small 1 barrel runs of our light but full bodied Tempranillo adding a little more each year. We pick our Shiraz a little early to make a light dry salmon coloured Rosé and later to create a true to varietal style red. We predominantly grow Cabernet and do a variety of styles from different sections of the vineyard. Our Reserve Cabernet comes from non irrigated bush vines on the river flats, our straight Cabernet from the higher ground non trellised vines and then use our trellised Cabernet in a Bordeaux style blend with Merlot and a small percentage of Malbec for a soft round easy drinking red. We also make a Cabernet/Malbec blend for a big bold fruit driven wine. For the whites we have a Viogner which is picked early to make a beautiful and balanced light and fresh style tasting almost like a the best parts of a Sav blanc and a chardonnay blended together.
Thumbprint Wines, NSW Cassilis Road, Mudgee NSW 2850
Description: Intimate, unique and boutique winery. - Making new wines from old vines. - Supporting local art. Opening Hours: 10am - 5pm Sat; 10am - 3pm Sun....
Willow Lane, NSW Eurunderee Lane, Mudgee NSW 2850
Peter and Ann Wormald first visited the Mudgee region in the early 80`s. They fell in love with the area and dreamed of owning their own vineyard, an impossible dream back then but one that would not go away. Over the years they visited Mudgee two or three times a year with friends and many a happy hour was spent in the few cellar doors that were open at the time. Always when they visited, they dr...