Jump to Winery List
Rylstone Wine District
The Rylstone Wine District, in the Mudgee Wine Region, centred around the town of Rylstone lies on the Cudgegong River and is located about 50 km south of Mudgee 240 km north-west of Sydney and 90 km north of the mining town of Lithgow. The district has a mild climate and lies at an altitude of 590 m, and the major agricultural industries are sheep, wool, cattle, tourism, coal mining, wine, olives and other boutique food product. The district boasts many attractions and excellent facilities for a wide variety of activities, including: # Exploring the many heritage building in Rylstone and Louee. Stroll through the many natural areas in the district including: Dunns Swamp, Tindale Park Reserve and the Cudgewong River that provides excellent conditions for kayaking, camping, canoeing, , fishing, boating, bushwalking, swimming, bird watching and picnicking. # Wollemi National Park is a very large park and is home to the relic plant, the Wollemi Pine, which is a 'living fossil', dating back to 150 million years ago. # Windamere Dam located on the Cudgegong River about 20 km south-west of Rylstone. # Fern Tree Gully # Farm stays and Holidays # Join the many tours and eco-tours in the area.

The Mudgee Wine Region is home to seven districts: Mudgee ; Gulgong ; Rylstone ; North Mudgee ; Cooyal ; Appletree Flat ; West Mudgee.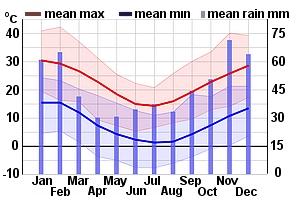 Winery Tour Map
Wineries
De Beaurepaire, NSW Post Office Box 100, Rylstone NSW 2849
We grow cool-climate grapes and aim to produce wines of elegance and finesse - in style between French and Australian. # GRAPE SELECTION: We retain less than 10% of the grapes for our own wines. # WINE SELECTION: Outstanding independent wine makers. # LOCATION: Rylstone is a sub-region in Central West NSW with a real cool climate and limestone soils. # HISTORY: The property dates back to the 1890`...
Knowland Estate, NSW 645 Mount Vincent Road, Running Stream NSW 2850
Knowland Estate Wines located at 1100 metres above sea-level provides distinctive cool climate wines. Open: 10am - 4pm Tue to Sun....
Louee Wines, NSW Cox`s Creek Road, Rylstone NSW
Louee wines hail from the Rylstone district of New South Wales, Australia - an emerging region for fine wines and produce. They have two vineyards - one at Rylstone at 620 metres and the other on Nullo Mountain, bordered by the Wollemi National Park, at an incredible 1100 metres. The height and unique microclimate of these vineyards (in particular our Nullo Mountain site) produces the cooler-clima...
Naked Lady Wines, NSW 2222 Bylong Valley Way, Rylstone NSW 2849
Naked Lady vineyard is situated in the Mudgee Wine Region, 2.5 km south of Rylstone, NSW, on the Bylong Valley Way. Our vines were planted in 2000, The Cabernet and Chardonnay ideal for our cool climate. Mike and Diane Quaife purchased the vineyard in 2013 to complete their dream of owning and producing their own wine. A whirlwind introduction via YouTube, some invaluable advice from the previous owners and a fantastic winemaker has led to us producing some award winning fine cool climate wines. At the vineyard we offer wine tasting, lunch platters and pizzas, and we have guest accommodation in our home. Rylstone is the ideal place to visit for a weekend and if you are lucky enough to have a pilots licence you can now fly into Rylstone Aerodrome.