Jump to Winery List
Apple Tree Flat Wine District
The Apple Tree Flat Wine District includes wineries south-east of Mudgee along the Castlereagh Highway near the villages of Appletree Flat, Mullamuddy, Burrundulla, Road, Queens Pinch, Spring Flat, Riverlea. The wineries are established on fertile volcanic soils of the Mudgee Wine Region with its unique terroir.

The Mudgee Wine Region is home to seven districts: Mudgee ; Gulgong ; Rylstone ; North Mudgee ; Cooyal ; Appletree Flat ; West Mudgee.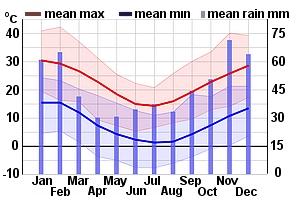 Winery Tour Map
Wineries
Broombee, NSW RMB 16 Castlereagh Hwy, Appletree Flat via Mudgee NSW 2850
For many years the Corner family of Broombee Organic Orchard and Vineyard has grown wine grapes for premium Mudgee wines. With the increasing demand for organic wine, they have now released their own premium varietal range. Barrie and Gwen, after many years of interest in organics became certified with Australian Certified Organics formerly BFA. Broombee Orchard and Vineyard had previously been ma...
Burrundulla, NSW 234 Castlereagh Highway, Mudgee NSW 2850
The Cox family established the property, Burrundulla, almost two hundred years ago in Mudgee, New South Wales and since then, the family has had a long and successful primary production history in Mudgee. Their grapes were first planted at Burrundulla over ten years ago and they successfully released the GX and Heritage ranges in 2004. At Burrundulla they are committed to providing the highest sta...
Charnwood Estate, NSW 253 Burrundulla Rd, Mudgee NSW 2850
Charnwood Estate in Mudgee is a small player kicking big goals with its Shiraz and Merlot. As small and boutique as wineries come, Charnwood demanded everyone's attention when its 2009 Charlie's Row Merlot won against some higher profile wineries in the 2011 Winewise Championship. Charnwood Estate is located in the Mudgee wine region of NSW; located on a historic property just 5 minutes from the centre of Mudgee and nestled at the foot of the hills in the delightful Cudgegong Valley. At Charnwood, we specialise in red wines and are particularly proud of our Shiraz which keeps going from strength to strength. "…The fragrant bouquet has an array of red fruits and some savoury olive notes that flow.
Logan Wines, NSW Castlereagh Highway, Appletree Flat, Mudgee NSW 2850
The grape stained footprint that appears on every Logan label honours the pioneers who once crushed grapes with their bare feet. However, at Logan Wines, we prefer to keep our boots on. The cool, dry climate of Orange is perfect for growing grapes, not running around barefoot! Mal and Fran Logan have a simple philosophy - to enjoy life - always encouraging their children to follow their hearts. It...
Martins Hill Wines, NSW 1179 Castlereagh Highway, Mudgee NSW 2850
Organically Grown Wines: Australian Certified Organic 2448A. The vines were planted in 1985 by current owners/vignerons, husband and wife, Michael Sweeney and Janette Kenworthy. The Hill is a geographic land mark in Mudgee, so named after wagon driver named Martin, who lost his life when his wagon ran out of control descending the steep slope during the Gold Rush times in the district. The vineyar...
Mullamuddy Wines, NSW 380 Horse Flat Lane, Mullamuddy Mudgee NSW 2850
Perfection through persistence. Established in 1995 this winery is family owned and operated. Premium wines produced using modern technology and traditional techniques. Simply enjoy! Open: 10am - 5pm daily....
Prince Hill Wines, NSW 1220 Sydney Road, Mudgee
Prince Hill Wines specialises in the production of wines for Mediterranean grape varieties which are sourced for our own and our grower`s premium vineyards on the western slopes of the Great Dividing Range. The warm climate and rich alluvial soils of the region produce ne Chardonnay, Sangiovese and Shiraz. Prince Hill Wines has developed into one of the largest wine producer in Mudgee with a genui...
Queens Pinch Vineyard, NSW 50 Queens Pinch Rd, Mullamuddy NSW 2850
Queens Pinch is the Andrew Buchanan family vineyard located in the renowned Mudgee wine district of New South Wales. Low cropped vines on north facing slopes produce the outstanding quality fruit used in this wine. And that's just the beginning of the story.