Jump to Winery List
Langhorne Creek Central
The Langhorne Creek Central District in the Langhorne Creek Region, includes wineries along Bremer River toward Lake Alexandrina, south of the township of Langhorne Creek. The district is ideally located for a day trip wine tour or a week-end getaway as it is less than an hour's drive from Adelaide on the popular Fleurieu Peninsula which has a wide range of other wonderful attractions and great facilities for a wide range of activities from surfing to diving, boating and fishing. The Langhorne Creek wineries are renowned for their red grape varieties with fabulous full-bodied Shiraz, Cabernet Sauvignon and various red blends. The district has a surprisingly cool climate due to the cooling sea breezes from Lake Alexandrina and the region also yields outstanding white wines and fortified varieties. Many of the original vineyards on the floodplain of the Bremer River experience natural floods. The alluvial soils are deep sandy loams, enriched by the flood deposits of silt and nutrients. Langhorne Creek labelled wines have an international reputation arising from their unque terroir. Some of the wineries in the area include: Angas Plains Estate (Woodstock), Beringer Blass, Blackwell Vineyards, Bleasdale, Brothers In Arms, Cleggett Wines, Fabal Vineyards, Howlin Gale, Kimbolton Wines, Marandoo Estate Vineyard, Raydon Estate, Rusticana Wines.

The Langhorne Creek Wine Region includes 4 districts : Strathalbyn ; Belvidere ; Langhorne Creek South ; Langhorne Creek Central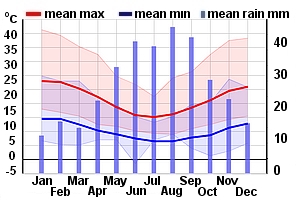 Winery Tour Map
Wineries
Bremerton Wines, SA Langhorne Creek Road, Langhorne Creek, SA, 5255, Australia
The cellar door is a renovated horse stable built in 1866. It provides a wonderful atmosphere for tastings, enjoying a freshly prepared cheese platter and for Mignonne`s Mood Food lunches on weekends (by prior booking only). The cellar door offers a selection of locally made gourmet products: Baylies fudges and pralines, Lacewood sauces, salsas and spreads, Newman`s horseradish products, Udder Del...
Oddfellows, SA RSD 569 Langhorne Creek SA 5255
Oddfellows Wines is owned by a group of Langhorne Creek locals who have individual interests in the wine industry. In coming together their aim is to use our individual experiences and skills to produce small quantities of high quality Langhorne Creek wine. They aim to showcase the best of Langhorne Creek and are keen to share with the world the enormous wine producing potential that exists within...
Zontes Footstep, SA Langhorne Creek Rd; PO Box 53 Langhorne Creek SA 5255
The grapes for Zonte`s Footstep are sourced from our five hundred and twenty odd acre vineyard at Langhorne Creek. A group of old school mates founded the vineyards in the Langhorne Creek wine region, close to the original 19th Century plantings in the traditional grape growing heart of the area. The vineyard is planted mainly to red grapes, with a smaller percentage of white. The vineyard site wa...