Jump to Winery List
Belvidere Wine District
The Belvidere Wine District is located in the Langhorne Creek Wine Region and includes wineries South West of Langhorne Creek near the townships of Angus Plains and Belvidere. The Belvidere district is located minutes from Strathalbyn and Langhorne Creek townships. It is a lovely place to visit within short distance of McLaren Vale, the Adelaide Hills and Currency Creek. It is an ideal base for an extended stay exploring local wineries. It is also economical to transport fruit from the Barossa, Limestone Coast and Clare Valley wine regions, which means local vineyards have access to plentiful grape supplies from South Australia's favourite wine regions. See the list below for wineries in this area that have cellar doors or that welcome visitors.

The Langhorne Creek Wine Region includes 4 districts : Strathalbyn ; Belvidere ; Langhorne Creek South ; Langhorne Creek Central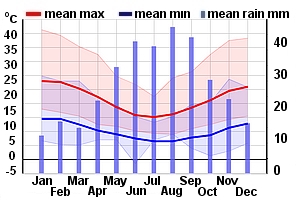 Winery Tour Map
Wineries
Ben Potts Wines, SA Step Road, Langhorne Creek SA 5255
This is the vineyard for Ben Potts Wines, which is a family business owned and managed by Bill, Debbie and Ben Potts, whose family have resided and grown grapes in the Langhorne Creek region for over 150 years. They are currently responsible for overseeing production of wine grapes grown on 170 hectares in the Langhorne Creek region. Their original holding of 45 acres (18 hectares), along the bank...
Brothers in Arms Winery, SA Lake Plains Rd, Langhorne Creek SA 5255
At Brothers in Arms we put our heart into full-bodied wine that is true to the estate and true to the region. Our wines showcase our quality fruit and reflect the spirit of our family tradition. Since being established in 1998 we have achieved national & international recognition for our Brothers in Arms bottled beauties. The first vintage saw only 5 tonnes of Shiraz produced, a volume which has now grown to over 700 tonne per year. In all 212 hectares are planted to vines with the balance of the 1000 Ha (2,500 acres) property given over to Merino sheep and cropping.
Karanto Vineyards, SA 1 Karanto Road, Langhorne Creek SA 5255
Karanto Vineyards is an old family vineyard situated south of Langhorne Creek on the western edge of the Bremer River floodplain. The property Karanto was founded by local identity, PR Dodd in 1910, and is currently owned by his granddaughter Zonda Elliott and her husband Dennis. The property has always produced wine grapes but has only recently started making small amounts of wine with the releas...
Lake Breeze Wines, SA Langhorne Creek
The Lake Breeze winery lies on the banks of the Bremer River in the premium red wine district of Langhorne Creek. Since the first wine was made in 1987, Lake Breeze has developed a reputation for consistently producing concentrated red wines, with an abundance of fruit character and trademark soft tannins. The Follett family vineyard was established in the 1880`s by Arthur John Follett, the great,...
Step Rd Wines, SA RSD Davidson Road, Langhorne Creek SA 5255
Step Rd Winery is a 6500 tonne winery, producing Step Rd, Red Wing and First Step ranges of wines. Step Rd is part of the Step Wines Australia Group....
Temple Bruer, SA Milang Road, via Strathalbyn SA 5255
Located in the Langhorne Creek district of South Australia Temple Bruer winery produces award winning wines using sound organic oenological practices and philosophy, which has led to their being accredited with ISO9001 status. David and Barbara Bruer established a small vineyard in the early 1970`s on a property situated on the main road between the towns of Strathalbyn and Milang. David was in ch...
The Step Rd Winery, SA 347 Davidson Rd, Langhorne Creek SA 5255
Growing up in the agricultural town of Renmark, South Australia, as a teenager Chris had penchant for pate and brie among other interesting and gourmet textures and flavours, this combined with a fondness for Biology and Chemistry, and some healthy persuasion from his parents led to him completing his wine science degree at Roseworthy College, South Australia. After graduating Chris spent time in the Hunter and Yarra Valleys, working vintages, before settling as a technical assistant at Katnook Estate in the Coonawarra, where eventually he became assistant wine maker. This then took Chris on a wine maker's journey to Mildura, McLaren Vale, Clare and back to McLaren Vale as a senior wine maker. After 25 vintages Chris has worked alongside some notable industry legends and has an impressive portfolio of accolades to his name.
Vineyard Road Cellar Door, SA 697 Langhorne Creek Rd, Belvidere SA 5255
Our Vineyard Road wines have access to over 1,500 hectares of vines on 20 unique estates spread from Margaret River in the west, through most of the premium regions in South Australia and to the best of Victoria. We are spoilt for choice when it comes to selecting the finest grapes to craft our diverse range of wines. ​ These wines are carefully made from small parcels of the finest fruit selected from specific estates to best reflect the region and variety from which they are made. We always consider the soil and climate that play to the strengths of that region. The pruning and management of the vines target the development of optimal flavours at ripeness to deliver the best character and quality of the Vineyard Road wines. Our wines seek to be of consistent quality year after year.
Wenzel Family Wines, SA Step Road, PO Box 140 Langhorne Creek SA 5255
The Wenzel Family first arrived in Australia in 1846 from the Hartz Mountains in Germany. The `Glenrowan` homestead, 5 km south of the Langhorne Creek township on Step Road, was built by the Bray family in 1919 and purchased by the Wenzel Family in 1950. Glenrowan is situated on the unique flood plain of the Bremer River, which has been extremely beneficial to the 13 Ha vineyard. Originally the We...