Jump to Winery List
Belvidere Wine District
The Belvidere Wine District is located in the Langhorne Creek Wine Region and includes wineries South West of Langhorne Creek near the townships of Angus Plains and Belvidere. The Belvidere district is located minutes from Strathalbyn and Langhorne Creek townships. It is a lovely place to visit within short distance of McLaren Vale, the Adelaide Hills and Currency Creek. It is an ideal base for an extended stay exploring local wineries. It is also economical to transport fruit from the Barossa, Limestone Coast and Clare Valley wine regions, which means local vineyards have access to plentiful grape supplies from South Australia's favourite wine regions. See the list below for wineries in this area that have cellar doors or that welcome visitors.

The Langhorne Creek Wine Region includes 4 districts : Strathalbyn ; Belvidere ; Langhorne Creek South ; Langhorne Creek Central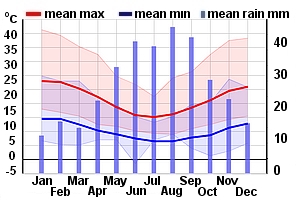 Winery Tour Map
Wineries
Angas Plains Estate, SA 317 Angas Plains Road, Langhorne Creek, SA, Australia
At Angas Plains Estate they are mixing old proven traditions with modern environmentally friendly practices to produce characteristic wines that offer rich fruit flavours for today`s educated wine drinkers. The wine can be tasted at The Bremer Centre, Wellington Rd, Langhorne Creek, South Australia. Angas Vineyards is a joint venture project located next to the town of Langhorne Creek on the Strat...
Bleasdale, SA 1640 Langhorne Creek Rd, Langhorne Creek
Bleasdale is owned and operated by fifth generation members of the Potts family, and is located in the picturesque Langhorne Creek Region of South Australia. Established in 1850, Bleasdale is situated on the flood plain in the Langhorne Creek region. The winery produces red and white table wines and a range of fortified wines. The older section of the winery contains the famous red gum lever press...
Brothers In Arms, SA Lake Plains Road, Langhorne Creek SA 5255
There were three motivating forces behind establishing Brothers In Arms: The owners wanted to get away from simply being a grape supplier; they wanted to benchmark Their Metala vineyard fruit quality for our own interest; and Guy and Tom Adams wanted to make some wine together as a hobby. A pretty serious and expensive hobby it`s turned out to be! Metala has been our family`s property since the 18...
Fabal Vineyards, SA Langhorne Creek, SA 5255
see Marandoo - FABAL (Food and Beverage Australia Limited) was established in 1982 by Chris Day, Peter Kerin and Dim Georgiadis and since 1994 its focus has been to develop and manage vineyards in premium cool climate regions of Australia. The FABAL management team has significant experience in wine, viticulture, marketing, sales, production, finance, law, property, banking, planning, management a...
Howlin Gale, SA Doglake Rd, Langhorne Creek SA 5255
Howlin` Gale Wines was originally formed to assist with satisfying our own family`s drinking habits. Our mother Jen and late father Mick have been tremendous contributors to the cause. Ack and Tom whilst being buffered sitting in the upper bar, drinking copious Lake Breeze reds, at Ack`s house on the shores of Lake Alexandrina and, after a lifetime of observation, noticed the winds around the lake...
Kayinga Vineyard, SA 171 Verco Rd, Langhorne Creek SA 5255
Kayinga Estate vineyard, owned by Kayinga Vineyard Limited (KVL) is located on the banks of Lake Alexandrina in the Langhorne Creek wine region. It was established under the GuildGrape Project No.1 and Property Trust (GuildGrape) managed investments scheme (MIS). The MIS was converted to the current company business structure on 2 July 2013. ​ The Estate was planted in 1998 and FABAL assumed the operational management of the vineyard in 2001. Today, FABAL Operations continues to manage the 388.75 hectare property which is currently planted to 268 hectares. The planting comprises solely premium red varieties including Cabernet Sauvignon and Shiraz. The Estate has developed a strong reputation with significant Australia based wine companies by providing grapes for the backbone of a number of key domestic and export brands.
Kimbolton Wines, SA 29 Burleigh Street Langhorne Creek SA
Experience the Kimbolton Wines architecturally designed Cellar Door built from re-purposed shipping containers. Langhorne Creek's newest cellar door features sweeping views across the Kimbolton Vineyards and showcases their range of traditional and alternative varietals matched alongside local cheeses in their wine and cheese flight. Nicole and Brad, 5th generations vignerons invite you to join the Kimbolton team at their new cellar door.
Old Mill Estate Wines, SA 102 Saltmarsh Rd, Lake Plains SA 5255
Old Mill Estate vineyards are owned and operated by Peter and Vicki Widdop. Previously the vineyard was the home of a mill which produced chaff from lucerne grown on the property. The vines were planted in 1993 after a flood inundated the property. Three varieties are grown: Cabernet Sauvignon, Shiraz and Touriga. The vineyard is located near the shores of Lake Alexandrina by the banks of the Bremer River in the well-known wine producing region of Langhorne Creek, approximately 75 kilometres south-east of Adelaide in South Australia.
Rusticana Wines, SA Lake Plains Road, Langhorne Creek SA 5255
Rusticana wines has 25 acres of vineyards planted on the alluvial flood plains of the Bremer River in Langhorne Creek. The vineyard was planted in the early 1990`s. Rusticana produced their first wines under this label in 2003, and now has the following varieties, shiraz, cabernet sauvignon, zinfandel and durif. These estate grown wines have had success in a variety of wine show and these results ...
The Winehouse, SA 1509 Langhorne Creek Rd, Langhorne Creek SA 5255
"THE WINEHOUSE" the name says it all! This house of wine celebrates a fantastic tasting experience, featuring four award winning boutique Langhorne Creek labels. When you are visiting Langhorne Creek, be sure to stop in at The Winehouse and sample some of the finest, from Ben Potts Wines, Gipsie Jack, the legendary John Glaetzer's John's Blend and Heartland by Ben Glaetzer. If that's not enough, we are also home to Langhorne Creek's first craft beer label, Meechi Brewing Company. If time is on your side, stay for a lazy long lunch and sample some of the delicious fresh & seasonal foods we have to offer – kitchen open daily between 11am-3pm (bookings are recommended). The Winehouse is a quirky eclectic mix of old and new in a relaxed tranquil setting. Kick back on the leather couch in the cosy barrel room with a hot espresso coffee or if you are feeling energetic, grab a footy and have a kick with the kids on the back lawn.