Jump to Winery List
Strathalbyn Wine District
The Strathalbyn Wine District in the Langhorne Creek Wine Region includes wineries near Strathalbyn and Willyaroo, north of Goolwa and Lake Alexandrina. The township of Strathalbyn is an attractive and friendly located on the River Angas about 60 km from Adelade. It is classified as a Heritage Town due to the large number of historic buildings. Strathalbyn is a popular tourist town that services mixed farming community in the area that focuses on vineyards and wines, cattle, sheep, cereal crops, orchards and alpacas. Some of the local attrctions include: # The Strathalbyn Old Court House National Trust Museum # The Historic Walk through the town # Langhorne Creek - a tiny settlement that features the beautiful historic Bridge Hotel and many attractive sandstone buildings. Langhorne Creek is also the gateway to the famous wine growing area.

The Langhorne Creek Wine Region includes 4 districts : Strathalbyn ; Belvidere ; Langhorne Creek South ; Langhorne Creek Central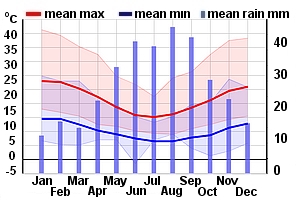 Winery Tour Map
Wineries
Belvidere Winery, SA Lot 10 Langhorne Creek Road, Strathalbyn SA 5255
The Challenger Wine Trust that currently owns Belvidere Winery, is a specialist property trust that enables wine companies and grape growers to outsource their fixed assets and release capital for reinvestment in higher returning areas in order to increase export and domestic sales and importantly, to increase profitability. The Belvidere Winery is a large commercial winery, which began in 1998 an...
Casa Freschi, SA 30 Jackson Avenue, Strathalbyn SA 5255
In 1954, David`s parents, Attilio and Rosa Freschi, immigrated to Australia from the Veneto region of Italy. Their aim to have good wine on the table each meal time led them to plant a 2.5 hectare vineyard in 1972 of predominantly Cabernet Sauvignon, Shiraz and Malbec. The family tradition, common in Italy, was to grow and make a small amount of wine for family and friends. Attilio, who was not on...
Langhorne Creek, SA Sctn 57 Hd Bremer, Strathalbyn, SA 5255
Rosemount Estate today owns vineyards in seven geographically diverse viticultural regions throughout New South Wales and South Australia. Each has been developed with the aim of matching the physical make-up of the site - its `terroir` - with the best of the world`s premium grape varieties. Rosemount Estate is able to offer an impressive range of single vineyard and premium regional wines for the...
Talinga Grove, SA Talinga Road, Strathabyn, SA 5255
Early 2000 saw the release of the Talinga Grove range of Olive Oils and Infused Olive Oils designed to enhance and flavour a wide range of produce. Olive Oil is the pure juice of the olive fruit, naturally extracted and bottled. Its unique characteristics make it so much more than just an oil - Extra Virgin Olive Oil is Food. Talinga Grove Extra Virgin Olive has a clean fruity aroma and taste with...
Ben Potts Wines, SA Step Road, Langhorne Creek SA 5255
This is the vineyard for Ben Potts Wines, which is a family business owned and managed by Bill, Debbie and Ben Potts, whose family have resided and grown grapes in the Langhorne Creek region for over 150 years. They are currently responsible for overseeing production of wine grapes grown on 170 hectares in the Langhorne Creek region. Their original holding of 45 acres (18 hectares), along the bank...
Brothers in Arms Winery, SA Lake Plains Rd, Langhorne Creek SA 5255
At Brothers in Arms we put our heart into full-bodied wine that is true to the estate and true to the region. Our wines showcase our quality fruit and reflect the spirit of our family tradition. Since being established in 1998 we have achieved national & international recognition for our Brothers in Arms bottled beauties. The first vintage saw only 5 tonnes of Shiraz produced, a volume which has now grown to over 700 tonne per year. In all 212 hectares are planted to vines with the balance of the 1000 Ha (2,500 acres) property given over to Merino sheep and cropping.